Man, it's been awhile since I've done one of these!!! Even though I took a break from blogging, I still took an outfit selfie every. Single. Morning. Some habits are hard to break! And I don't know. It's still nice to be able to look back at outfits. I will confess that sometimes, I will look back at my outfits to figure out my cycle! So if not for anything else, at least it's helpful for that purpose! Anyway, I promised I would try and incorporate those outfits back into the blog so here I am!
Cap: Abercrombie & Fitch (c/o) (current options here) | Top: CS Gems (c/o)

(Use code CARYLEE15 for 15% off!)

| Leggings: Zella | Sneakers: Nike
This was my Black Friday shopping outfit. Jenna and I were meeting at 6:30am, and I literally, rolled out of bed wearing the previous night's makeup, threw on my contacts, a hat, some lip gloss, and this outfit, and ran out the door. I brushed my teeth, too, don't you worry. CS Gems gifted me this sweater, and I love it! Thanks to my shortness, it's long enough to cover my bits with leggings. I was going to throw a vest over it so I would have a pocket for my phone while we shopped and then I discovered the sweater has its own pockets! SCORE! I hate bringing in outerwear while I'm shopping because I know I will be hot and I will end up just lugging my jacket or vest around with me. So I was quite pleased that it had pockets! It runs true to size. I'm wearing a small.
I already have this sweater in a lighter knit in a very pretty cranberry color - you can see that one here. I absolutely love pieces that can be worn different ways, and I thought a thicker version of it in grey would be perfect in the cooler months. It is so so cozy worn as a cardigan and looking at this outfit makes me want to wear it like a cardigan tomorrow!! Since it is so voluminous, I paired it with my Spanx leggings because they have the sleekest silhouette. Such an easy cold-weather combo!
Sweater: Calson | Bottoms: American Eagle | Boots: Vince Camuto
Everything in this outfit is old. And by old I mean no longer available. The sweater is a Nordstrom anniversary sale purchase that I was finally able to wear, and excited TO wear! I really love pink and grey together and the tone on tone grey with the boots and my pants made me happy.
Speaking of Grace and Lace things I already own in another color... this sweater is another one of those pieces - you can see it in my blush color here. It is also a convertible piece, but this is my favorite way to wear it, as a cardigan and tied in the middle. This dress is everywhere in blog land, and for good reason. I love it even more as a layering piece like this in the colder months.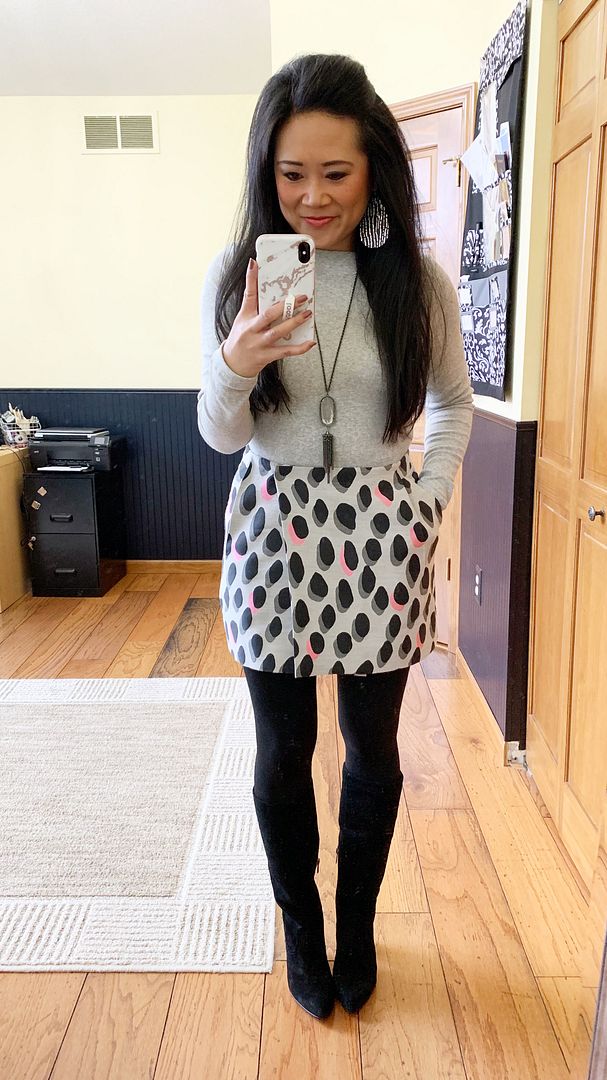 Wearing a couple of my Black Friday purchases in this outfit - the earrings and the boots. You really can't get an appreciation of the boots - but they are good. I explained that it's so hard to find heeled boots that aren't over the knee. The shaft height is perfect on me - to be honest, on longer-legged people, they may look a bit short on you. But I love where they hit me because if they were taller, they would gape. They fit my leg circumference perfectly! They also keep their shape on their own - they stand up right with nothing in them. I took my true size - a size 6. Unfortunately, the skirt is super old. "How old" you ask? Over 5 years. You can see a really awkward, old school post of me wearing it here.
Annnnd on that note, I'm all done! But before I go - wish me a bit of luck, will ya? I lost my voice last Tuesday - 10 days ago. It has not come back. I have no other symptoms other than no voice - no cough, no cold, not even a sore throat. I just can't talk! I went to Urgent Care this week and they officially diagnosed me with acute laryngitis. They gave me an anti-inflammatory to take, and 2.5 days later, they don't seem to be helping, and I'm starting to freak out a bit. I'm unofficially scheduled to see my new Primary Care Physician (I had to shop for one today so I can get properly looked at!! Talk about stressful!) on Monday, but I'm hoping it will just naturally clear up on its own. Whatever this is. So yeah. Well wishes please!!!