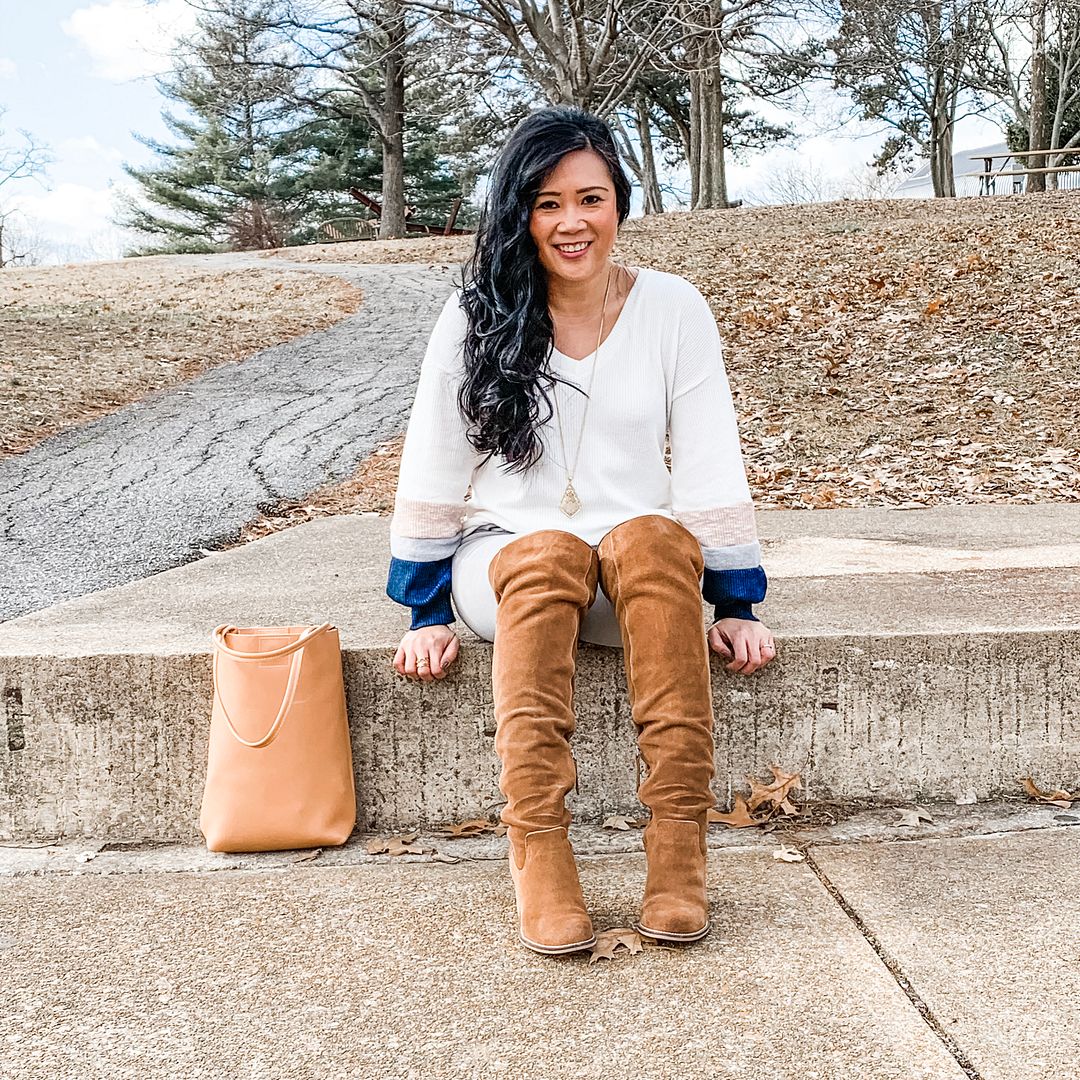 I styled this top for CS Gems because they were having a lightening deal sale on it while I was gone last week in Mexico. Unfortunately, it's not on their site anymore, so I'm sorry you all are missing out on it! However, I wanted to share it anyway because I feel it styles very similarly to a varsity stripe top, and varsity stripes seem to be a trend that is coming back along with other 90s inspired styles. I also wanted to use this opportunity to give you an update on my voice/ laryngitis situation!
First, this top! It's so super soft and I love the striped blouson sleeves. It styles very similarly to a plain white tee, just with a bit of added interest. It's obviously cold at the moment, so I paired it with grey skinnies and over the knee boots. I styled it two other ways so you can see how it easily transitions into spring and summer as well.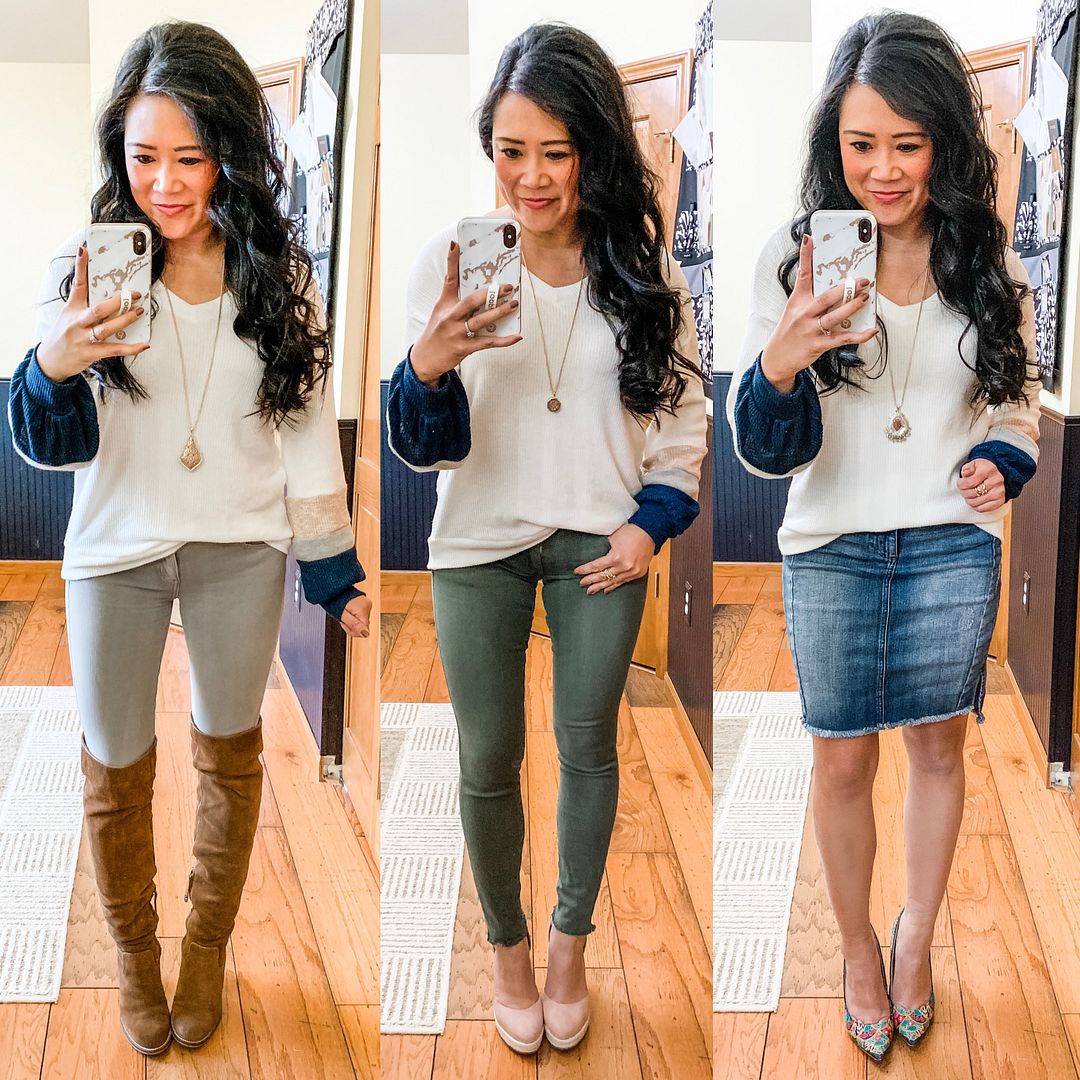 The stripes in the sleeves are navy, grey, and blush which are all pretty neutral in color. All of those colors pair well with olive, so the outfit with olive skinnies and blush espadrilles came naturally to me. Not to mention that olive and blush are both inherently spring to me. And when summer comes, a denim skirt and fun heels would be great for brunch or a casual night out.
I linked to some varsity stripe tops below that would style very similarly to the one I'm wearing. Especially this one!
Ok, so now for the voice. Catch yourself up on all the previous details here. My last doctor's appointment was January 7th. I was on voice rest for 4 weeks and my goal was to show improvement in my vocal chords (i.e. less swelling) at my next appointment on February 7th.
The appointment went so well! First, the scope down my throat went a lot more smoothly. She numbed me right away as compared to last time when she tried to use the scope without numbing me at first. So that in and of itself sped up the process. She showed me the videos side by side - the original one and the follow up. The difference was noticeable! If you imagine your vocal chords being two straight lines. In my "before" video, you could clearly see a bulge in the center of both chords. In the "after" video - both chords were flat. She said that these were (and I quote) "remarkable" results and what she would expect to see after months of rest vs. just 4 weeks of rest.
So, she cleared me, and I legit started crying when she was telling me how impressed she was with my efforts. I apologized for the breakdown, but I was just so relieved to have positive results. The most frustrating thing over the last few weeks was sacrificing a lot but not knowing if what I was doing was really making a difference. Yes, I did have to talk here and there, but since it was minimal and I never projected my voice ever, it was really hard to tell if it was better. And even if it sounded better to me, that didn't necessarily mean that my vocal chords would not be swollen. I was seriously relieved!!!
What does that mean now? Well. Think of it as me breaking my leg. The cast is off. I can walk on my own. But I'm not going to be running any marathons any time soon. So yes, I can talk. And the doctor said I shouldn't NOT have to drink coffee or alcohol. But it's all in moderation and I need to understand how those things can adversely impact my voice. Also, I will continue to avoid projecting my voice. I will say that even over the last few days, I can tell that when I talk a lot, my voice will get tired, so I take a break. I drink more water. That is the biggest thing the doctor said I can do for my voice - continue to drink my 64 ounces of water a day!
Teaching Pilates was another thing she was concerned about because at the current studio, the Pilates instructors do not teach with a microphone. We will be moving studios next month and the new studio WILL have mics, so I can definitely go back to teaching then, but until then... we will see. The doctor recommended picking up a portable mic/amplifier on Amazon if I had to, which the husband already ordered! I would love to teach again. I miss it. It's honestly what I've missed most.
So I'm out of the woods but not necessarily in the clear! There's no timeframe for me to be in the clear, just something I will need to be conscious of indefinitely.
Sounds silly but no more scream singing, no more yelling my brains out for the Cardinals, and alcohol likely only on social/special occasions, but in any case, never out of control. And water. So much more water than I'm used to.
It truly is a lifestyle change but in the end, all the changes help my overall health, so it's all good!