Well, it's time, guys!!! It was almost a month ago that I put together that ginormous planing post for what I was going to wear in Europe. If you missed it - you can get yourself caught up first and foremost here. We leave on Wednesday, so I wanted to make sure I physically got my clothes into my suitcase over the weekend. I was anxious to see how everything would fit because I really didn't want to bring anything bigger than a domestic sized carry-on since there will be many times where we are having to lug our suitcases around. Even if I did have to end up checking my bag, I still wanted to function off of a carry-on-sized bag plus a backpack and that's it.
I originally bought this suitcase off Amazon, but when I test fit everything, I realized my holy grail Calvin Klein bag (seen here and no longer available) had more capacity. I was able to fit everything from my packing post in my Calvin Klein bag with the exception of my 3 pairs of shoes and my toiletries. The husband agreed to use a larger suitcase himself in which I could place my remaining items. I was fine with that plan until I remembered that the handle of my Calvin Klein suitcase sticks, which is why I wanted the Amazon option in the first place! The pull handle extends out fine, but you have to fight with it to get it back in its home position. The suitcase has lived a long life, especially for its $70 price, so I was ok retiring it.
I started searching online for other hardshell spinner bags, but it's just so hard to tell true size and features without seeing it in person, so we visited a luggage store this afternoon.
The husband travels all the time, to the point where it's more uncommon to have him home for a full week verses not. He's pretty rough with his bags and swears by Briggs and Riley - he has a couple of their pieces already. He wanted me to at least consider one of my own. I really didn't want to like it, but every other hardshell bag she showed me in other price points truly paled in comparison. I prefer a hardshell bag because I want to be sure that it will always fit in the overhead bin. Sometimes you can overstuff non-hardshell bags, the fabric can stretch and you inadvertently make it too big to fit in an overhead bin but don't realize it until you're on the plane. I never want to be in that position! Plus in my head, I feel like the harder exterior better protects the contents of my luggage (don't crush my shoes!!) So, anyway, I ended up getting the 22" domestic spinner. I compared it to the 21" international spinner, but was surprised how much capacity you gain with that extra inch. Like I said, we will end up having to check my bag anyway, so I may as well get the extra capacity.
See this post for shoes and everything else I packed
I was pleased to find out that all of my clothes AND shoes fit in the Briggs and Riley suitcase. I will only have to put toiletries in the husband's bag. It holds a ton. What's great is that you can expand it before you even start packing, then once you zip it up, you can compress it back down to its original width, or close to it. I was able to pack everything from my packing post plus I added this pullover, this top and this top! The only other change I made was my faux leather moto jacket - I bought a mauve version over the weekend and felt that was more springy than the burgundy one I originally planned to bring.
I really like the packing cubes - especially since I tested how everything I wanted to bring would fit into three different suitcases!! Imagine the nightmare had everything been loose! I decided to organize the cubes by clothing type. I have tops/tanks in one, bottoms and my dress in another, sweaters in the third one, and jackets/baseball caps in the fourth one. (The
"Wash Me" bag
you see in the zipper pocket of the suitcase has all of my bras, undies, and socks in it. I also have a hair towel and romper that I will use as a shower cover up in that same zipper pocket.) I do think the packing cubes save a bit of space just because they keep everything neat and contained, though it's obviously not a drastic space savings. It saves my sanity more than anything and will keep me organized and from needing to unpack my whole suitcase as we change destinations. (We will have 4 different sleeping destinations over the 10 days!)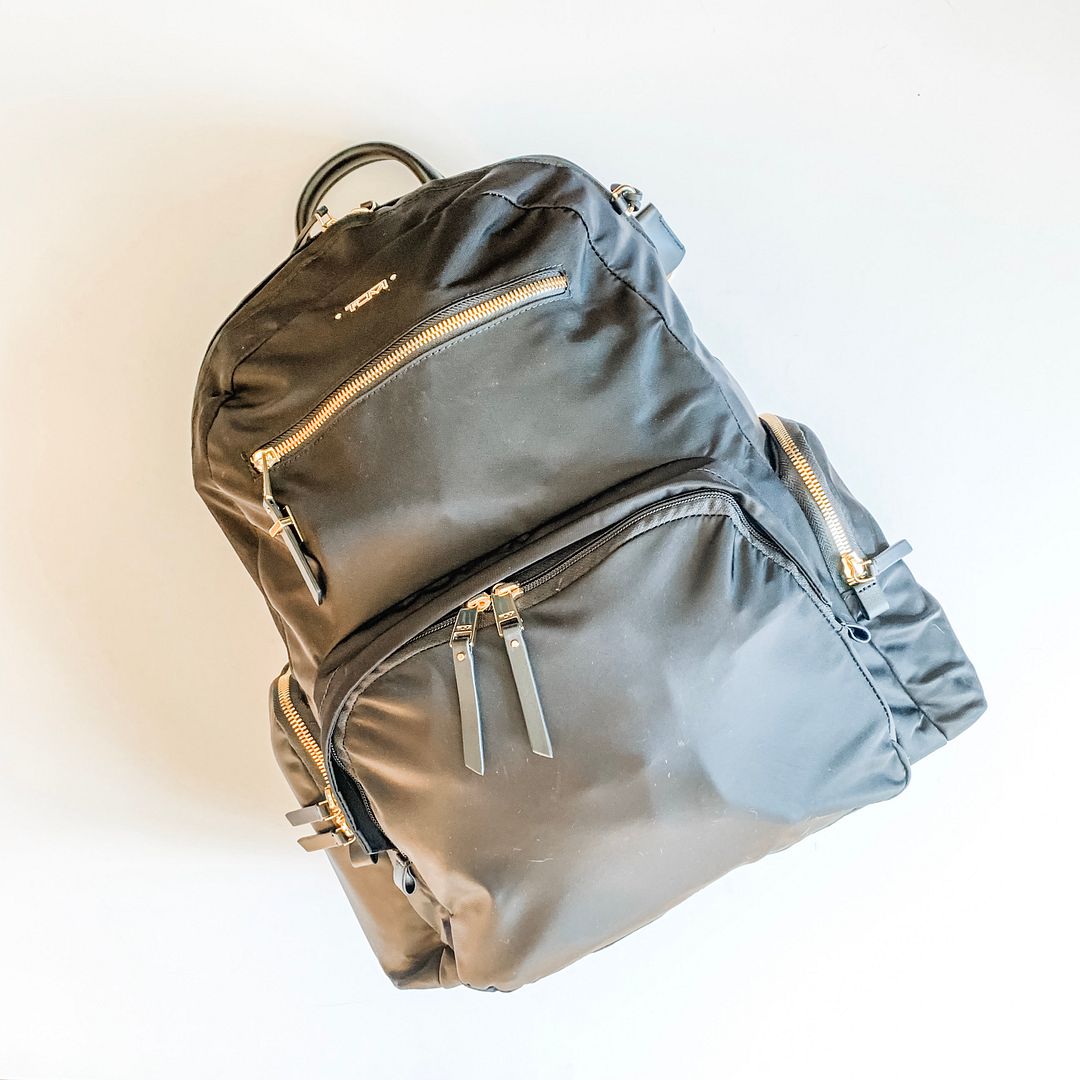 Speaking of things I really tried hard not to like - this backpack. I love my Lo and Sons "OG" bag, but sometimes you really just need a backpack. I had been using my Just Porter backpack for about 3 years now, and I really did love it. There was a spot for everything! The one thing I wished for my Just Porter bag was that it was sized a little bit more for me. I got a few comments saying "WHOA! That's a big bag!" I honestly didn't feel like it was *that* big, but everyone's comments made me feel otherwise. Proportionally, it looked better on someone like the husband verses me. It didn't derail me from using it for 3 years, obviously, but in preparation for Europe and knowing we would be on the go non-stop, I was on the hunt for a bag with the same capacity as my Just Porter, but a little more lightweight and a little smaller in physical size.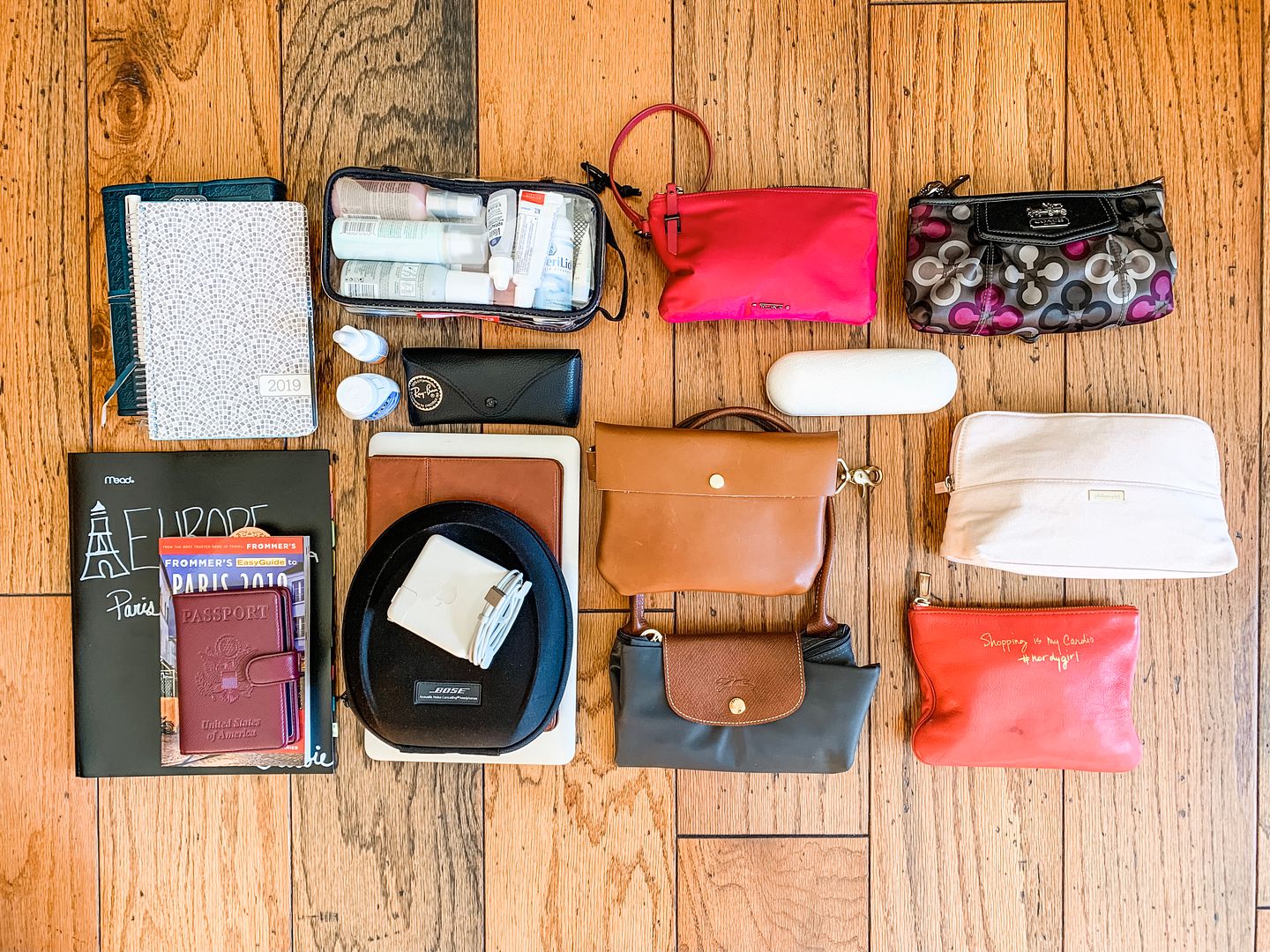 When we were at the airport in Mexico, the husband asked if we could look at the Tumi stuff at the Duty Free because they were on sale and they are seldom on sale. I agreed, and ended up checking out their backpacks for myself. I immediately fell in love with this one. It was everything I was looking for and then some!! I've been using it as my daily work bag ever since we got back from Mexico in early February, and I think I've told the husband about 238753876 times about how much I love it and how glad I am that I bought it.
If you hurry, you can head to my Instagram page and see the video I posted to my stories about everything that I can fit into this. The photo above shows you everything, and to be honest, I don't think I will end up bringing my laptop, and I feel like I can consolidate a bag or two, so the depiction above is a "worst case" scenario of what will be on my back! With my vocal chord issues and need to drink ALLTHEWATER, I also bought an insulated, self-filtering water bottle that I will carabiner to my backpack.
And there you have it! We don't leave for another couple of days, so I'm using that time to do things like free up space on my phone and download things to watch on Netflix. Two more work days!!!!