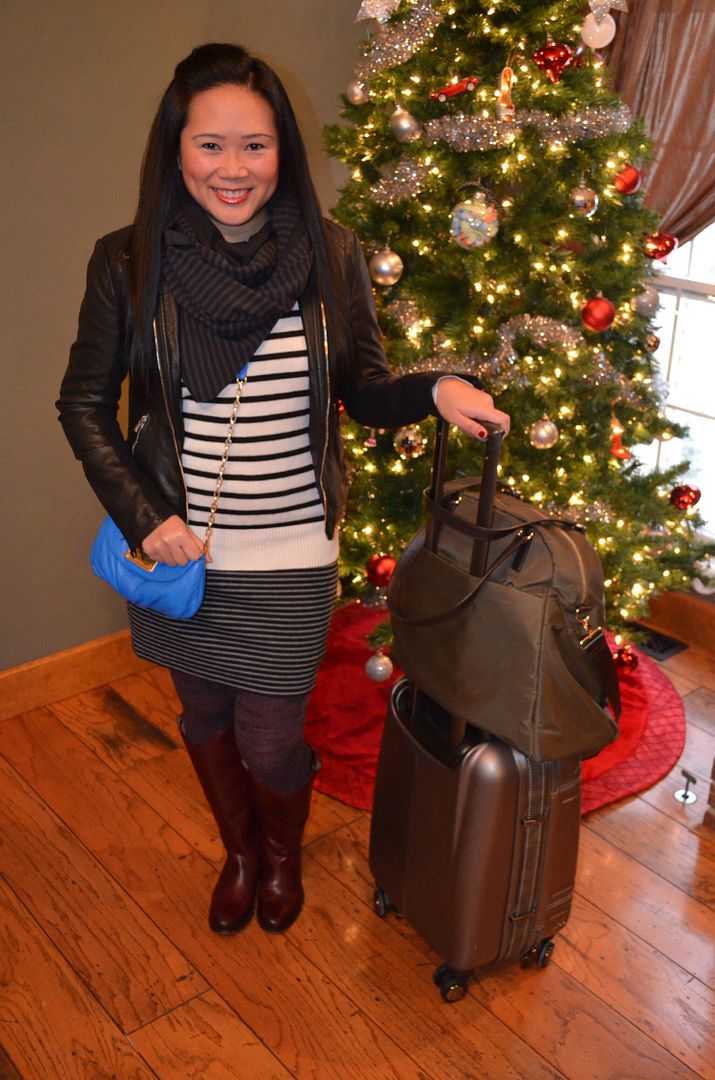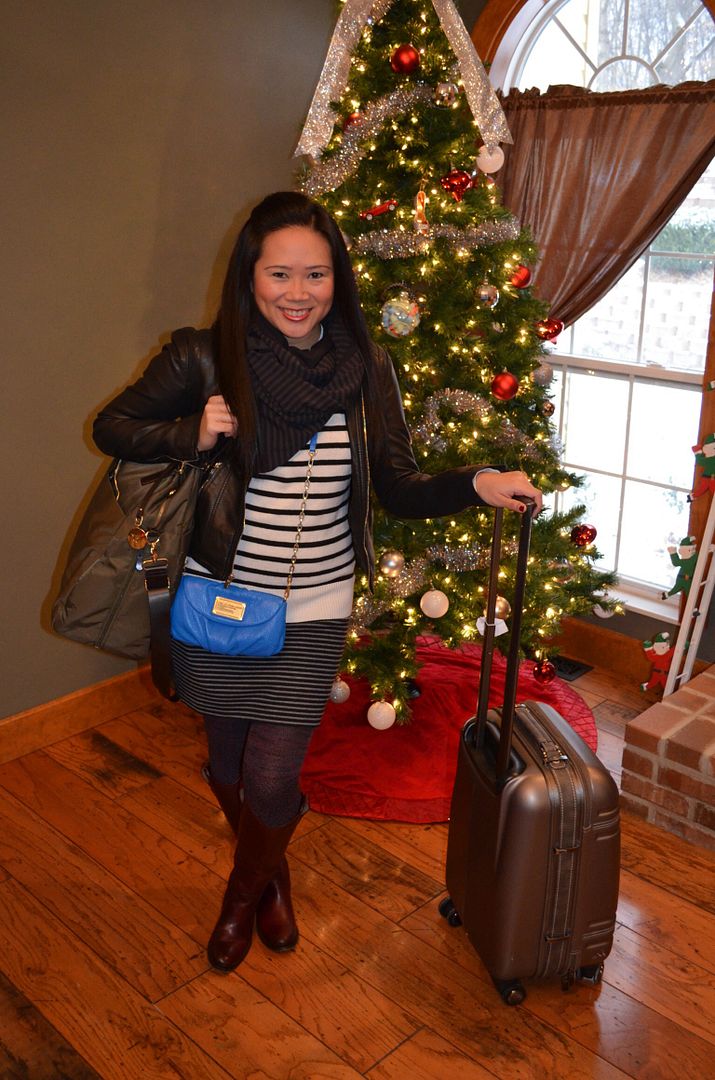 I can't believe we're already at week 3! We're halfway through this series - it's both exciting and sad at the same time because I am having so much fun! This week our focus is on Holiday Travel. My family lives out of state, so we are normally having to travel for either Thanksgiving or Christmas. This year, we are traveling for Christmas - we will be in southern California. I've had a couple of posts about packing already (cold weather packing here and warm weather packing here.) I've shared a couple of travel outfits - this one here happens to be my most re-pinned outfit EVER on this blog, by a long shot; which of course happens to be a gym selfie. Oh the irony.) So for this post, I not only wanted to post an airport outfit, but I also put together a little video with tips on what to expect when you're going through security, and how you can streamline the process.
Let's start with the outfit. As I've said in other posts, I always choose something wrinkle free. The flight to Cali is a pretty lengthy one, and since we arrive late morning, I still have the rest of the day I need the outfit to look fresh for. I tend to reach for dresses or skirts first because they are a lot more comfortable and less constricting for the plane. And layers are key. The scarf can double as a blanket on the plane if needed. Or if it's too hot, both the jacket and the scarf can easily be folded and put away in one of my carry on bags. The flat boots are great for comfort, and the tights are awesome because they won't come off when you pull your boots off - one less thing to fuss or worry about.
As for hair and makeup - I usually keep makeup pretty minimal as somehow the plane always ends up sucking the life from my face anyway and I have to reapply when I land. I'm mindful of how I do my hair - knowing that I'll be resting the back of my head on my seat. Updos aren't really ideal, unless it's a low pony, and even then, it can flatten. This is my easy hairstyle, I know I do it way too much - but it keeps the hair out of my face, it's faster to do when getting ready (I only haphazardly flat iron my hair), and it keeps its shape just fine on the plane.
I've gone through life checking my bags over and over because I overpack and/or I have too many liquids. You have no idea how many times my bag has gotten "lost." I've finally come to realize that I would rather be doing other things with my time than waiting in line to check my bag or watching the carousel turn a million times before my bag comes out at my final destination. This roller bag has gotten me comfortably through a one week trip - it deceivingly holds lots of stuff. And it's truly all about remixing the items you pack. Although this was a forced situation where I had to remix to the max, I prove here that a few pieces can go a long way.
Alright, so that being said - here's the video I put together about going through security. It all seems second nature to me, but I am amazed at how many people look lost and ask questions while I'm at the airport. Just because I may travel a lot, doesn't mean the majority does. So, I hope you'll find it useful whether you're traveling now for the holidays or for whenever your next trip may be!