Bright stripes
I've always been a sucker for stripes, and I probably always will be. So these dress and sweater purchases have nothing to do with spring or trends. (OK, except maybe the neon pop in the sweater.) I actually had a beach vacation in mind when I saw the dress - flat sandals, a colorful beach bag, wavy hair. The sweater is super lightweight and a perfect transitional piece from the cool weather (which seems to never want to leave) to the warmth of spring. Other ideas for bright stripes: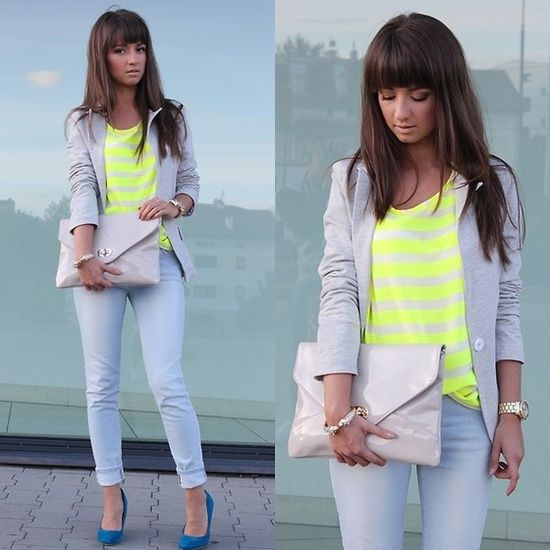 Neon stripes with a neutral blazer and bag and color pop shoes
Alexandra M. from Lookbook.nu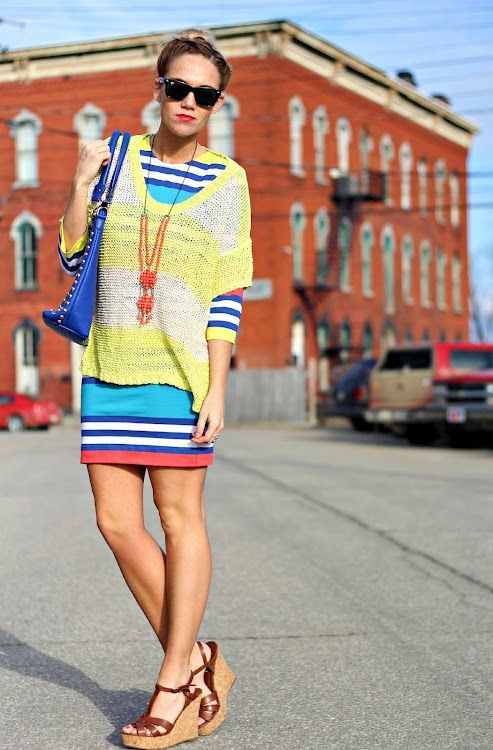 Striped dress layered under a gauzy sweater
Missy from Pop of Style
Colorful bags
I've been wanting this teeny MbMJ bag for awhile now. I originally wanted it in blue, but passed on it, and by the time I was ready to buy it, the blue version was nowhere to be found. So, I was very excited to see it appear at my local Nordstrom. Especially excited that I had some Nordie notes to use also! The Kate Spade bag is equally fun. I've been seeing this bright pink bag from Target everywhere, which has been making me crave a pink bag like nobody's business. This Kate Spade is obviously a different version, but with an extra 25% off the already reduced price, it was hard to pass up. And how fun is it? Outfit inspiration for bright bags: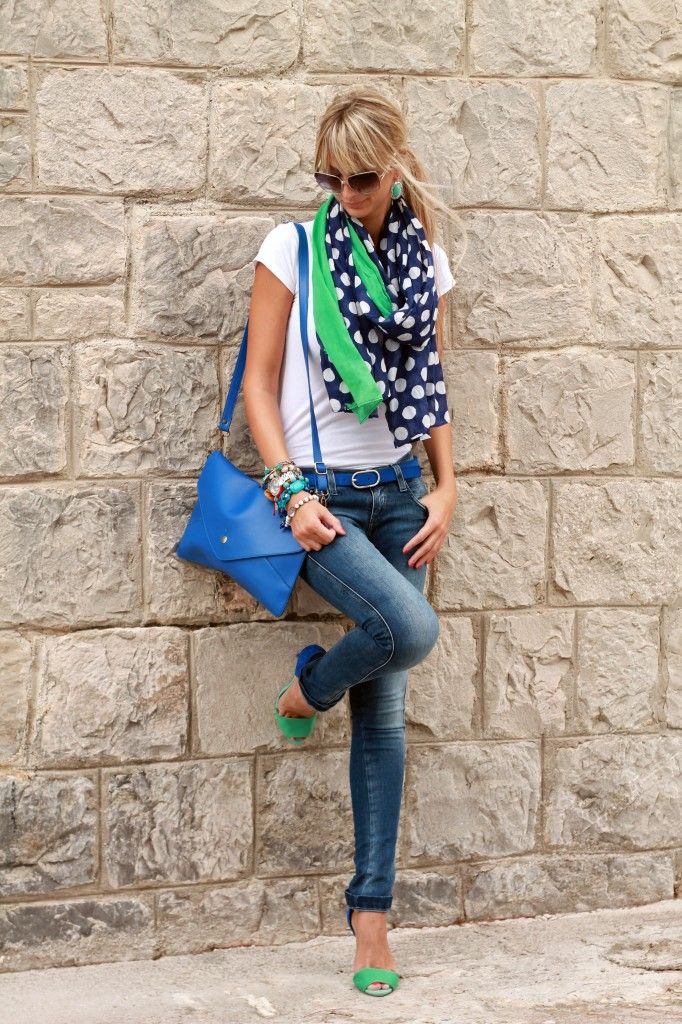 Blue bag with a dot scarf and colorblock shoes
Basics by Fashion Fractions
Pink bag with floral and stripes
Tara from Mix and Match Fashion
Gingham
I'm building my gingham collection, what can I say? I have a thing for gingham right now in a bad way. Last weekend I ordered the gingham Kate Spade "Dabney" wedges, and I'm using all my brute strength not to buy the Kate Spade for Keds gingham sneakers. But back to this shirt. I have the green and pink gingham, so I really wanted the traditional navy. For why? Honestly, it's a great base layer for pattern mixing.
Navy gingham with stripes and polka dots
Serena from The Serena Saga
Mint on Mint
Yes, I did it. I fell for mint. And not only did I fall for mint, but I fell for the concept of mint on mint. I've been on a hunt for a skinny mint jean. I hope these from American Eagle work out. AE pants and jeans fit me pretty awesome, oddly enough. It's one of two places I can walk in, pick up my size, and know they will fit me perfect without having to try them on. I love that these have a bit of edge to them with the zipper details at the pockets. The mint top I ordered is great - I was intrigued that it has the fit of an easy button up, but is collarless. I want to try it with this Peter Pan collar necklace. But back to mint on mint - the look is effortless, light and airy, and I love the way it looks paired with cognac!
Pink pop
I feel myself reaching for pink jewelry a lot, but I don't have much in my collection. So, I decided to snag this ring and bracelet during Kate Spade's Friends and Family sale. Pink jewelry does for my outfit what hot pink gloss does for my face - instant glam. I love pops of pink in a neutral outfit.
Original source unknown - see pin here
As for the pink shorts, well, I'm pretty addicted to the chino shorts at American Eagle. They are buttery soft, and just like their pants and jeans, they fit me so well. Again, thinking of a beach vacation, I decided to look around on their site for this year's colors. I decided to get them in this plumberry color. I figured they were the next versatile color to buy since I've already got the basics covered (black, white, khaki, navy, yellow, blue.)
L: Stripes and animal print (source)
M: Gingham and cognac (Tara at Mix and Match Fashion)
R: Easy white button down (source)
Wow. Needless to say I didn't mean for this post to be so long. It started off with me just sharing my weekend purchases and it turned into a collection of Pinspirations. It's all good though. This exercise already has me thinking about how I can mix and match these items with each other. Gingham shirt with pink shorts, pink accessories with mint outfit, striped sweater with mint pants and blue bag... I love having versatile pieces! But, enough about me. What have you bought lately?