I've always said that I'm into shoes more than I am into handbags, but after compiling all of the photos for this post, I think I may have to re-think that statement.
Grab some coffee, and let's take a tour of Carylee's handbag collection, shall we? Except, first.
Dear Husband: If you're reading this, just close out this little browser and pretend none of this happened. Oh hey, look over there! It's a supercharged Camaro!...
I've been wanting to do a "what's in your handbag" type of post for quite some time, and this handbag style guide by Rue La La finally pushed me over the edge to just do it already! It was interesting to read through the different types of handbags Rue La La highlighted. I wanted to take a closer look at my collection to see where I may have some holes. Where Rue La La distinguishes handbags in the following categories -- clutch, tote, baguette, hobo, satchel, luxury; I am separating my handbags into the following groups: evening, crossbody, medium sized, convertible, large, and statement.
GROUP 1: EVENING
Clockwise from top left: Christian Louboutin, Kate Spade, Vince Camuto, Kate Spade, Ralph Lauren, Michael Kors
The purpose of this group goes without saying. Something big enough to fit my bare necessities for the evening, but small enough where it's not a total inconvenience to hold. I do have a handful of other small wristlets that aren't pictured, but the black bow Vince Camuto clutch/wristlet is probably my most used. The Ralph Lauren leopard handbag is the most ideal because it comes with a shoulder strap that I can whip out if I need both hands free.
GROUP 2: CROSSBODY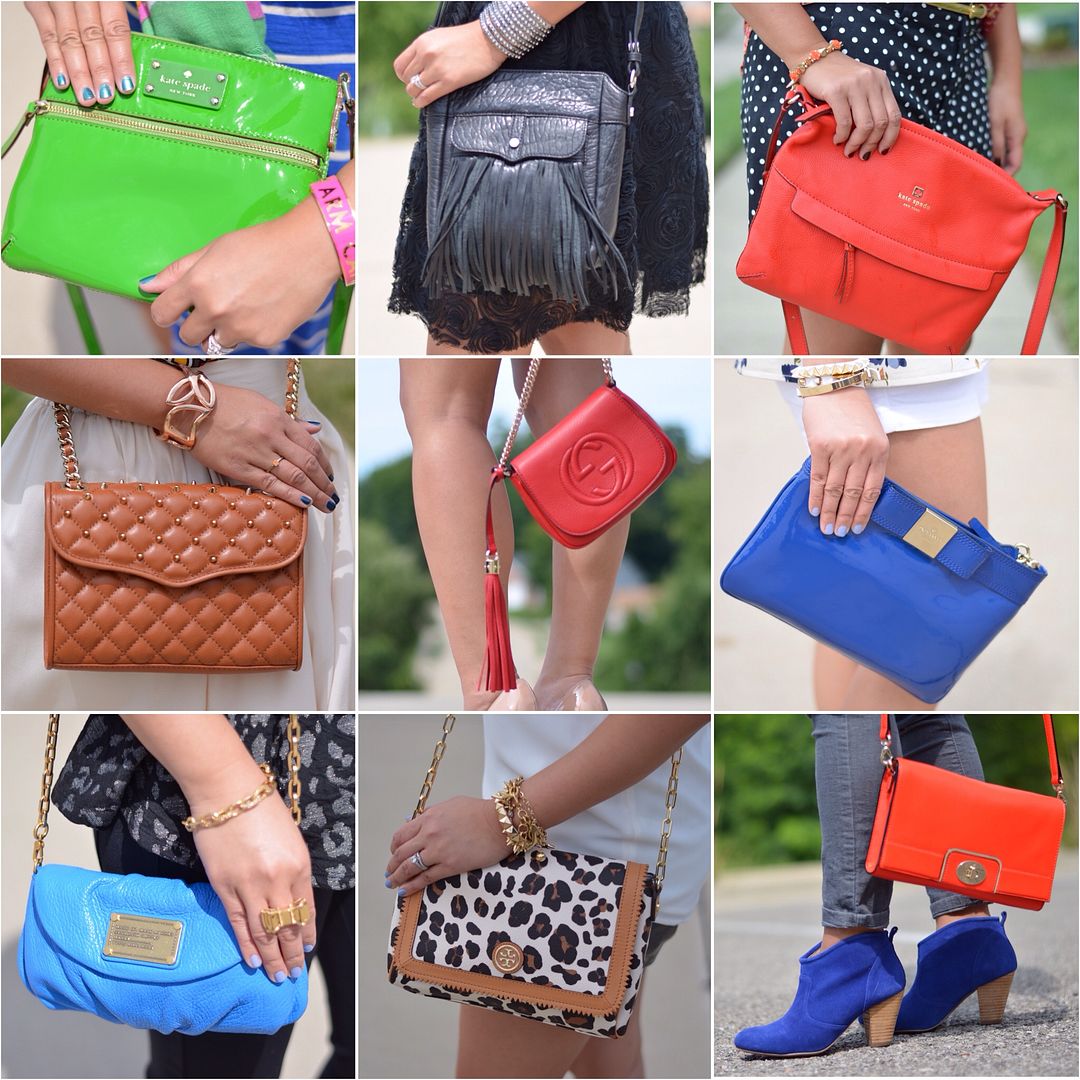 Top (L to R): Kate Spade, Rebecca Minkoff, Kate Spade | Middle (L to R): Rebecca Minkoff, Gucci, Kate Spade | Bottom (L to R): Marc by Marc Jacobs, Tory Burch, Kate Spade
Up until about 2-3 years ago, I never ever owned crossbody bags. I always felt like there was something matronly and dated about them. The very first crossbody I purchased was the green patent bag above, and it was all downhill from there. The perfect sized handbag to carry essentials with the ease of simply throwing it across my body -- not having to worry about it slipping off my shoulders, but still having my personal belongings at my fingertips.
GROUP 3: MEDIUM SIZED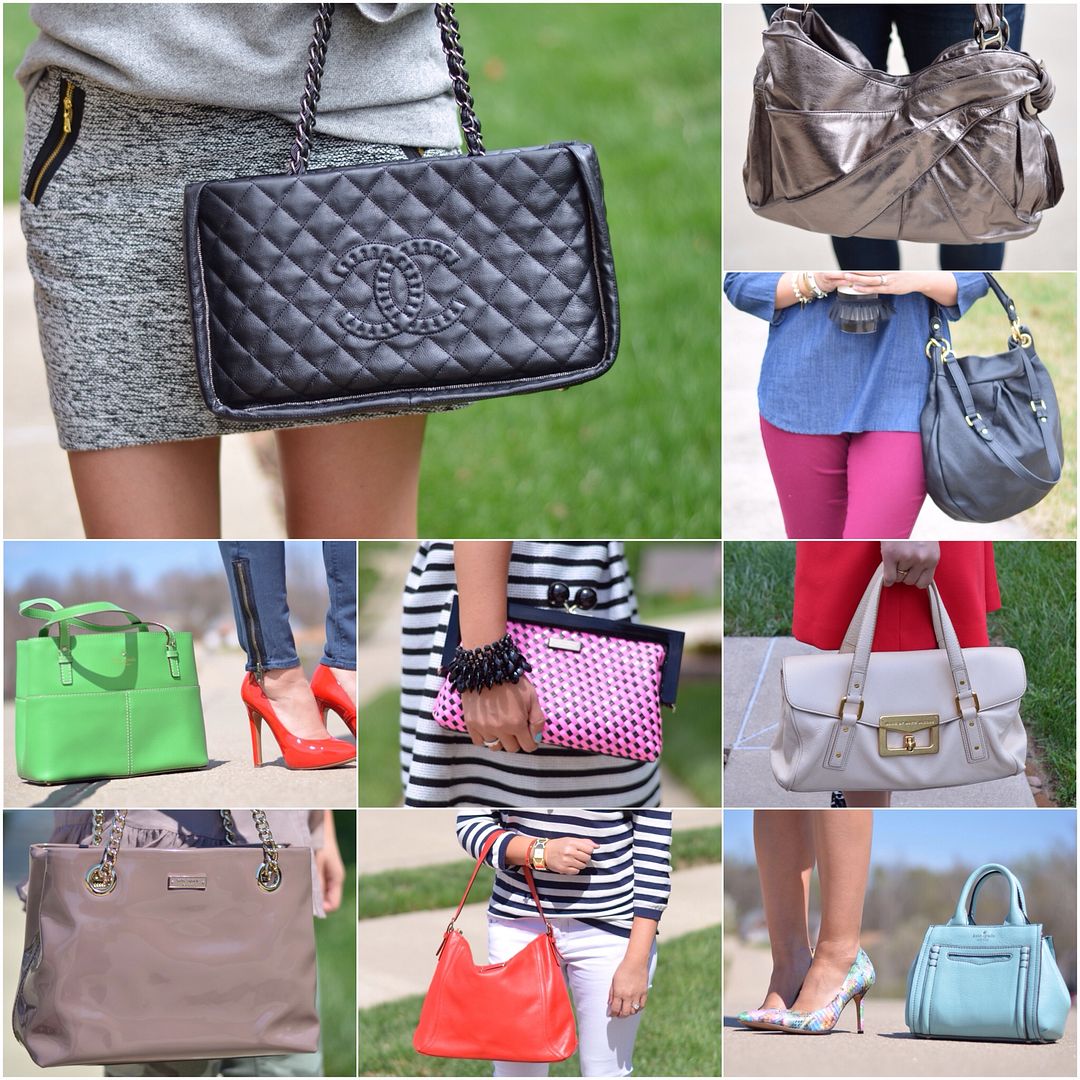 Top (L to R): Chanel, Kooba, Marc by Marc Jacobs | Middle (L to R): Kate Spade, Kate Spade, Marc by Marc Jacobs | Bottom (L to R): Kate Spade, Kate Spade, Kate Spade
OK, so maybe I don't have a handbag problem, I just have a *Kate Spade* problem. Ooops. But their flash sales get me every time! But anyway - these medium sized bags are the crossover vehicle of the handbag world. They're big enough to carry my daytime essentials for running errands, but they're still small enough for me to take to dinner if I felt so inclined. Clearly I favor the tote style. I like to be able to just throw everything in my bag, and quickly see the contents all at once.
GROUP 4: CONVERTIBLE
Top (L to R):
Kate Spade Saturday, Chicastic
|
Middle (L to R):
Foley + Corinna, Marc by Marc Jacobs, Chicastic
|
Bottom (L to R):
Foley + Corinna, Marc by Marc Jacobs
I am a sucker for anything that has a dual purpose because then I feel like I am getting two handbags for the price of one. These are also my favorite types of handbags to pack on a trip because they can expand to however much you need them to carry. And, the slouchier the better. I love the easy, laid back look of a slouchy handbag.
GROUP 5: LARGE
Clockwise from top left: Michael Kors, Kate Spade, Marc by Marc Jacobs, Stella & Dot, Kate Spade, Kate Spade, Kate Spade, Rebecca Minkoff
The two handbag styles I use the most are the crossbody and these large totes/satchels. While I do have a separate laptop bag I use for work, these are the perfect carry-all of anything and everything. I love the way a good structured handbag finishes off an outfit. I was actually surprised I didn't already have a black structured tote, which is why I recently purchased the one above from Stella & Dot.
GROUP 6: STATEMENT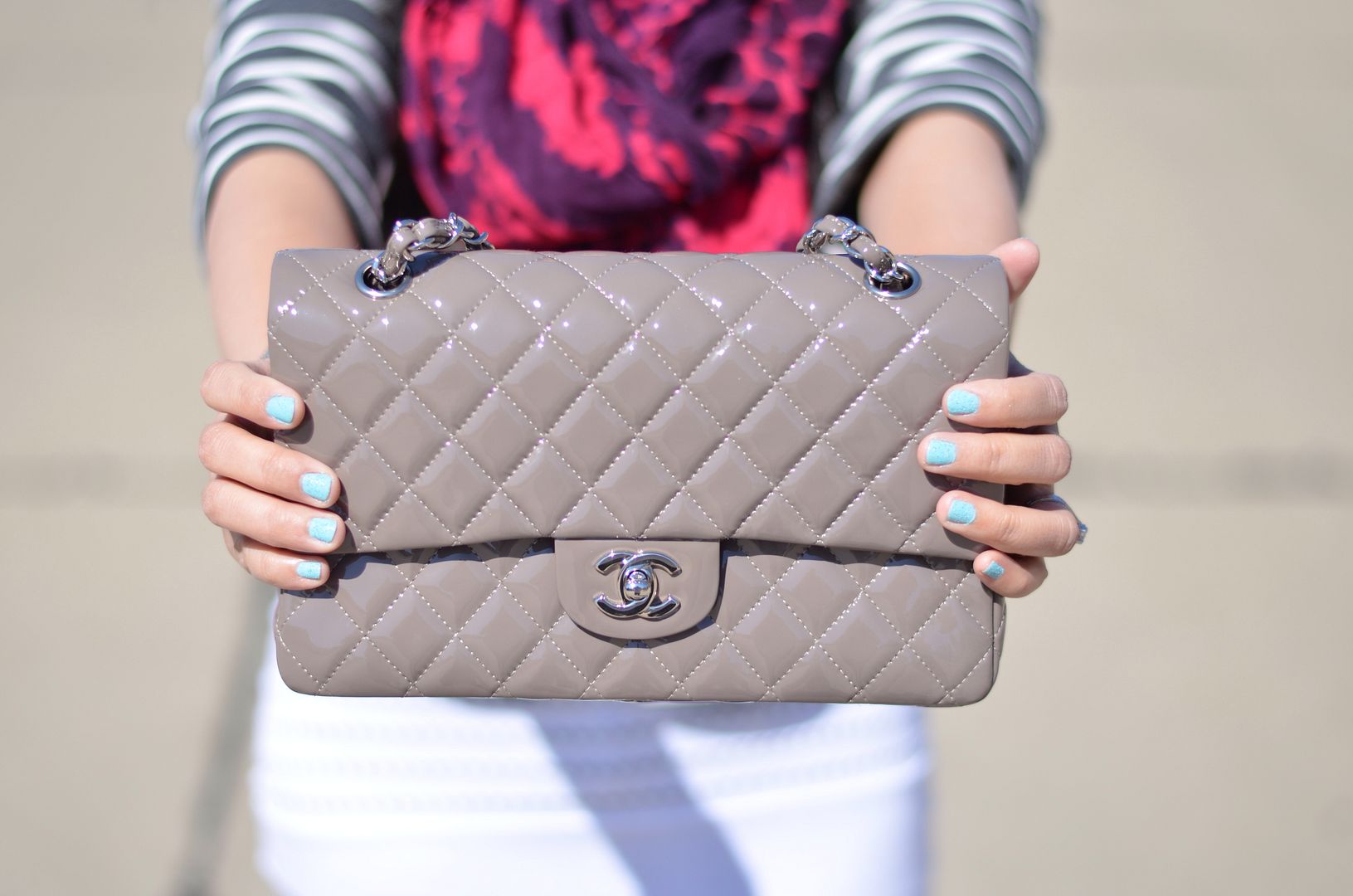 Chanel Medium Classic Flap
This is why I don't consider myself a handbag lady - I really don't have many luxury or statement handbags. OK, so I do have one other Chanel and a small Gucci, but I don't own a Louis Vuitton, which I feel is the proverbial blogger bag. I don't have a Celine. I don't have a Chloe. That's not to say I never will, but it's not on my immediate wish list. For now,
this bag is the mother of all my handbags. I talk more about her in this post
here
, and I'm not kidding when I say that she takes my breath away every time.
WHAT'S IN MY HANDBAG?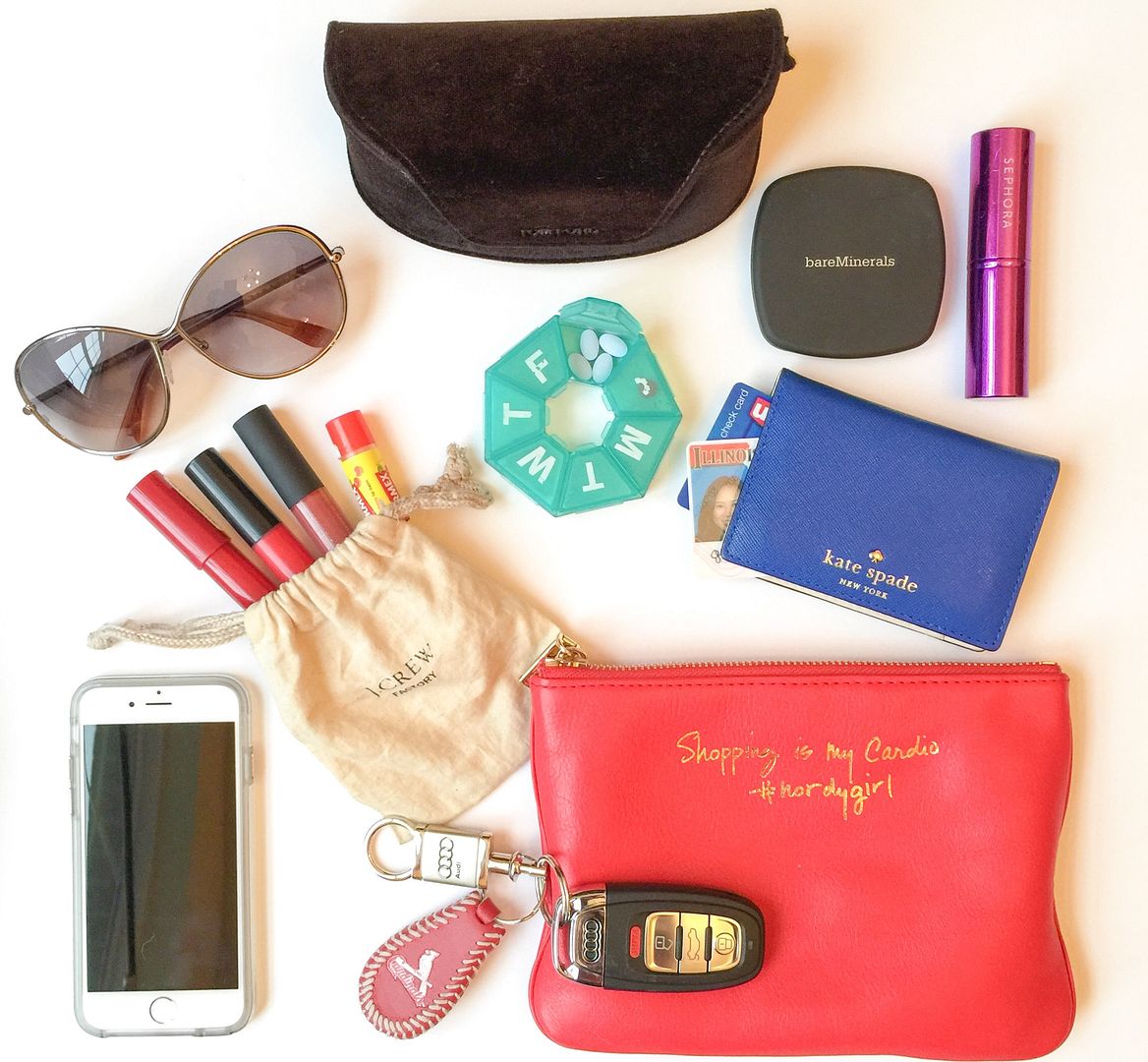 Sunnies: Tom Ford | Wallet: Kate Spade | Pouch:
Rebecca Minkoff
With all those handbags, it definitely becomes a task having to transfer contents over and over again. I found the easiest way for me to manage this was to simply throw my essentials into a simple pouch - iPhone, keys, wallet, gloss (in a JCrew jewelry bag so the inside of my purse never gets gooey), powder, and pill case (for Excedrin, Sudafed, Advil, etc.) The only thing "loose" I have left to grab are my sunglasses of the day.
Other things I may end up lugging around with me are: small toiletries bag, notebook, shoe aids (see post here), camera, iPad. However, my absolute must-have-can't function-without items are pictured above.
Whew. I'm glad I was finally able to document my handbag
addiction
collection for you. I hope you don't like me less now that you know I'm a hoarder. Perhaps a few of you can at least relate to the fact that certain outfits require certain accessories? I would love to hear what your favorite styles are and how your everyday essentials compare to mine!
And if this post has left you inspired to build your collection, I've selected some splurge and save options below! I may have accidentally ordered this clutch while I was pulling this shopping inspiration for you. But, it was less than $20, so that's ok right???

SHOP HANDBAGS: