This weekend was crazy busy, specifically Saturday! Ok, who am I kidding? The last two weeks have been a whirlwind of all the things, but I felt extra busy on Saturday. I decided I wanted to pay a visit to the new Charming Charlie that just opened - they were having a grand opening sale. Then I had back to back hair and lash appointments. I had to find time to take a couple of blog photos and flat lays. And then the blogger dinner and wrap party for fashion week that I recapped for you on Monday. So what does one wear when they are running around like a chicken with their head cut off? The easiest breeziest tunic and booties of course!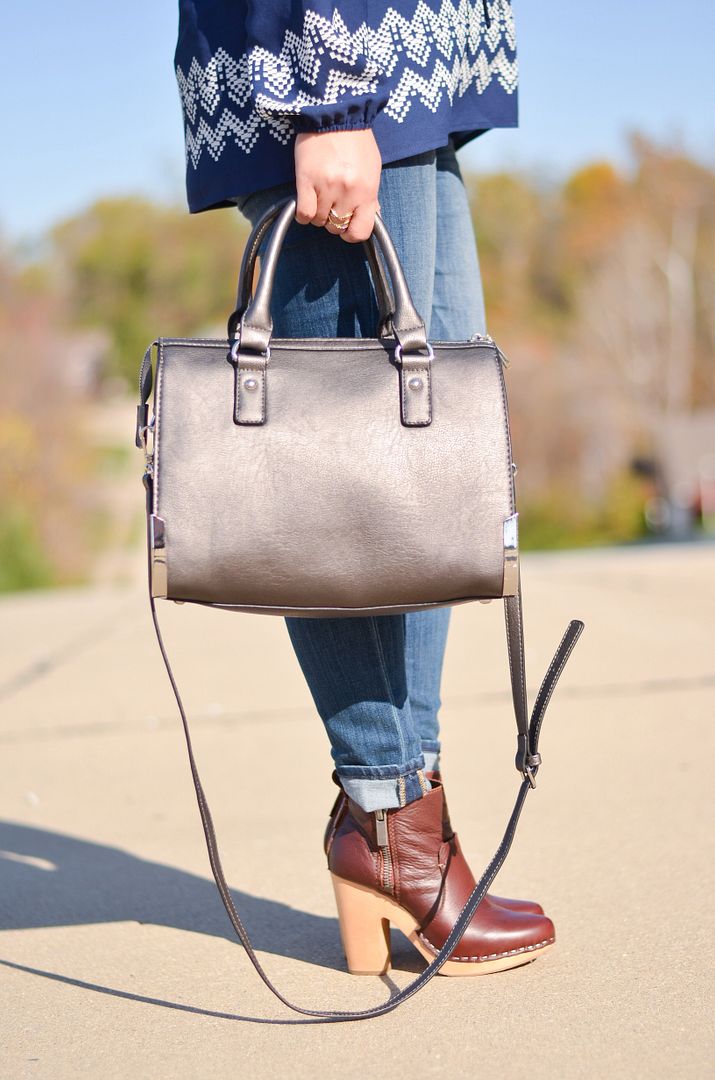 It's no secret that I'm a bag hoarder. Don't believe me? I didn't believe it myself until I was putting together this post here. That said, I am surprised how much I love the bags I've gotten from Charming Charlie. I am not sure if that is a good or a bad thing though. Considering their super affordable price point, my bag collection could possibly quadruple in size. I will need to put an addition on my closet room! The color of this bag is actually unlike any other in my collection, and it held all my necessities plus my DSLR camera with room to spare!
Shopping requires comfy shoes, and despite the heel on these booties, they are quite comfortable. And the reddish brown color was a perfect contrasting pop to the outfit. The tunic was the perfect choice - allowed for plenty of movement, and kept me comfortable all day, which included laying on the table for an hour napping getting my lashes filled.
So what did I end up buying at Charming Charlie? Oh, all the things. Seriously though. I confessed to the husband that I spent a small fortune, but luckily he didn't judge nor question me. In addition to the fringe bag you saw in Monday's post, I went home with this weekender bag they posted on their Instagram page here. I knew I wanted it, but I wanted it even more when I realized they only had one left in the store, which was the display, so I had them hold it behind the counter for me and guard it with their lives while I made my rounds in the store!
Their necklaces were buy one get one half off, so I stocked up on some delicates (seen here) along with this druzy pendant. And rings. And bracelets. Yeah. Needless to say, I did some damage, but I'm pretty excited about all of my new goodies! If you haven't ventured into a Charming Charlie lately, I highly suggest you do!

SHOP THE POST: