It's Friday, PLUS it's the Friday connected to a long weekend! It seems like it's been forever since we've had a holiday! Probably because my last holiday was New Year's Day! Time flies, but I have to say I welcome the longer break! The husband and I are headed on a road trip this weekend. We decided last minute to tackle the bourbon trail! You can follow along on Snapchat (carylee07) or on Instagram stories (morepiecesofme) - I'm sure it will be fun and I can't wait!! Before I go, I wanted to share some of my favorites lately along with some things I've had my eye on for summer!
First, I am obsessed with easy summer tops. Especially since I often head from the office to Pilates and then back. Any lightweight, super breathable top is a friend of mine! I recently just bought 3 from CS Gems that I shared on Instagram on Friday, but wanted to make sure I document here. The tank featured in the flat lay above was a fan favorite. Here are the three that came home with me: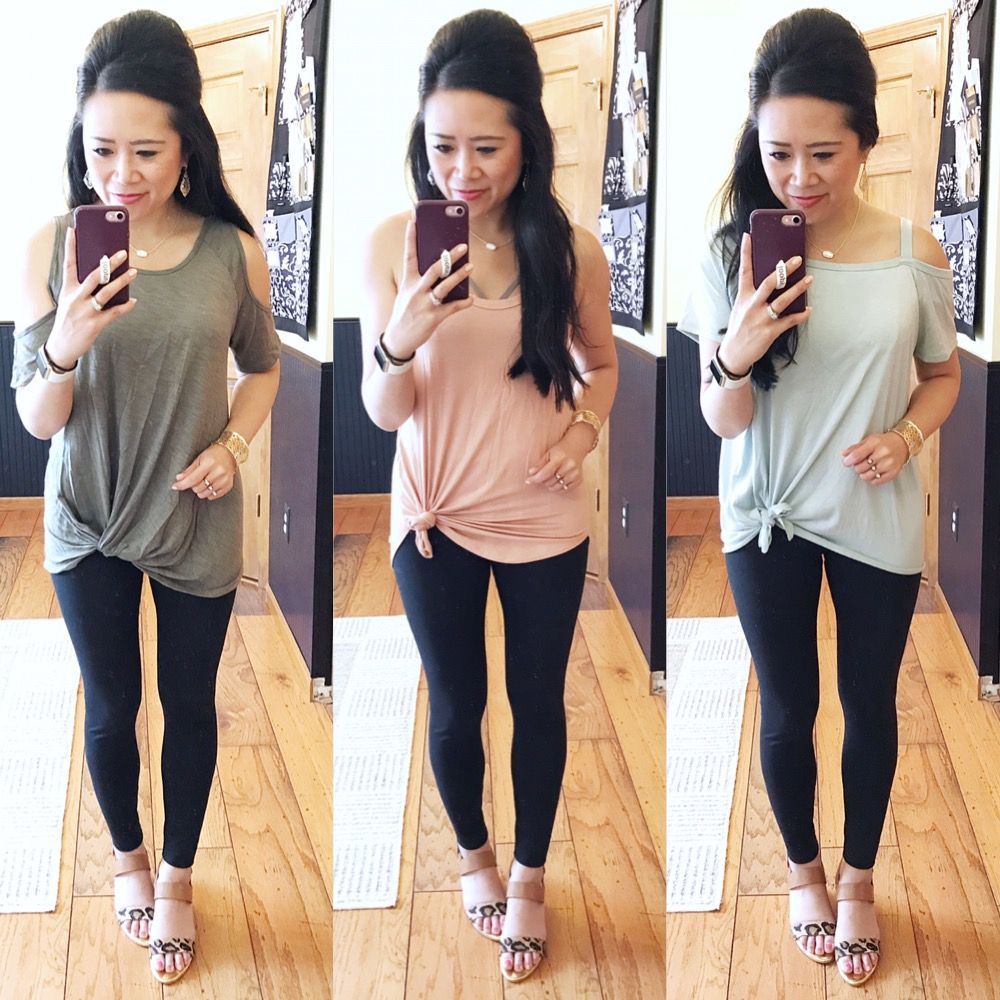 I'm wearing a small in all three and I love that all of them cover my tush, again making it easy to transition from workout to real life in leggings. And I have to laugh seeing these all next to each other because clearly I have a thing for knots and shoulders! You can use code CARYLEE15 for 15% off these tops or any purchase on CS Gems site.
Second, I have this American Eagle plaid top in a couple of colors and I reach for it + jeans on the weekends all the time. This blue one is brand new, but you can see the other I've recently purchased (and is still available) here and here and here. It's boyfriend fit, but not oversized at all, which I love. Plus, it is AH-mazingly soft just as its name implies! It's a perfect substitute for a cardigan in the warmer months because you can just throw it around your waist when you're not needing it!
And third, I bought these wedges before I left for the rewardStyle conference and they have proven to be a warm weather workhorse already! These are just a few ways I've worn them. You also saw them earlier in the week on the blog here. They are the perfect neutral, so honestly, they will go with all the things. I think the only thing they wouldn't go with is a fancy cocktail dress. Otherwise, they will be your summer staple. They do run just a little narrow, so I sized up a half size. I also added a ball of foot pad to make them even more walkable. If I can walk through the airport with them dragging my carry on bag, you know they're comfy.

Before I go, I thought I would share some things I've been stalking lately. Memorial Day is the official kick off to summer for me, so I'm craving anything and all things that can go with me on vacation! What are you shopping for this weekend?