We made it to Friday! And that means I have another roundup of real-life outfits I wore. Not that the other outfits I post on the blog aren't real, but they're usually weekend outfits, and these are the outfits I have worn Monday through Friday. Let's get started!
Monday
Top: Express (in true white) | Bottoms: Express (in rose bud) | Pumps: Christian Louboutin "Decollete"
This is the same outfit I shared on the blog last week here. The only change I made was switching to nude pumps in lieu of the sandals. I liked the silhouette a little better with a taller heel, and the color of these pumps went so well with the rest of the outfit I haven't worn these heels in forever! I'm not going to lie - they aren't the most comfortable at all. But they are beautiful.
Tuesday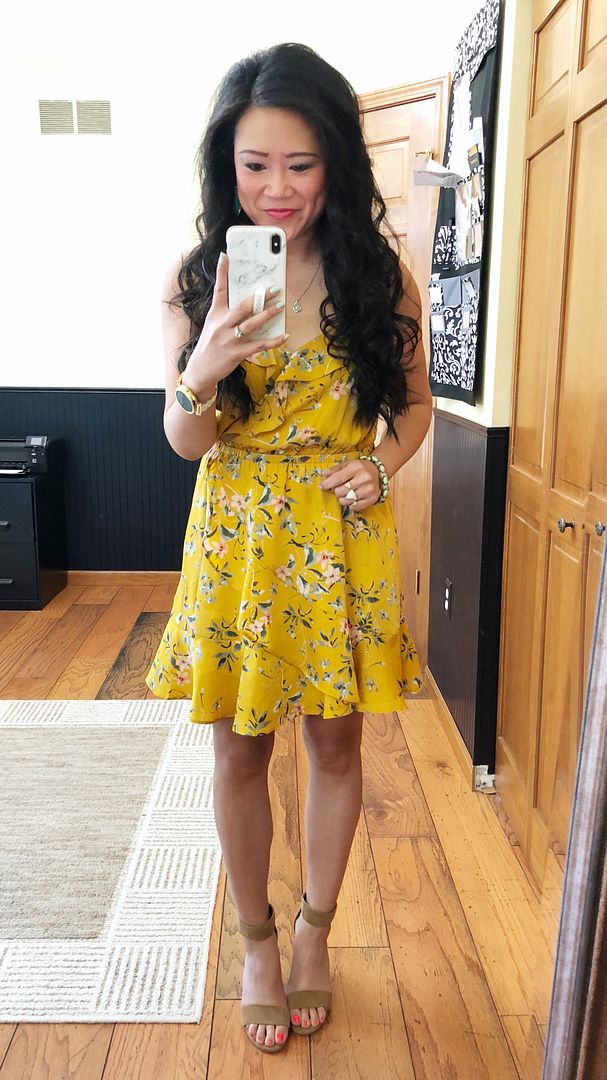 Necklace: Kendra Scott "Cory" (current colors here) | Dress: Express Floral ruffle wrap cami dress (see current colors here) | Sandals:
Jeffrey Campbell (super similar)
---
Speaking of outfits I have already worn on the blog, you can see the original post about this dress here. I am glad I posted about it sooner rather than later because it appears to be sold out in this yellow color now. The temps have been so hot here lately, that it was finally time to whip this out for work. The yellow is just too good.
Wednesday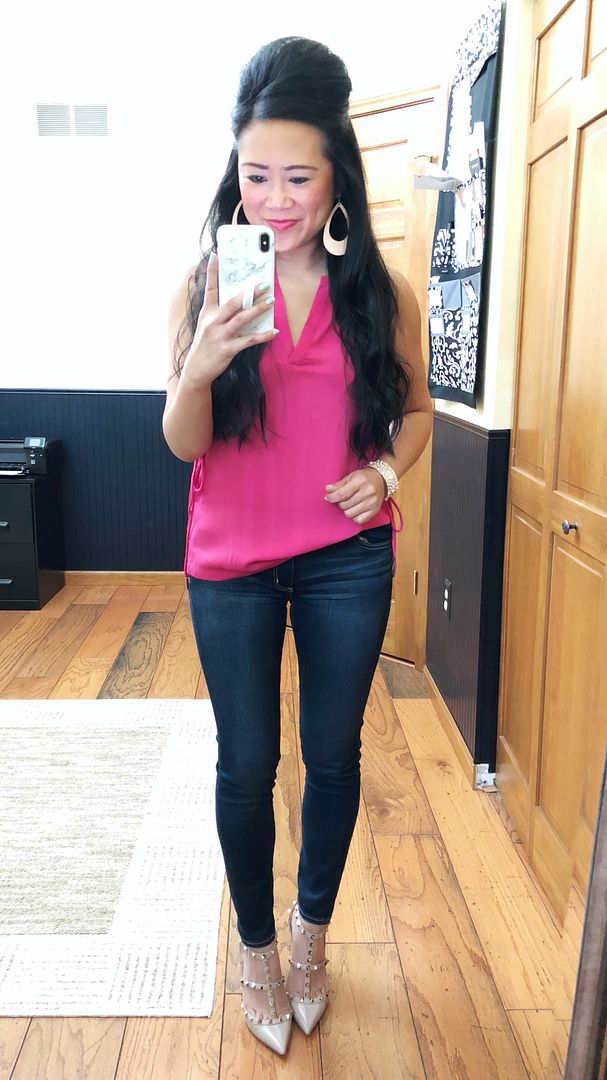 I'm always a sucker for CS Gems' new arrivals and I picked this top up a couple of weeks ago because the bright pink color was too good. I also love tops that have unique details, and the lace up ties down the sides of the bodice are adorable! I was afraid it was going to wrinkle super easily, but I was pleasantly surprised that it stayed nice and fresh for the entire work day.
Thursday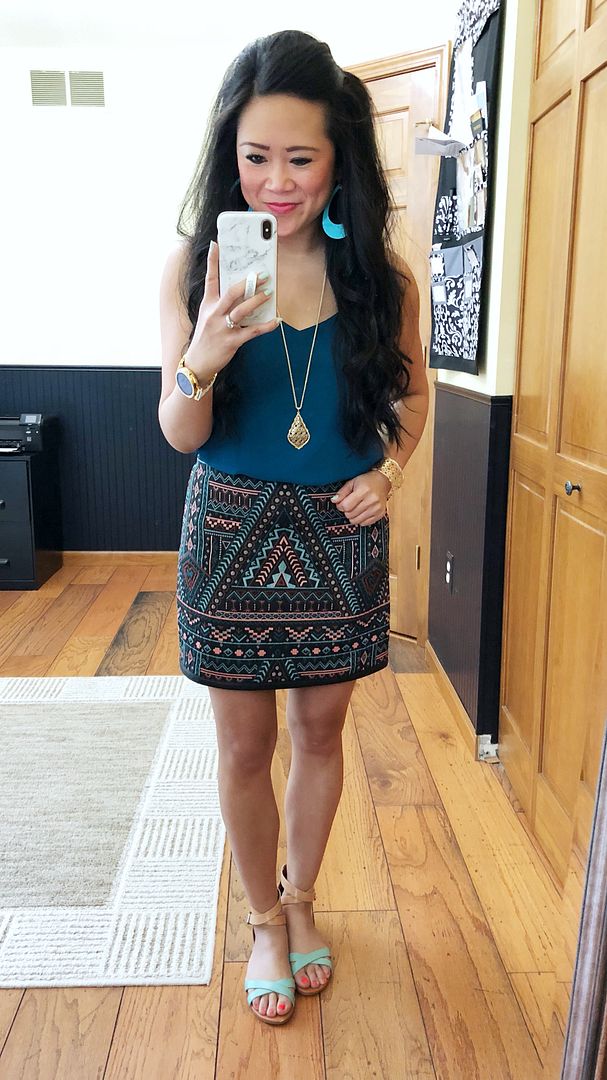 Earrings: Nickel and Suede (current colors here) | Top: Express "Barcelona" cami (current colors here) | Skirt: Express (option, option) | Sandals: Rebecca Minkoff "Bettina"
Not only has it been ridiculously humid outside, but our air conditioning units at the office can't seem to keep up. It's been steamy at work also and I couldn't take it anymore, so I ended up dressing like it was the middle of July! All these pieces are oldies but goodies. You can see these sandals wayyyy back in the day on the blog when I first got them here! Crazy that they are 5 years old!
Friday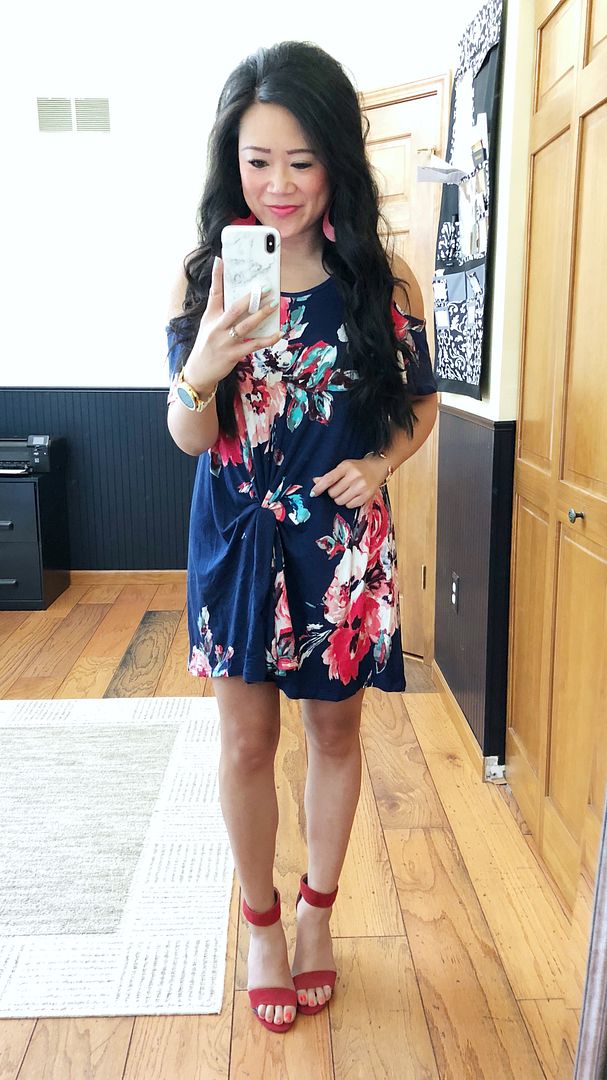 Earrings: Nickel and Suede (in large red cut out) | Dress: The Mint Julep Boutique (c/o) | Sandals: Jeffrey Campbell (similar)
And last but not least is Floral Friday! I wore this dress on the blog (sacrificing myself to the coldness, even though it wasn't warm enough to truly wear this yet) in this post here. It's a little long on me, so I knotted it myself. It was perfect for Floral Friday, which is officially a thing at the office now! It makes my heart happy! I'm not sure they will let me take photos of them every single week, but here is week two of our Floral Friday group!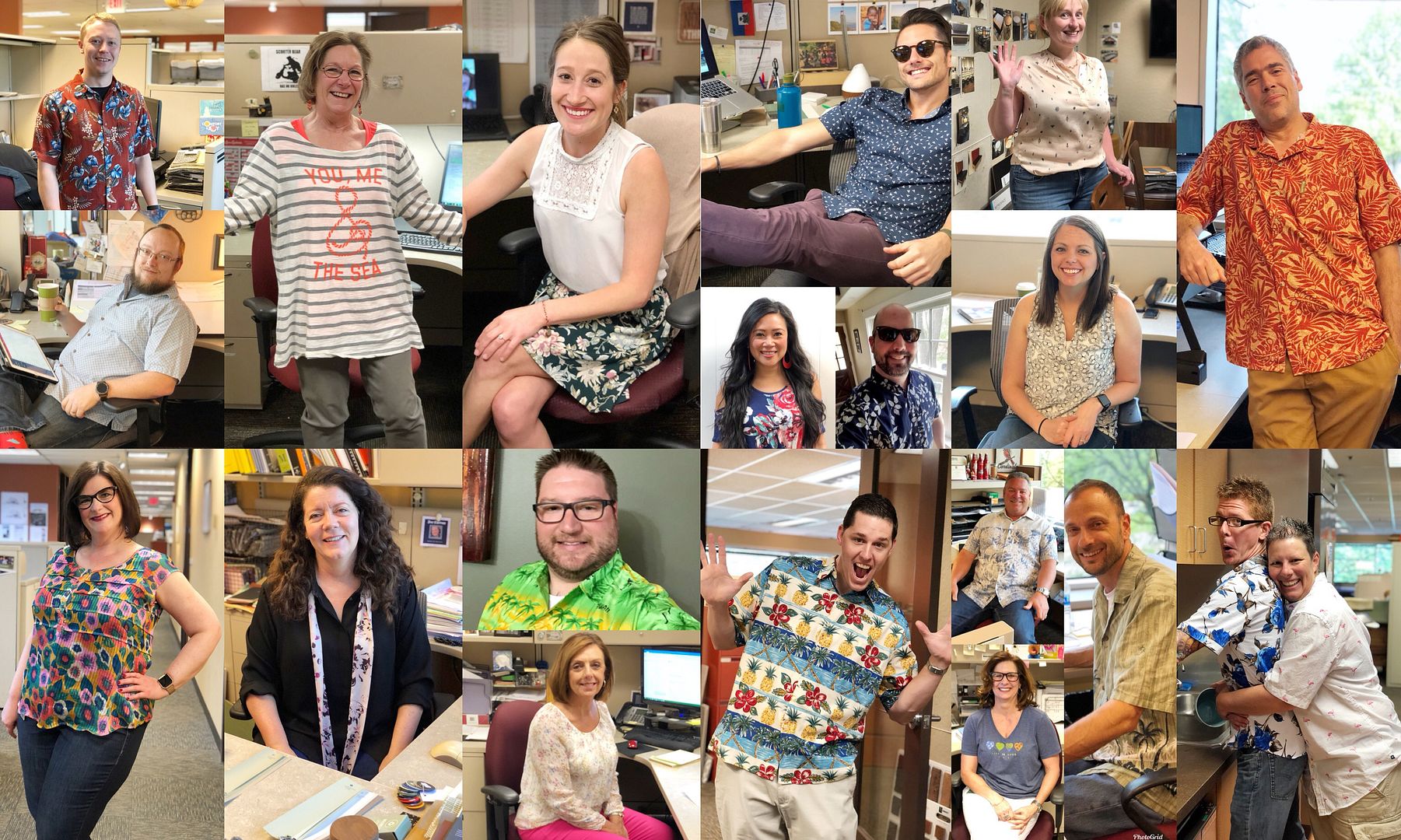 I've basically told them that anything beachy goes and that linen counts, too! And if they still have nothing beachy or linen-y, then to wear anything that has an organic pattern to it - fruits, veggies, leaves, whatever! Bonus points for being loud and obnoxious. I think it's safe to say that my coworkers are pretty darn awesome.