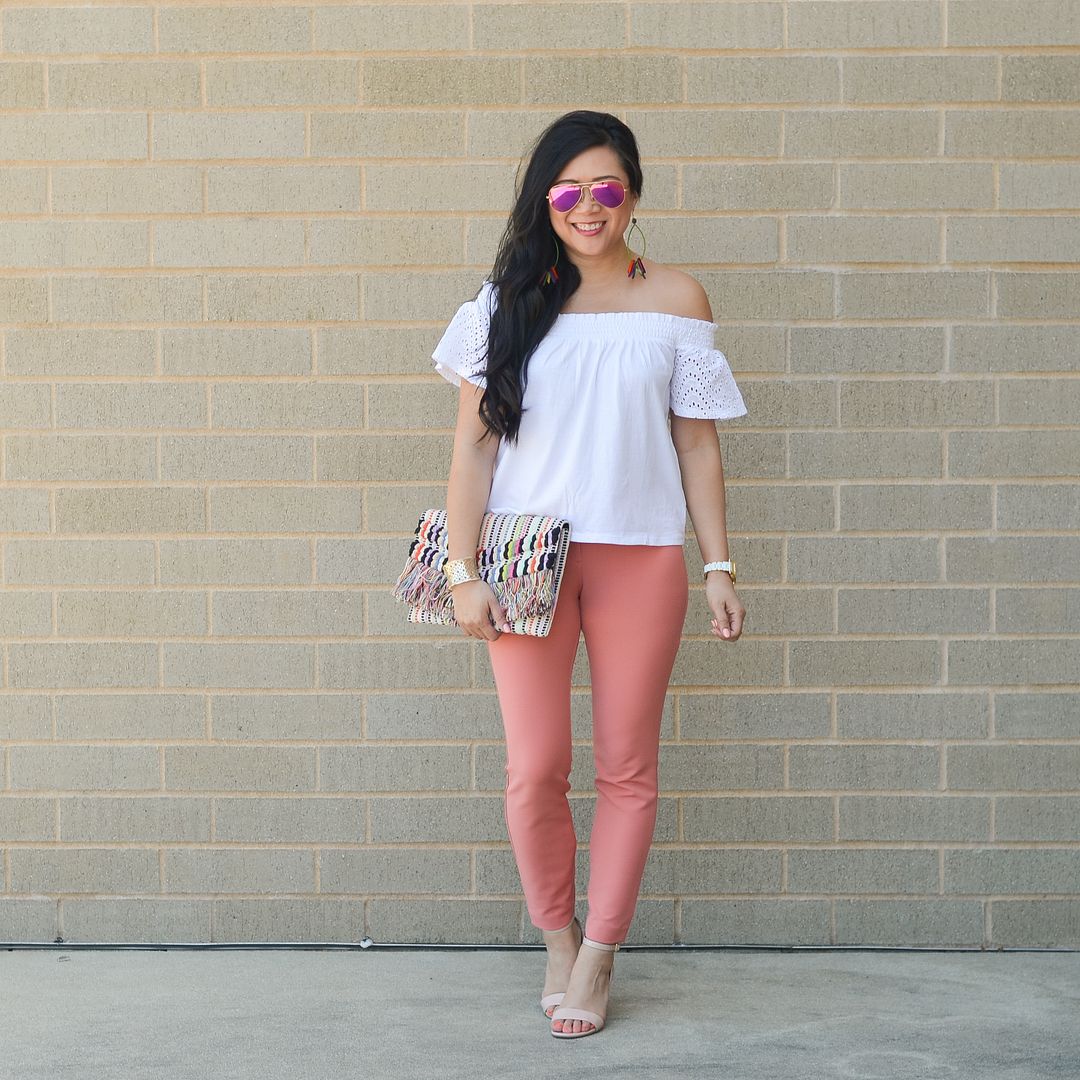 I had no idea what to title this post. "How to wear pink pants?" "Another off the shoulder top?" "I bought these pants in a 4th color?" The earrings and the clutch and the embroidered sleeve felt very fiesta to me, so I just went with springy fiesta. Probably not good for my Search Engine Optimization, but whatever. That's all I got!
Outfit details--- Sunnies: Ray Ban | Earrings: Inali Jewelry Designs | Top: Express | Bracelet: Kendra Scott "Candace" | Bag: Stella and Dot "Taj" clutch | Bottoms: Express "mid rise extreme stretch skinny pants" (in Rose Bud) | Sandals:
BP "Luminate" (non patent version here)
---
Express was having a 40% off sale a couple weekends ago, so I took advantage. I've been buying all the cute tops lately, and this one is no exception. Off the shoulder AND embroidered sleeves? Sign me up! I also find that I have a lack of plain white tops in my wardrobe and this one had such good details, it was tough to pass up.
I also have these pants in black, beige, burgundy, and herringbone. I really really want them in red, but they are sold out in my size. In the interim, I went ahead and picked up this pinky corral color, which is perfect for spring. I take these in my normal size in Express pants/jeans - a 4 short.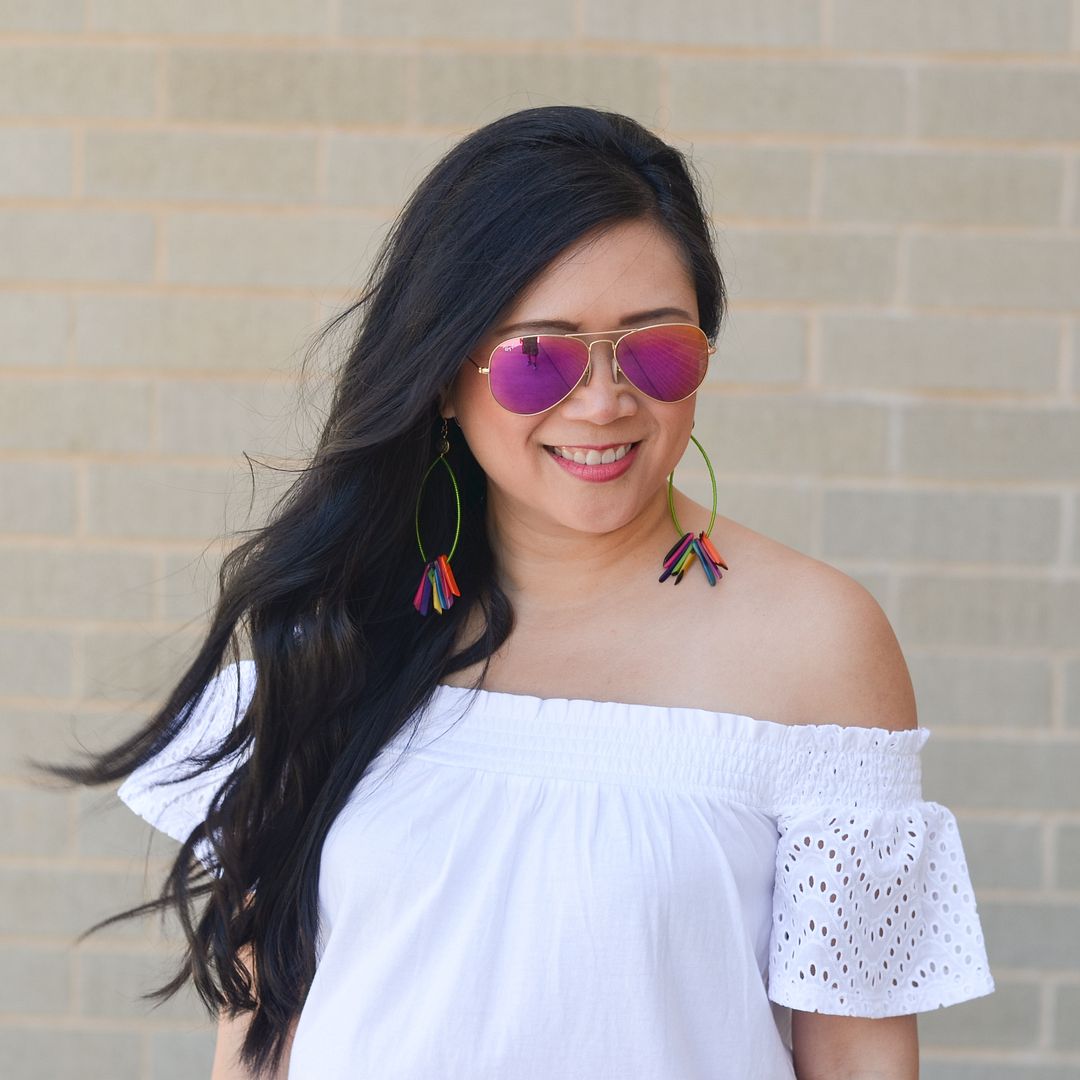 Last week when I went to that shopping soiree, I picked up these earrings from a local artist/boutique. How beautiful are they?! You guys know I love big, obnoxious earrings! They're extremely lightweight, and since they're multicolor, they will go with all the things. I also love that they're unique and I was able to support a local artist with my purchase. Win/win. Since the earrings are a statement and the off the shoulder neckline is such a statement, I skipped a necklace.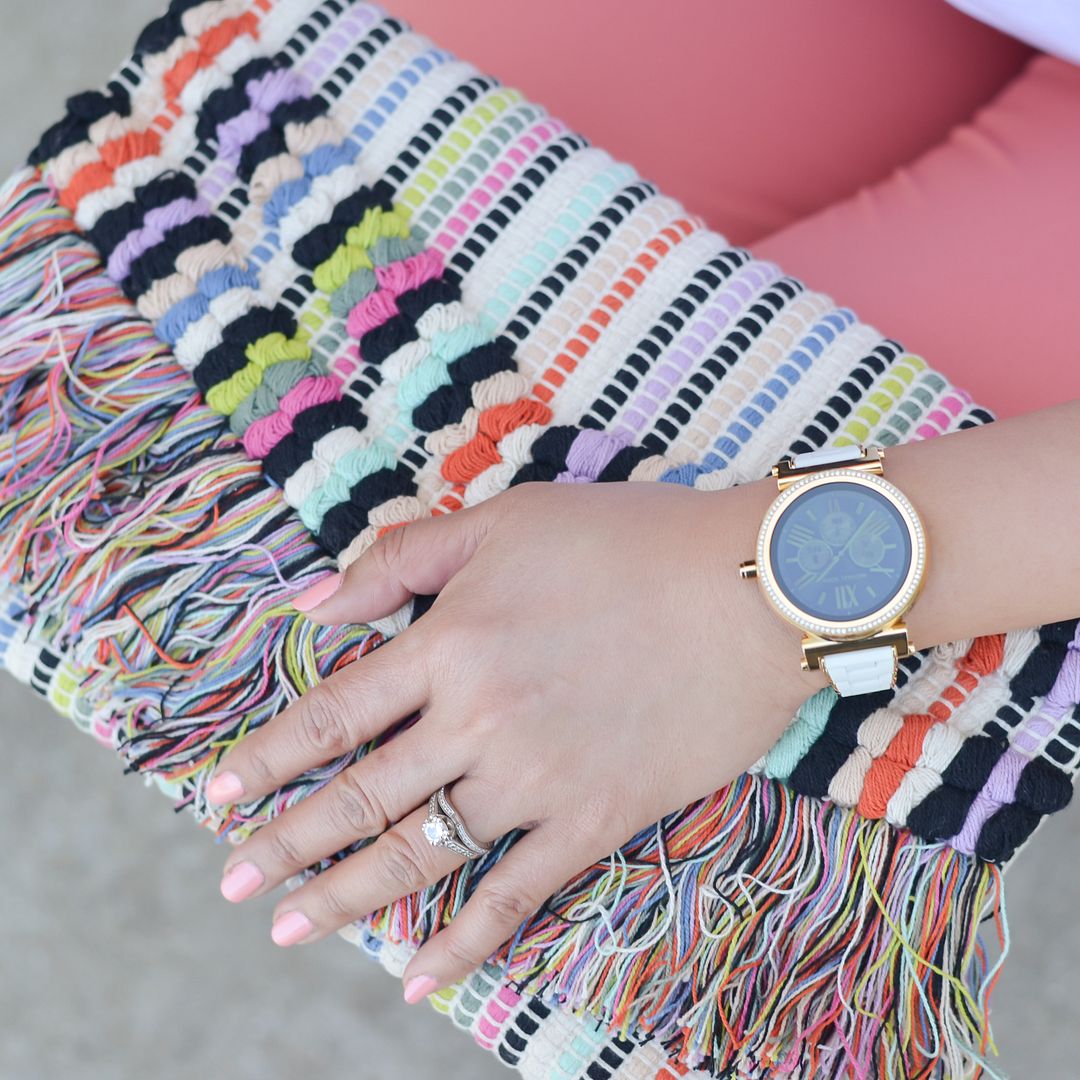 Ok, so here's the thing. I wore my Apple watch for a couple of years, but you guys, I *missed* wearing a real watch. I loved having a smart watch, but there are so many pretty watches out there, I felt like I was missing out. For my bonus splurge this year, I decided to get myself a smart watch that looked like a real watch.
I haven't fully synced it yet - I still need to set up my google account, but really the only notifications I'm not getting that I want to be getting on my watch are my text messages. Everything else is already syncing - calendar, baseball, maps. I don't like getting a ton of notifications on my watch except for texts, and then I like being able to see my steps. All that said - so far it's been great. My only complaint is that the first day I wore it, it fell off my wrist twice! The first time, I accidentally bumped my wrist, but the second time, I was just standing there not moving! I was concerned this was going to be a daily occurrence, but knock on wood, it hasn't happened again since that first day. I will keep you posted!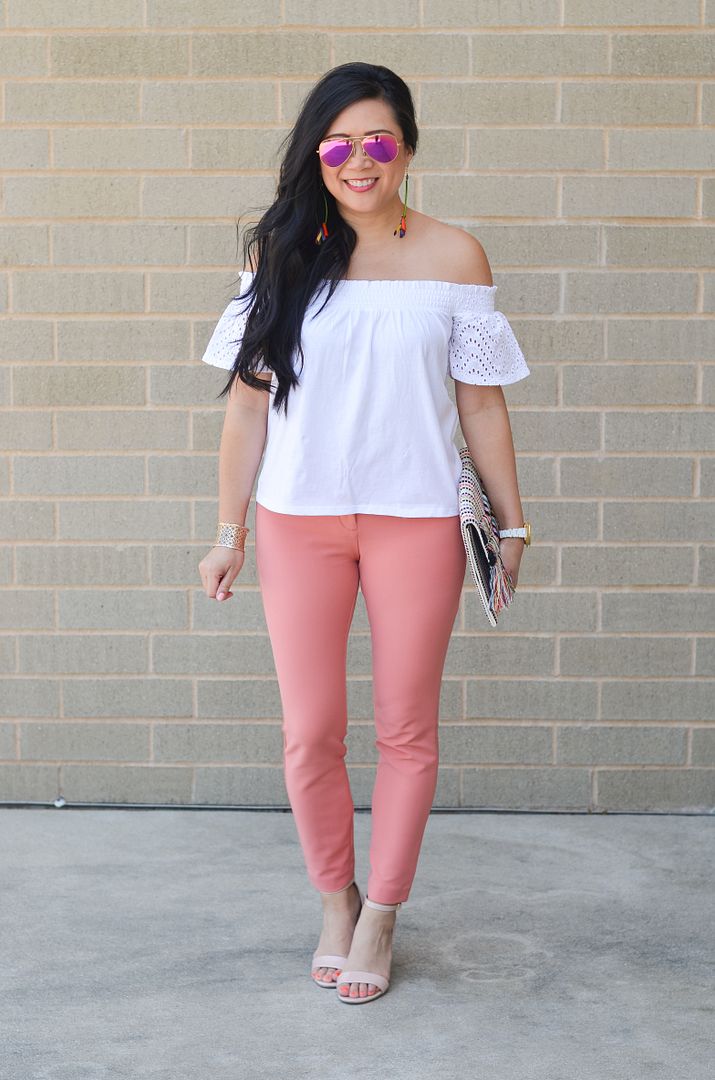 And outside of all that, this outfit makes me happy. It screams spring, and the fun clutch and earrings tie it all together in a nice little bow. Such an easy outfit to throw on, but I felt super cute wearing it!