As you could see from yesterday's post, this weekend was great, but jam packed. I ended up not having time to pack until 8pm last night, for our 6am flight this morning (read: needed to wake up at 3am.) While we were still at his parents' house last night, I swept through Pinterest real quick and started pinning travel looks into a secret "packing" board. This helped expedite things for me when I was home and actually ready to start putting things in my suitcase. The only set plans I knew of were Christmas shopping and Christmas Eve service at my dad's church, so for the most part, casual. My goal was to not have to check any bags. Here's what I packed:
(2) scarves: one predominantly for function and the other for fashion
(2) jackets: faux leather and cotton moto
(1) vest: faux fur to keep it festive
(5) tops: 2 portofinos (light and great for layering), chambray, fun striped/jeweled, and a graphic tee
(2) dresses: Satin shirtdress and cotton striped
(2) bottoms: Leggings and distressed jeans
(2) pairs of boots: flat, knee high boots, and low heeled booties
Everything fit in my carry on bag just fine, room to spare even. This suitcase is great. I love that each side is held in place by the organizational pockets, so I usually put toiletries on one side (yep, even had room for my cover up and hair towel), and outfits on the other.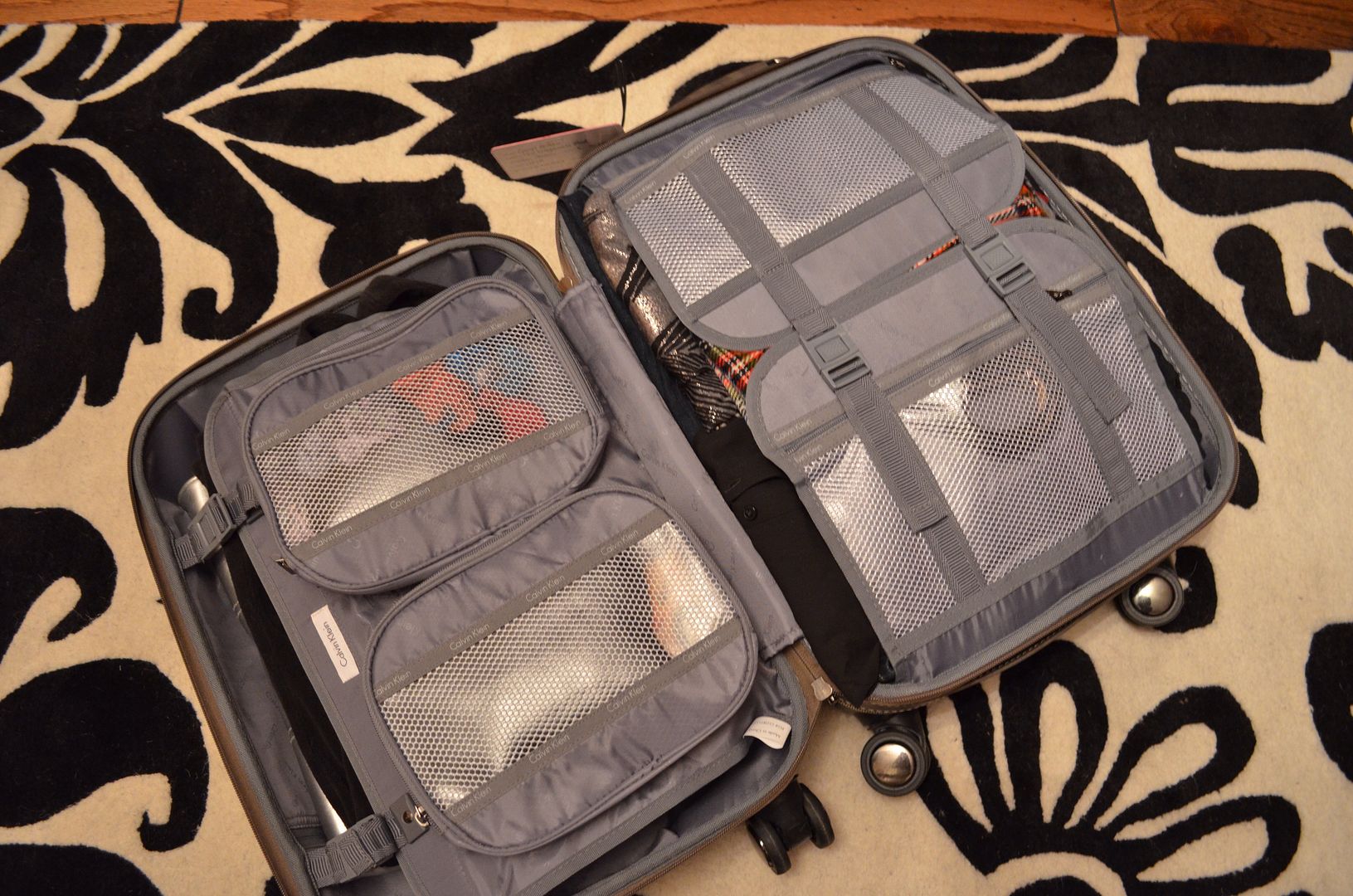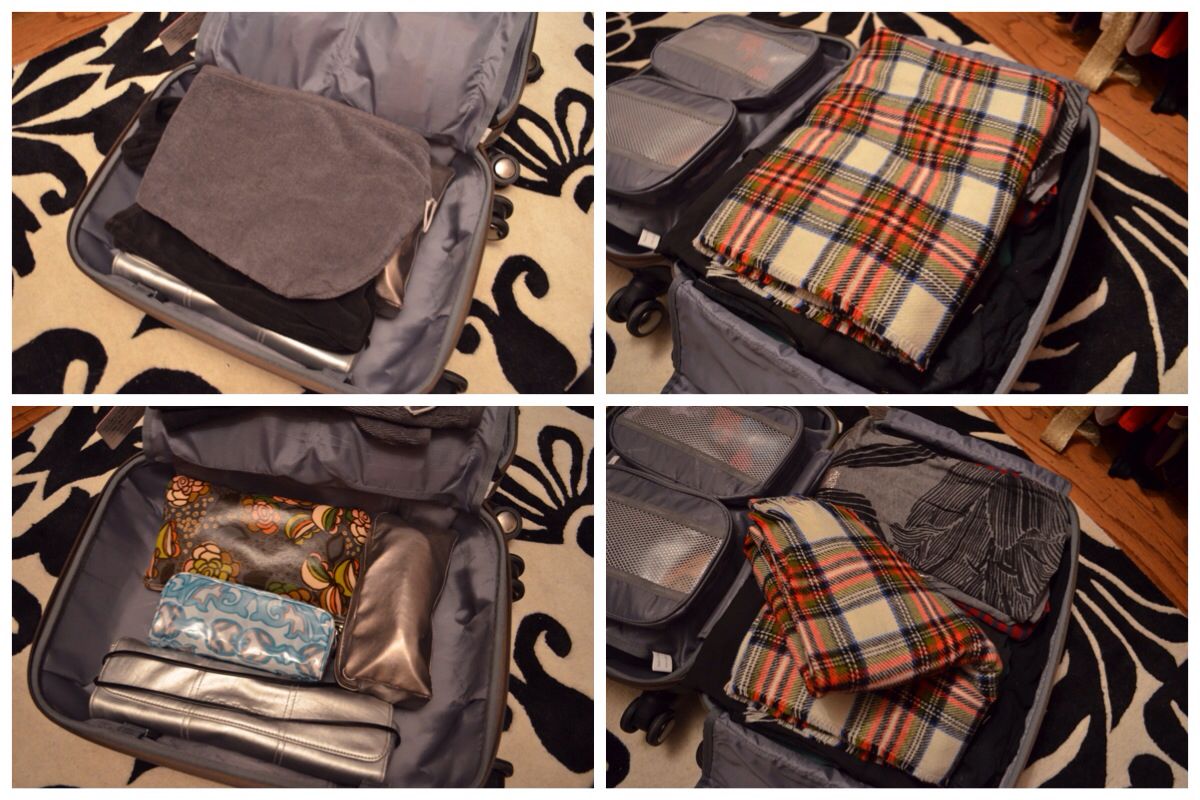 Even though I only needed outfits for 5 days and 4 nights, I wanted to make sure I had plenty of overflow outfits in case I needed multiple outfits in a day. Right off the bat, I was able to come up with 12 different combinations:
Remember that nifty little post I put together; with a video and everything? Well, I had every intention of wearing that outfit today. I was feeling so proactive, at least having my airport outfit picked out in advance. Then, I checked the weather last night, and well, low 80s temps aren't really conducive to a thick knit skirt, thick pullover sweater, thick knit tights. I had to do a little re-planning. It would still dip into the 40s at night, so layers were key. The outfit I chose for the airport was a similar concept to what I had originally planned, just with lighter layers and no tights. I ended up going with the 3rd outfit in the top row above, this one:
We landed at the Ontario airport at 10am this morning, and to be quite honest, the flights were rough. I had migraine-ish symptoms and felt pretty airsick. After my parents picked us up, we had some food, I switched to PJs and took a 2 hour nap. I felt much better when I woke up and decided to switch up my outfit a little bit, so we can call this lucky #13. I put the dress *over* the chambray instead of vice versa, and switched to the cotton moto-jacket instead of the faux leather one.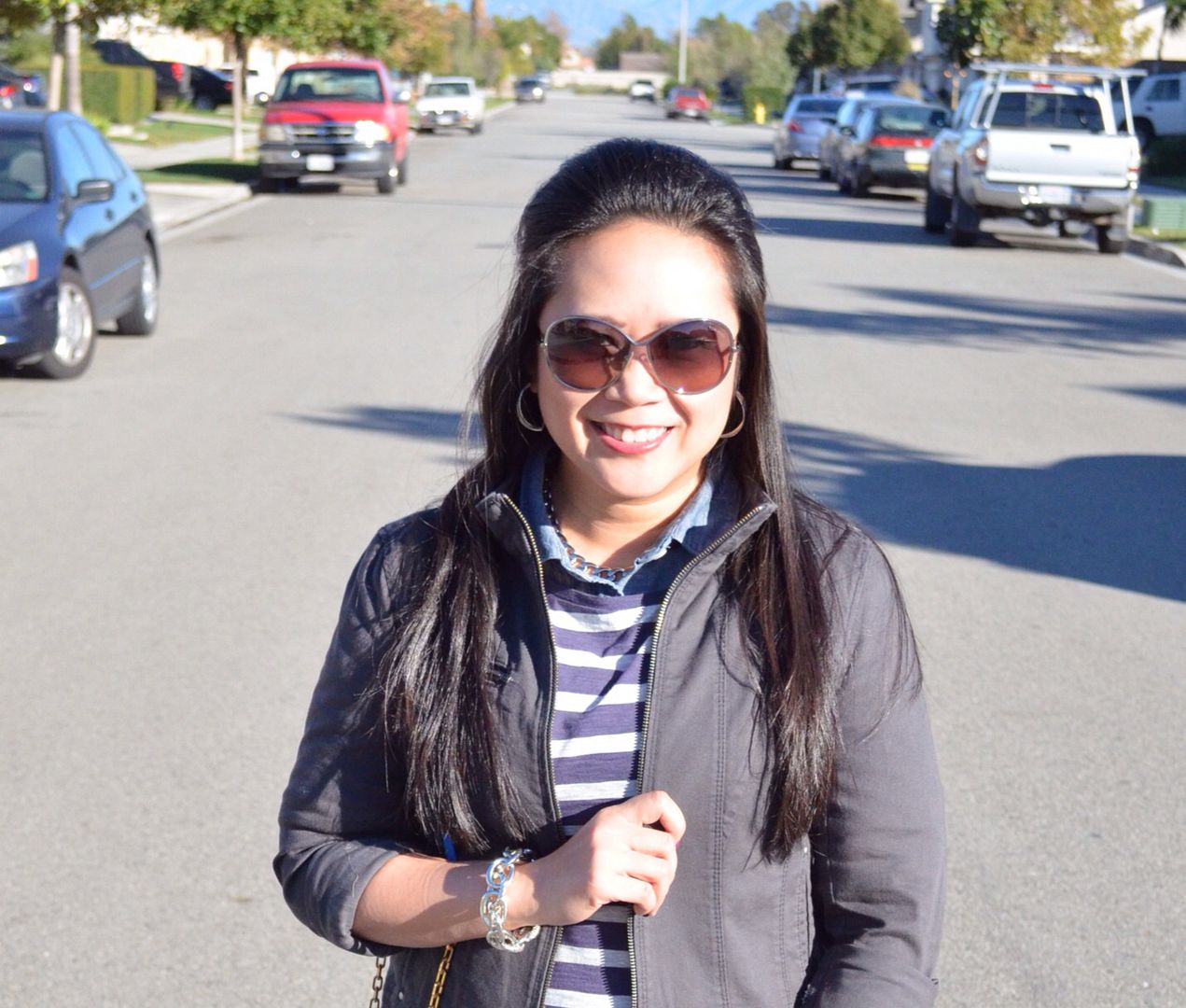 I ended up wearing this for Christmas shopping, which by the way, we managed to buy for 10 people in only 2 hours. I'd say that's success! We already had my parents taken care of before we got here, so that only leaves us with two gifts to get tomorrow. I think I do better when I wait til the last minute to shop!
Tune in for the rest of the week to see what other combos I choose to wear and why! Hope you're getting everything you need to get done, done!