This top and these skinnies are two recent purchases that I knew would pair perfectly with each other. I bought the top when I met Gina (sigh) and the skinnies were an online purchase I shared on IG here. I actually have two other pairs of similar colored pants. Why did I buy a third pair then? Well, I wear them like nobody's business. Don't believe me? Let's dig into my OOTD archives, shall we?
I'm telling you. These pants are a staple - and just like having more than one pair of black leggings or more than one pair of jeans, I can truly justify having more than one pair of wine colored skinnies. Looking at all of these photos next to each other, you can see each of them are a slightly different hue. One is more cranberry, one is more plum, and this new pair is somewhere in between. I like to think of it as very similar to owning several pairs of burgundy nail polish. Just for my legs instead. :) I hope I've made my case for these - please proceed to the checkout lane with your pair now.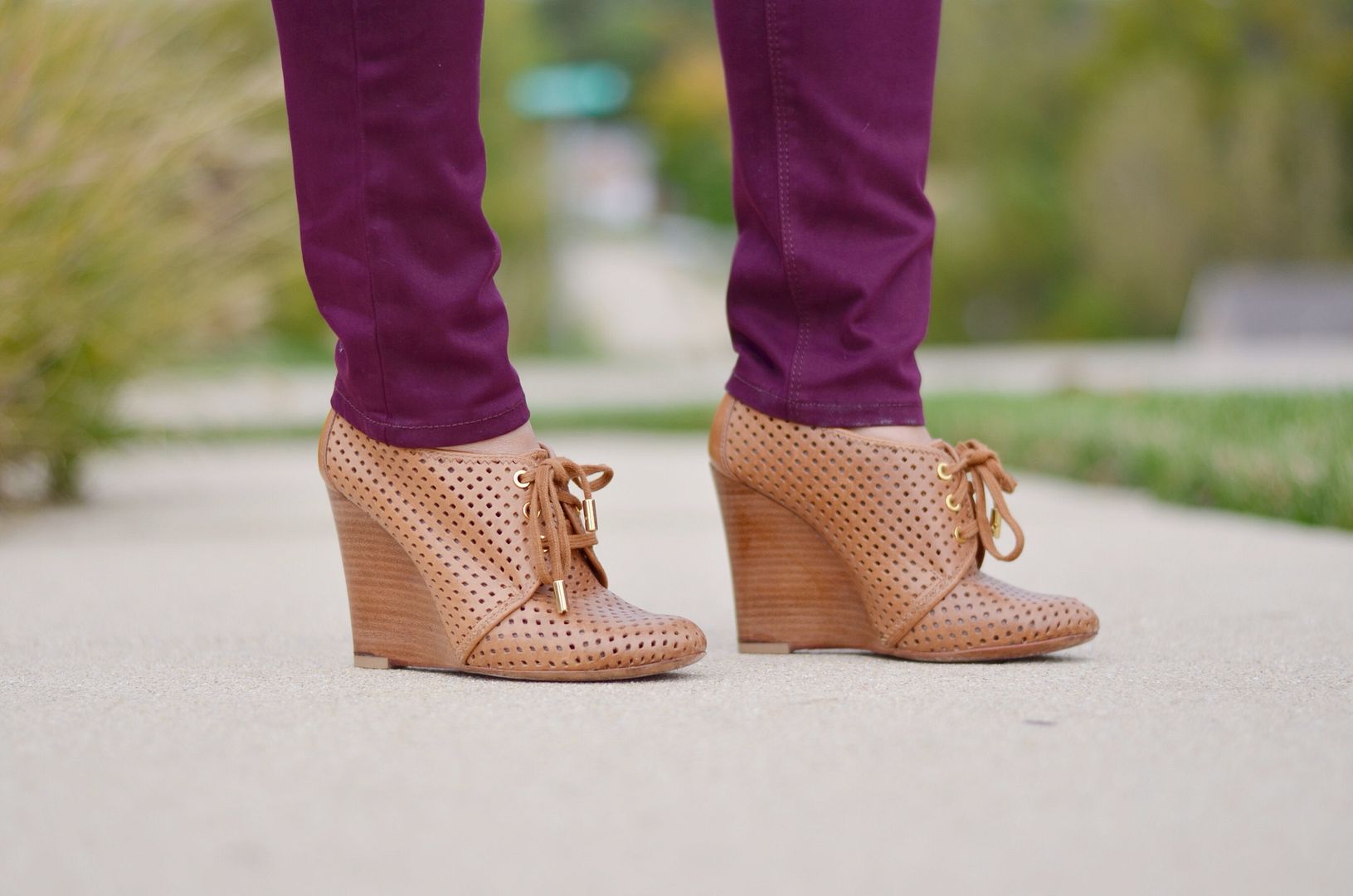 I came home to such a pleasant surprise last week - these shoes! You see, my very good friend Val (you met her here) has these same wedges but in navy. I've always coveted them. I just love the funky preppiness about them. Apparently she came across these on eBay and won them for me as an early Christmas present. She went ahead and mailed them to me now so I had plenty of time to enjoy them now that bootie season is in full effect. Such a thoughtful gift - made my week!
And I know you're starting not to believe me when I say I'm not a big Tory Burch fan…especially when I'm carrying my TB bag with this outfit. If these wedges were clad with the logo, then no, I probably would not even give them a second look, but as is, they're beautiful regardless of the label.

SHOP THE LOOK: