Well, I broke down and bought another vest. This was actually the very last purchase I made before I started the challenge. But, I don't regret it, and it was definitely worth it. JCrew Factory has their own version
here
, which I could have scored for a bit less money, however, I think this larger check version will be more versatile. Naturally, I had to first and foremost pair it with stripes.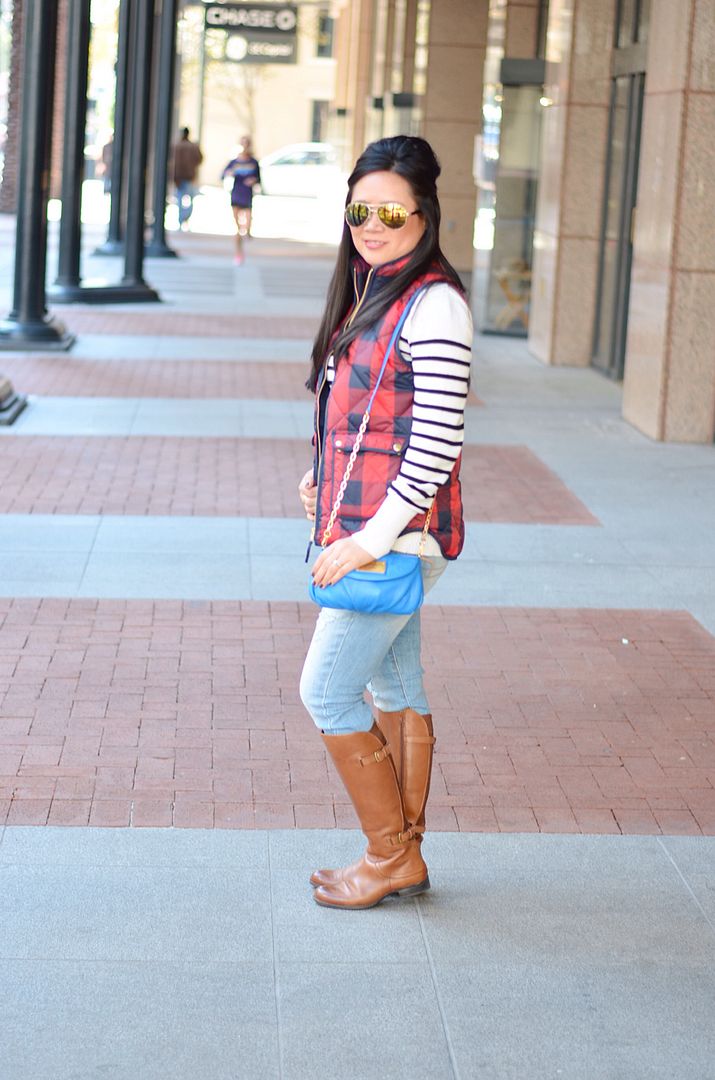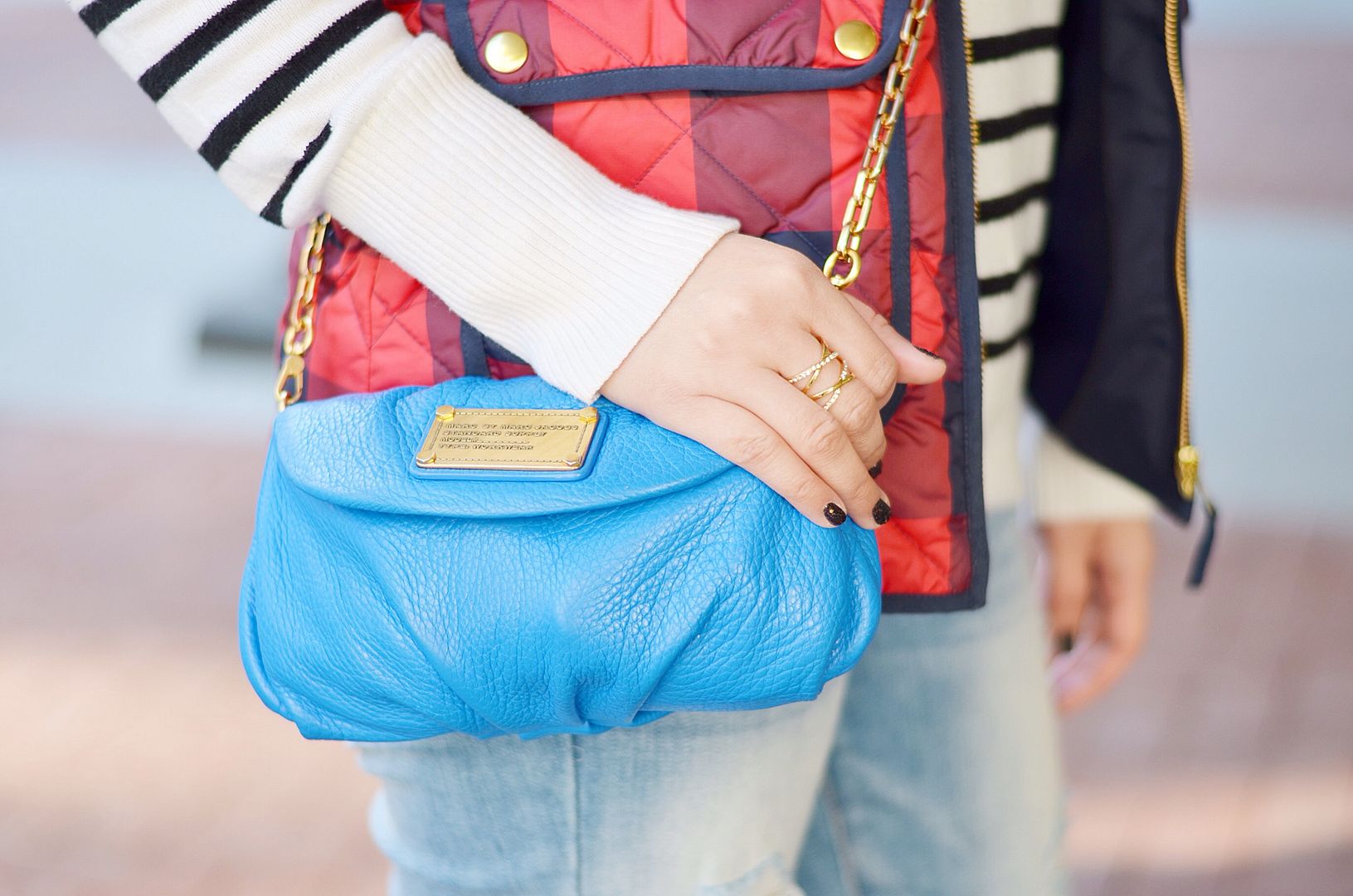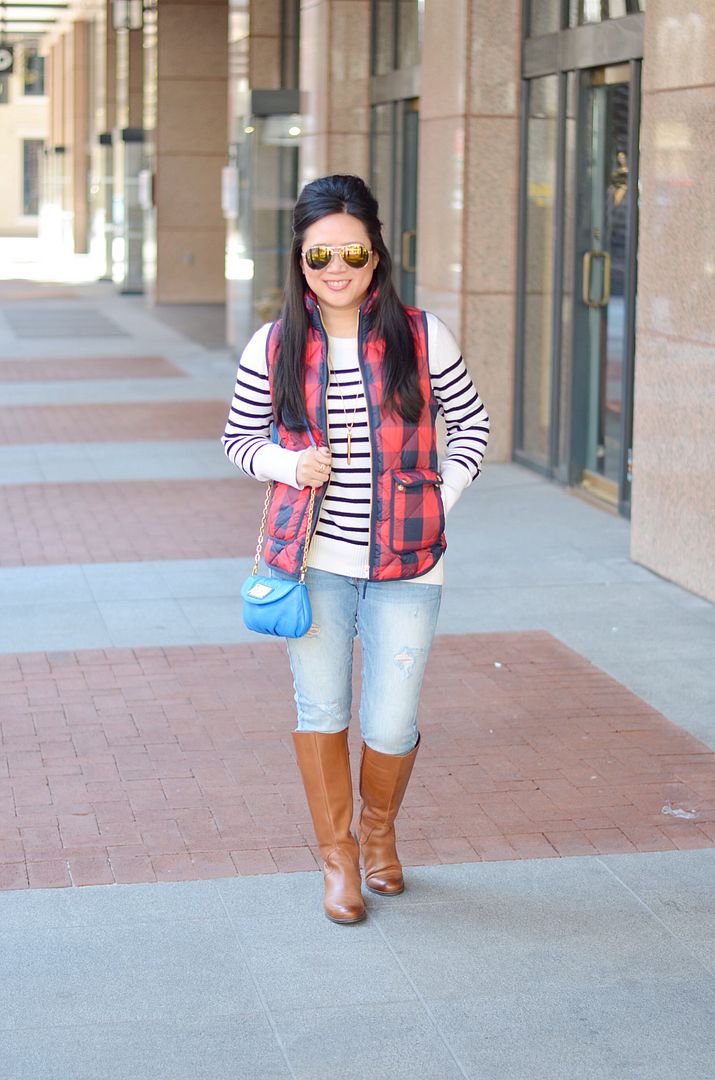 The trip this weekend flew by, as it usually does when it's for pleasure and not business. We were able to do a two hour bus tour of the city, which was a great CliffsNotes summary of New Orleans and its history, its people, and the
devastation from Katrina.
I will admit that the husband and I aren't big partiers, so while we did walk down Bourbon Street, that's literally all we did - walk it for the sake of being able to say we walked down Bourbon Street. It was quite funny though because a little makeshift float randomly cruised down the street, so we stopped to take in the entertainment. In that 3 minutes that we were standing still, we got 3 beaded necklaces, 2 "slap" bracelets, and a rose. It was like a mini-makeover because then when we walked into the hotel, we looked the part of inebriated tourists. I even stumbled a bit for good measure. :-)
Clockwise from top left: Red beans and rice from Cajun Mike's, Beignets and cafe au lait from Cafe du Monde, Bloody Mary from 801 Royal, Pulled Pork, sweet potato casserole and mac and cheese from Voodoo BBQ, Grilled oysters in a garlic cream sauce from Oceana, Oyster benedict (served on fried green tomatoes) from Superior Seafood, Gumbo from 801 Royal, Crabcake from Superior Seafood
This is everything I ate this weekend, and sadly, I forgot to take a picture of my fried shrimp basket!! And we had to stop at Cafe du Monde one more time on the way to the airport, too. Everything was amazingly delicious though - so worth every fat cell and calorie. For reals.
Top and bottom left: NOLA Motorsports Park | Bottom middle and right: National WWII Museum
So, the real reason for the trip was the husband's birthday. It was back in November, but I had bought him a driving experience to take this Lamborghini Huracan 9 laps around a 1.8 mile track. He had a blast, and his top speed was about 150mph. A bit too fast for my old lady driving taste, but I'm glad he enjoyed it! He's also a geek about anything history related, so we spent a few hours at the National WWII Museum before heading to the airport Sunday afternoon. Such an amazing complex, and we didn't even get to see the whole thing because we ran out of time!
I feel lucky that we can take trips like this thanks to all the miles he adds up from all his work trips. It was my first time there, and it's always so much fun visiting someplace new, with absolutely no agenda, just planning it as we go!

SHOP THE LOOK: