Happy Monday from New Orleans! Ok, so I'm writing this in New Orleans, but come Monday, I'll be back to the real world. Boo! It's been a great trip so far, though! I will have to recap it it more for you all later. For now, let's talk about this poncho!
You may remember it from my Black Friday inspiration post here. Well as luck would have it, by the time I was ready to pull the trigger on it, of course it was sold out online, and nowhere to be found in stores. When I saw it magically reappear online a couple weeks ago, I did not hesitate to snag it! It was one of my last purchases before the #RemixFix2015 challenge and I knew it would make my capsule!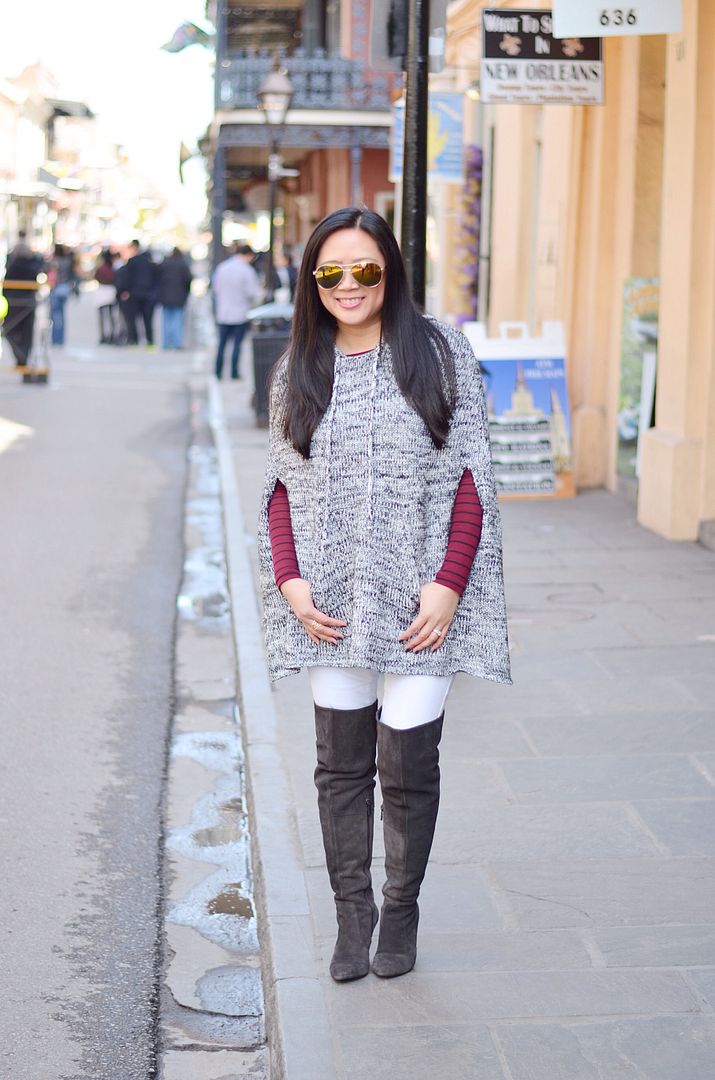 So far the remix challenge has been going great. I will admit that since I knew I was signing up for this, I did a bit of binge shopping before it started, including these over the knee boots, which are the grey version of the pair I already own shown here, here, and here. I told you I was over the moon in love with them!! I haven't shopped in about two weeks now, which seriously, is a pretty big deal to me.
It's been great picking out pieces for my capsule as I go. I've created
polyvore sets dividing my capsule into categories, and adding to them as I create outfits. It's been helpful to see everything side by side so I can understand where any holes are. I can't wait to share the completed set - soon! The best part about the challenge is getting dressed - it definitely is a lot easier with a smaller wardrobe to choose from. Packing for this trip was amazingly easy, too, knowing that I wasn't just committing to these pieces for the trip - I was committing to them for a couple months! It certainly gives you focus when looking at your closet!
Even if you decide not to do the entire capsule challenge with us, I would still love to see any and all of your remixes! Tag me on
Instagram
and use the hashtag #RemixFix2015!

SHOP THE LOOK: