Hello! Welcome to our fall collaboration series! I've teamed up with nine other bloggers to give you our Ten Take on Fall! It's a three-part series to help kick start your fall style. Today's topic is all about that one piece (or pieces) in your wardrobe that you loved in the summer, but can't part with even though the season is over. In simpler terms, how do you style your favorite summer pieces for fall?
(See links at the end of this post)
As I was preparing for this post, I started scrolling through all of my summer outfits on the blog. The one thing I kept seeing over and over were my white skinnies. White bottoms are inherently summer to me because they are so crisp and brighten up every outfit. And how good does your sun-kissed skin look against white, amiright? As "summer" as they feel, I never stop reaching for them in the cooler months either. I've pulled together some of my fall friendly looks featuring white denim and the layers I add as the temperature continues to drop!
September weather was so fickle! Some days it was sweatshirt weather, other days it was still humid and hot! But regardless, after Labor Day, your Instagram feed turns into Pumpkin Spice lattes and scarves, so it's hard not to catch fall fever. When I'm in the mood for fall but it's still in the low 80s or upper 70s, adding booties to my white skinnies is an easy way for me to satiate that craving without having to sweat buckets. And since fall is all about layers to me, a utility vest is the easiest way to add a layer without adding too much warmth.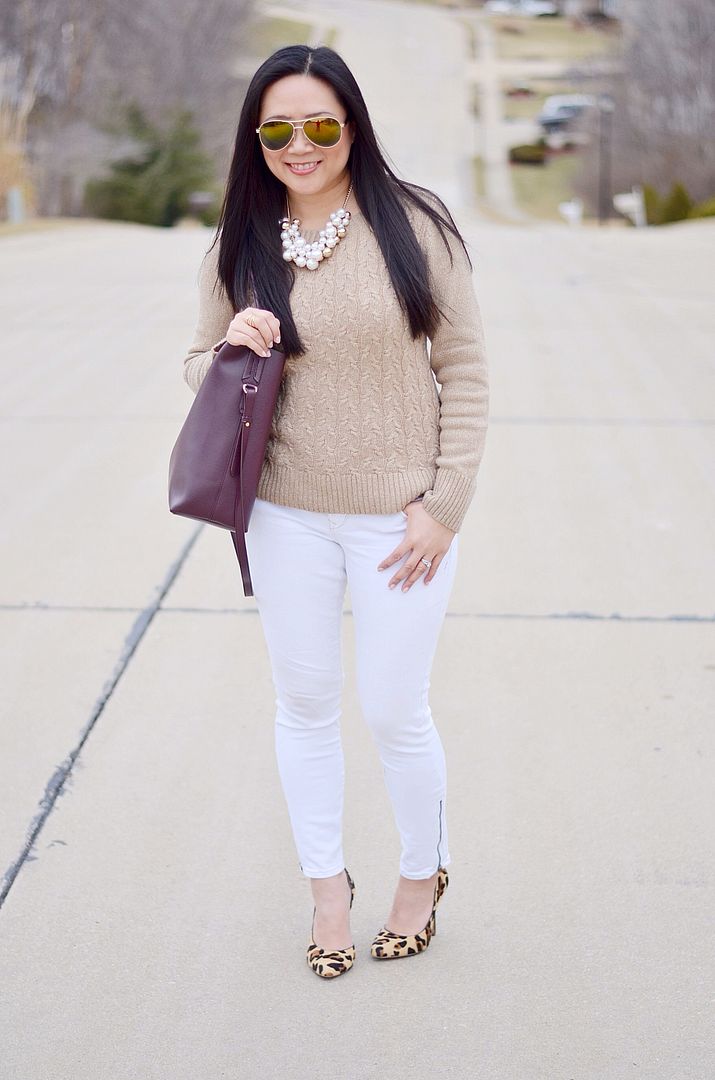 The low to mid-60's is the perfect temperature range to get away with a chunky knit sweater but no jacket. Adding in fall-feeling accessories like a burgundy tote and leopard print heels make me forget I even wore these same white skinnies in the summer! It's an easy outfit combination that is unmistakably appropriate for fall.
The minus-the-leather moto jackets from Express are the perfect jacket for fall! They're thin but surprisingly warm. To be honest, there have been many times when I've worn them in the winter with a blanket scarf and have been perfectly toasty! But I'm getting off topic - one season at a time! For fall, they are a holy grail piece for me. Especially as the temps dip into the 50's. You know I love a good color pop. In the summer I like to go with reds, pinks, or jewel tones, but cognac is fun to pop in the fall, especially when it's paired with a tough black moto jacket.
Poncho (option, option) plus over the knee boots (option, lower heel height option):
Original post
here
Over the knee boots are the last things I pull out for the season. Usually by March I'm completely sick of all of my boots, so I try and maximize booties as much as I can in the front half of the cooler months. When the temps are consistently in the 40's or cooler,
I finally break out the knee high and over the knee boots. Any boot pops against the white bottoms, but they emphasize the drama of over the knee boots the most!
And because I'm not afraid to mix trends, adding a poncho bookends this fall outfit
perfectly.
And there you have it. Definitely don't put your white denim away for fall. The outfit possibilities are endless! Be sure to click through the links below and check out which other summer pieces the other ladies are not giving up for fall! We'll be back next week with more fall staples!

SHOP THE POST: