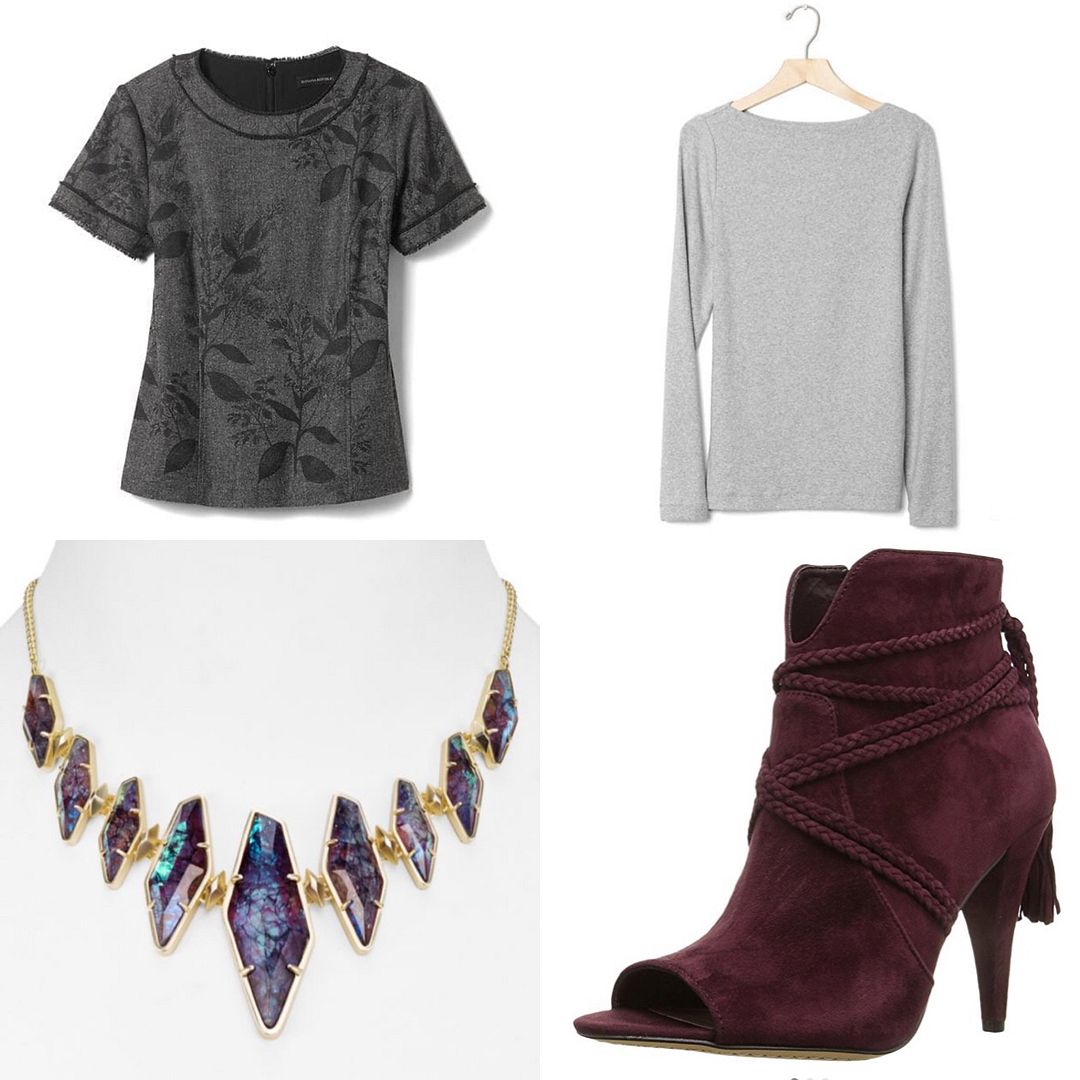 Oh my! I didn't plan to take so many days off from blogging, but my days were filled with family fun and any downtime I had was spent sleeping! It was so much fun but I am exhausted! My brother and his wifey are still here until tomorrow, so I do still have them to keep me from feeling homesick, but it's also much more manageable to host two people vs. 7 overnight guests in your house! Especially when one of them is a two year old!! Anyway, more about what we did in another post. For now, I wanted to recap everything I had my eye on for Black Friday as well as what I ultimately ended up buying! Let's start with my dressing room pics from Friday!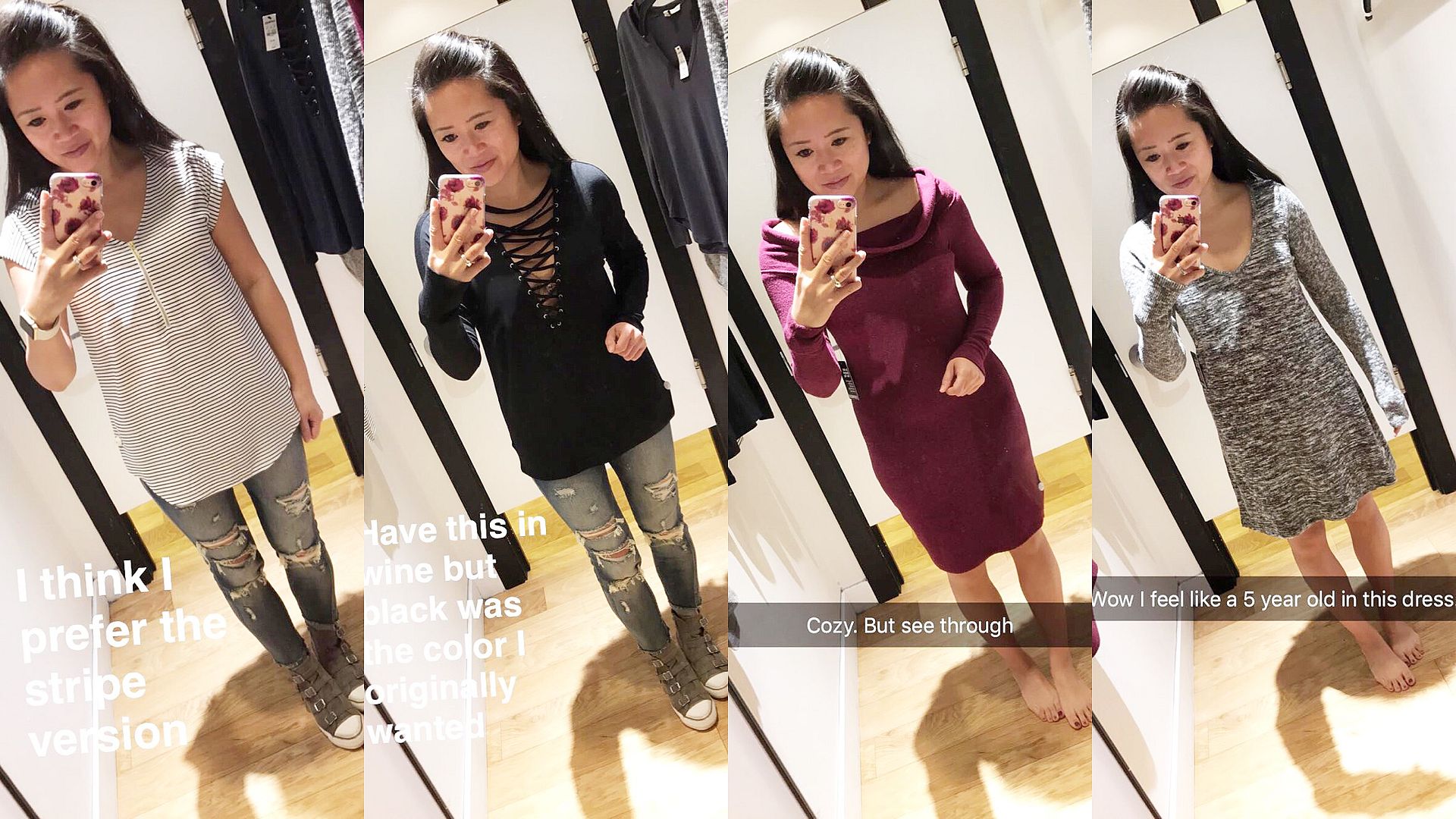 Naturally, I had to start at Express. They've been taunting me all week with their sales after all. I grabbed a handful of things to try:
Express Striped Zip Front Rolled Sleeve Blouse
: I have this top in yellow already, you can see it on me here. I love the length of it and how easy it is to throw on with heels for a date night ready look. The striped version really intrigued me. I decided against it for right now just because it doesn't feel too wintery for me and I'm craving more cooler weather pieces right now, but I still recommend it. I'm wearing a small.
Express One Eleven Deep V-Neck Lace-Up Tee
: Speaking of duplicates, I have this in the wine color already which you can see on me here. It's so so so super soft, and although I scored the wine color, I had wanted it in black originally, they just didn't have my size. It was hard not to come home with this one, but I went ahead and decided not to just because I have so many lace-up tops and sweaters already. I'm kind of maxed out on this trend at the moment! But I do really love it.
Express Plush Jersey Off The Shoulder Sheath Dress
: I'm such a fan of their plush material and was dying to try on this dress. I'm wearing a small, but it was a bit too fitted for my taste. They didn't have a medium for me to try, though I'm not sure that would have changed my mind about it because it was pretty see through also. I normally wear slips with my dresses (I have this is all 3 colors) to help combat the see-through issue, but with this being off the shoulder, I knew that would be a little trickier and just decided to pass for now, especially since they didn't have a medium in store.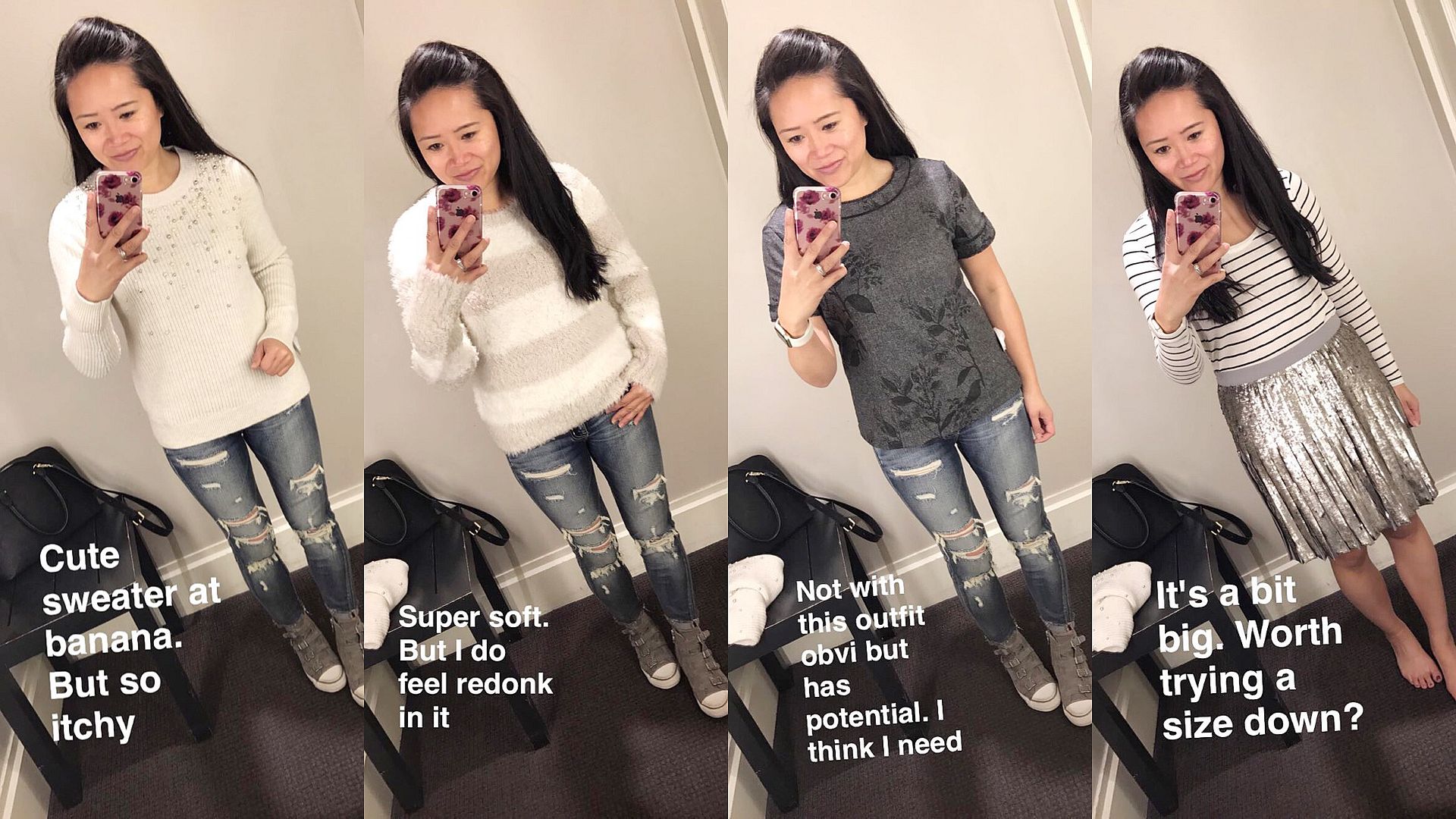 Moving onto Banana, I couldn't resist shopping while everything was 50% off! I don't normally shop Banana super often, but when I do, I always wait for a good sale like this.
Banana Republic Beaded Sweatshirt
: This sweater is gorgeous and I couldn't resist the beading. Unfortunately, it was so itchy, I couldn't stand having it on just for the couple minutes in the dressing room.
Banana Republic Striped Furry Sweatshirt
: I might regret not getting this sweater because it's been so cold here lately that I've been craving a thick and chunky and cozy sweater just like this one! I just felt a little ridiculous wearing it. It's pretty muppet-like, so I went ahead and passed. I would love it for lounging, but it was too expensive for a wear-around-the-house-only sweater.
Banana Republic Floral Frayed Edge shirt
: This top is darling. Despite what I said earlier about craving more cold-weather pieces, I couldn't resist this one. The frayed hem and the subtle floral print are so good together. I also really loved the fit! I could see this with some black skinnies and crushed velvet heels for a holiday party look!
Banana Republic sequin skirt (not seeing online)
: Hello, sequins! They had this on the mannequin as Jenna and I walked into the store, so I immediately had to go look for it. I am wearing a 2 in this photo, and it was ginormous. I sized down to a 0, but it was still a little big and didn't lay flat. Sadly, I had to put this back on the rack.
I guess I should have started with what I wore to shop! Ha! I drank a bit too much wine the night before, so I needed something that was pretty effortless.
I went for easy layers because I knew it would be chilly outside, but I'd need to be dressing and undressing to try stuff on. I wanted shoes that were comfy to walk in but easy to slip on and off. Even though these have three buckles on them, there is a side zip, so they certainly fit my easy criteria!
We ended up only staying at the mall for a couple of hours because we were all pretty beat (my brother, sister, and sister in law came with me). The only other stores we ended up shopping were H&M and Dillard's. I managed to grab a few things online throughout the week though. Below you can see my H&M and Dillard's purchases along with everything I got online!
(
Click on the thumbnail below to shop)

(
Click on the thumbnail above to shop)
Kendra Scott Berniece Collar Necklace in Navy Crackle Illusion: Oh yeah! I forgot to mention this one! November is the husband's birthday month, so I managed to convince him to go to the Kendra Scott store with me so I could use his 50% off birthday month discount. I couldn't figure out if I wanted this necklace or a simple pendant in the same Navy Crackle color. The husband was the one who told me I should go with the more expensive of the two in order to maximize the discount. Well, if you insist!
H&M solid olive-colored scarf (similar here): I couldn't find this scarf on H&M's website, but this one looks pretty darn close! (You can see my exact one in my flat lay here.) Mine retailed for $12.99 and wasn't part of their in store Black Friday promotions, but Jenna had a 20% off coupon that she let me use!
JCrew Factory Patterned Schoolboy Blazer: JCrew and JCrew Factory blazers are my favorite. I only have a couple, but I love stocking up on them when they are on sale. Super excited to add another one to my collection.
Vince Camuto Astan Bootie: I have been wanting a pair of peep toe booties in a wine color and these were calling my name. They're gorgeous and you just can't beat the price! There is a closed toe version of this bootie, too, that Jenna was trying to taunt me with, but I ended up choosing the peep toes instead.
JCrew Factory Pleated hem tee: I don't have enough red in my wardrobe even though it's my favorite color, and no, it's not my fave color only because of the Cardinals! I loved the pleated hem detail and thought this was worth the try for the price!
Gap long sleeved boatneck tees: I have several of these boatneck tees in my closet already - navy, ivory, grey, and also pink seen here. They are so good. The perfect hip length, fitted but not tight where you feel self-conscious wearing them. I also find it a lot easier to layer boatneck tees under jackets because the neckline lays flat and it doesn't get all bunchy at the collar. They're seriously perfect on their own or as a base layer. For $12.50, I needed to grab some more! I take these in a small.
American Eagle Jegging Crop: I told you in last week's Black Friday cravings post how much I loved American Eagle's jeggings. I have this exact style in the indigo fray - they're the same pair I wore to Black Friday shop as seen in the selfie above! The length of these are perfect with booties so I decided to try this second wash that only has the frayed hem but no distressing otherwise.
American Eagle knit jegging in burgundy: I have a ton of burgundy and wine colored skinnies but the fit of all of them are just a bit off at the moment. I've been wanting to try the knit jeggings, so we will see how these go. I've seen them in person and they look crazy comfy, though the reviews are mixed. I'll keep you posted!
Gianni Bini Karetta Velvet Strappy Mary Janes: I promise these look much cuter in real life than they do in the stock photo. Crushed velvet is coming back with a vengeance and all of the crushed velvet shoes have me crushing hard! Ha! No pun intended. These were very affordable and I can see them with my new floral Banana Republic top for a fun holiday look. I can't wait to style them!!
And that's all! I honestly didn't think I did that much damage this year compared to past Black Fridays, but I guess I did! Whoops! With family here, I ended up just placing orders here and there. They certainly add up! We'll see how everything in transit ends up working out! Love shopping for cold weather stuff!!