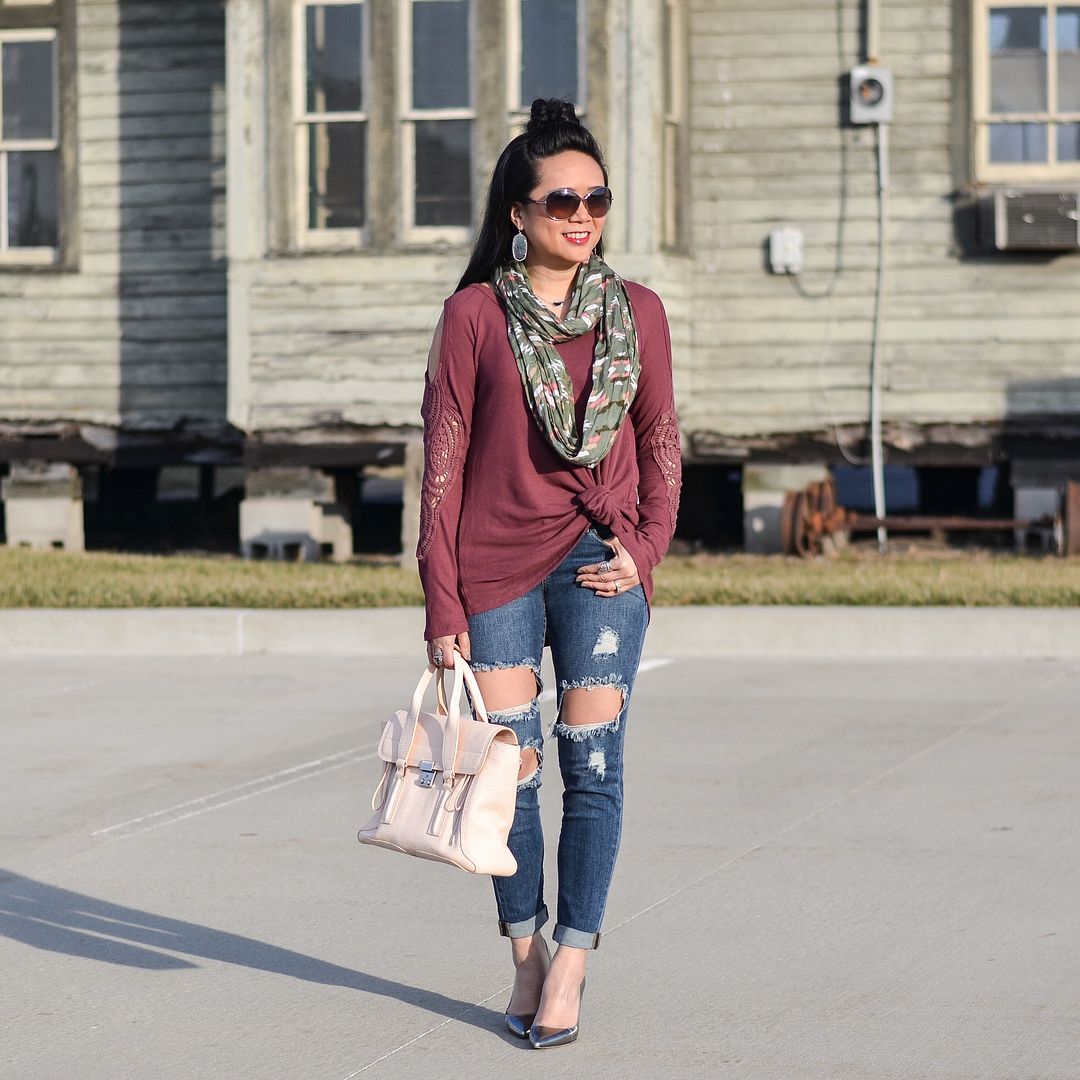 You guys know I like to switch my hair up on a daily basis in an effort to go longer between washings. So, I always welcome new and quick hair style ideas. I've been wanting to try the mini top knot forever, but the couple of times I've attempted it, it was all awkward because of where my part and my cowlick are. I decided to try it again this weekend, and I think I dig it this time around! I'll have to keep working at it so it can be a permanent style in my rotation!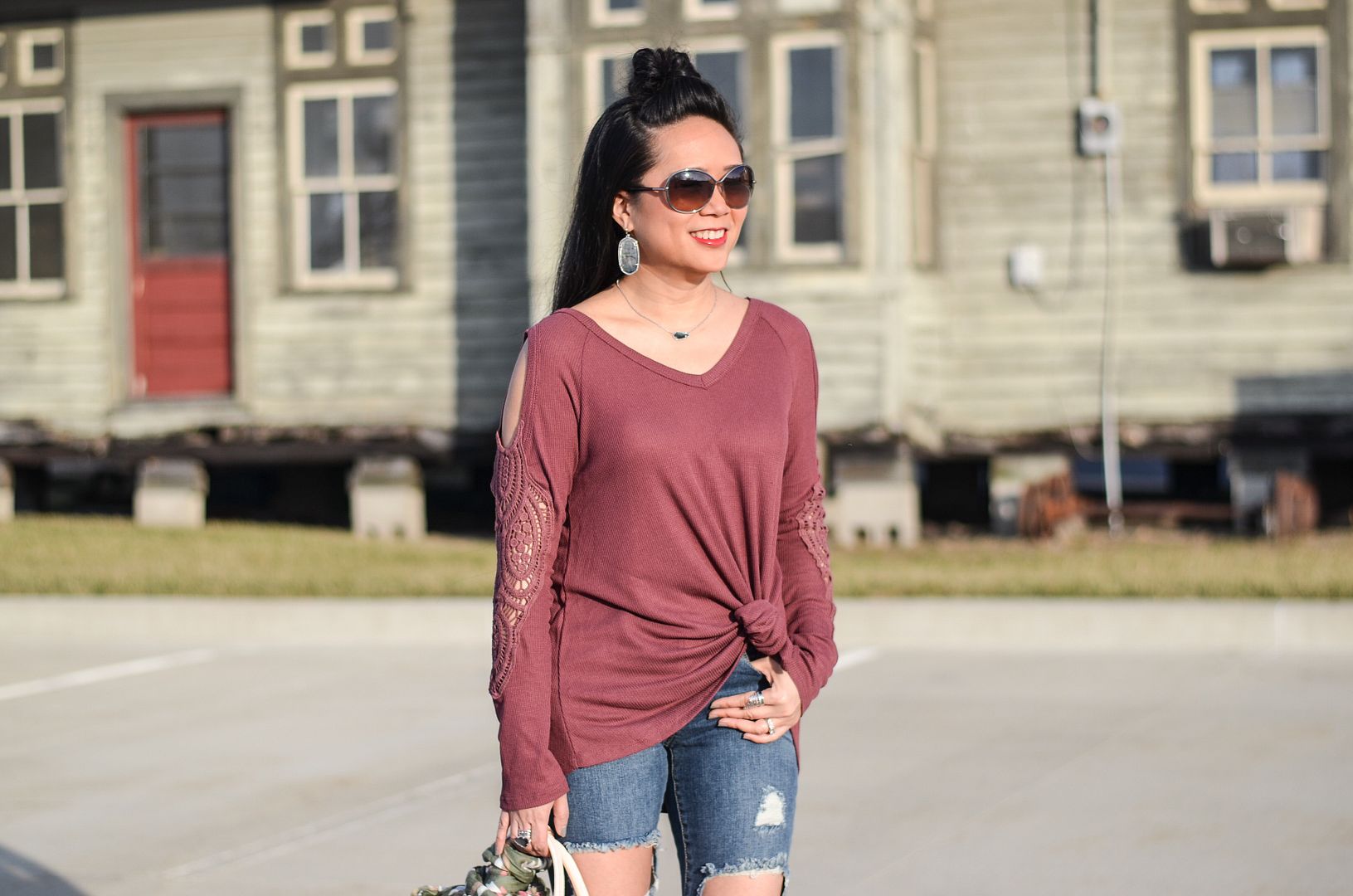 You guys also know that I like Grace and Lace. I first discovered the brand after seeing them on Shark Tank a couple of years ago. I started with their boot cuffs and leg warmers and scarves, and eventually ventured into trying actual clothing pieces. I wear the perfect fit striped tank incessantly! Just before the new year, they solicited applications for bloggers, and naturally, I had to go for it!
Plus, they're all so friendly, especially the owner, Melissa, who I've exchanged messages with a couple of times before.
I was so excited when they sent me an acceptance email. Like getting into the college of your dreams! Ok, maybe that's too far reaching, but you get the idea. I was excited! I tell you all of this because I know it can get a bit eyeroll-y sometimes when you see bloggers who consistently post "c/o" stuff and I wanted to be transparent about this partnership! The deal is that they let me pick a couple of pieces from their latest releases in exchange for posting them on the blog and social media.
Any time you can work with and promote a brand that you would be wearing regardless of the partnership is nothing but a win/win. It's easy, it's organic, and I am thankful to be able to work with them!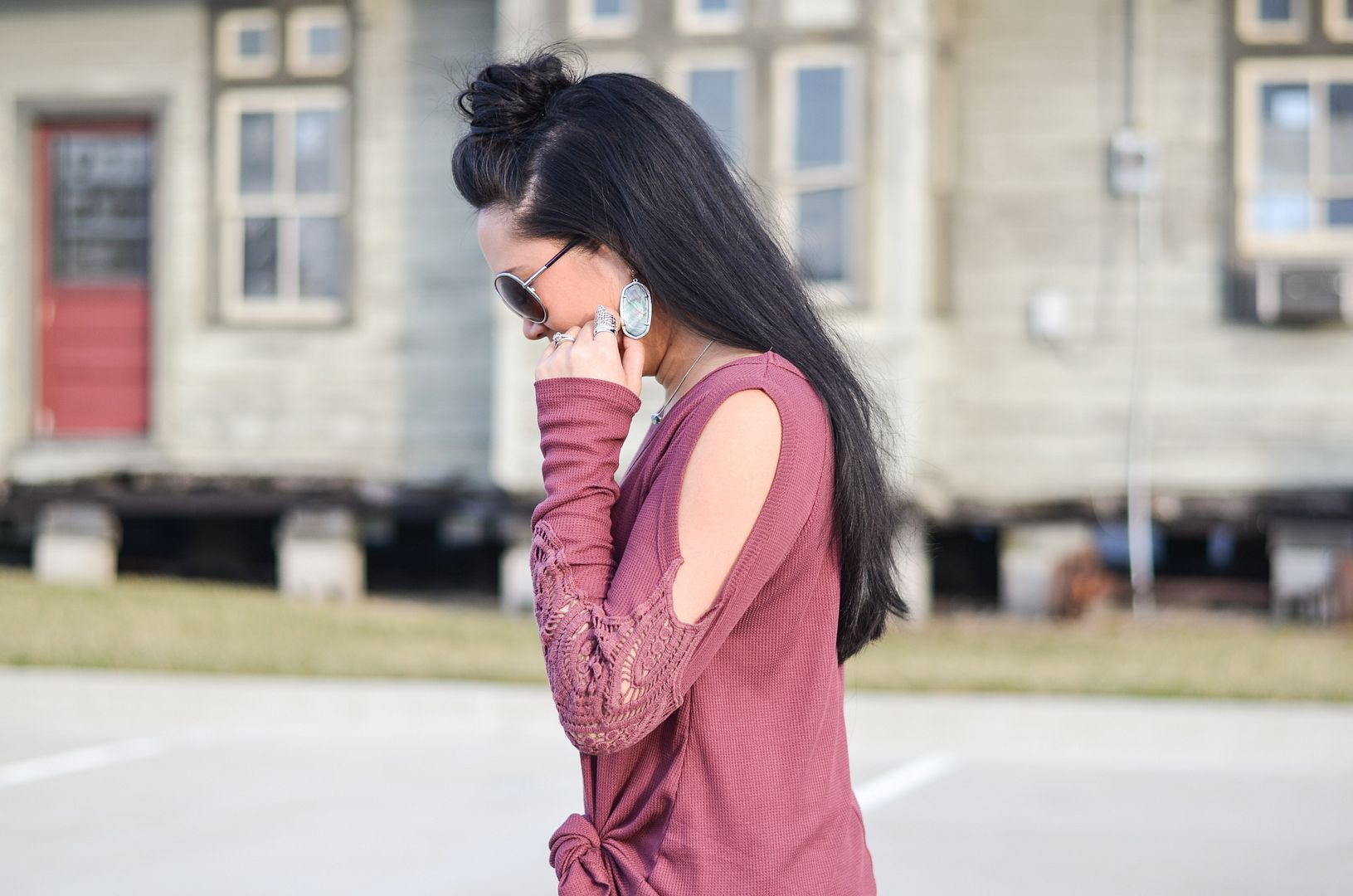 Ok, all of that being said, how friggin cute is this top?! It's a thermal, which instantly makes it extra soft and comfy. It's got the cold shoulders, which I'm definitely not sick of yet. And the lace detailing on the sleeves? OMG, it's the trifecta of all things good! Obviously the cold shoulder and the lace detail are a little bit trendy, so I decided to just throw in the trendy mini top knot for good measure. I'm happy.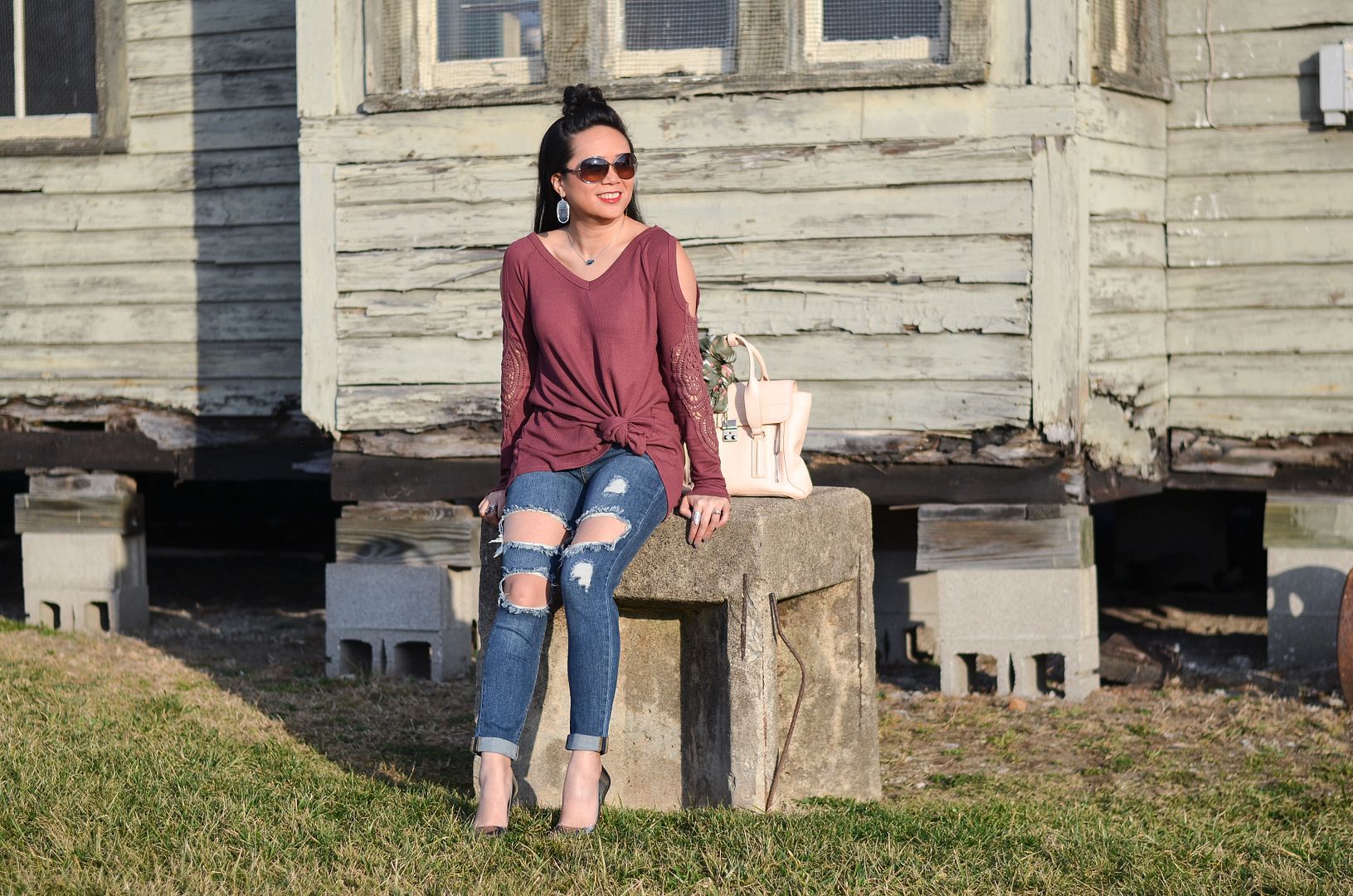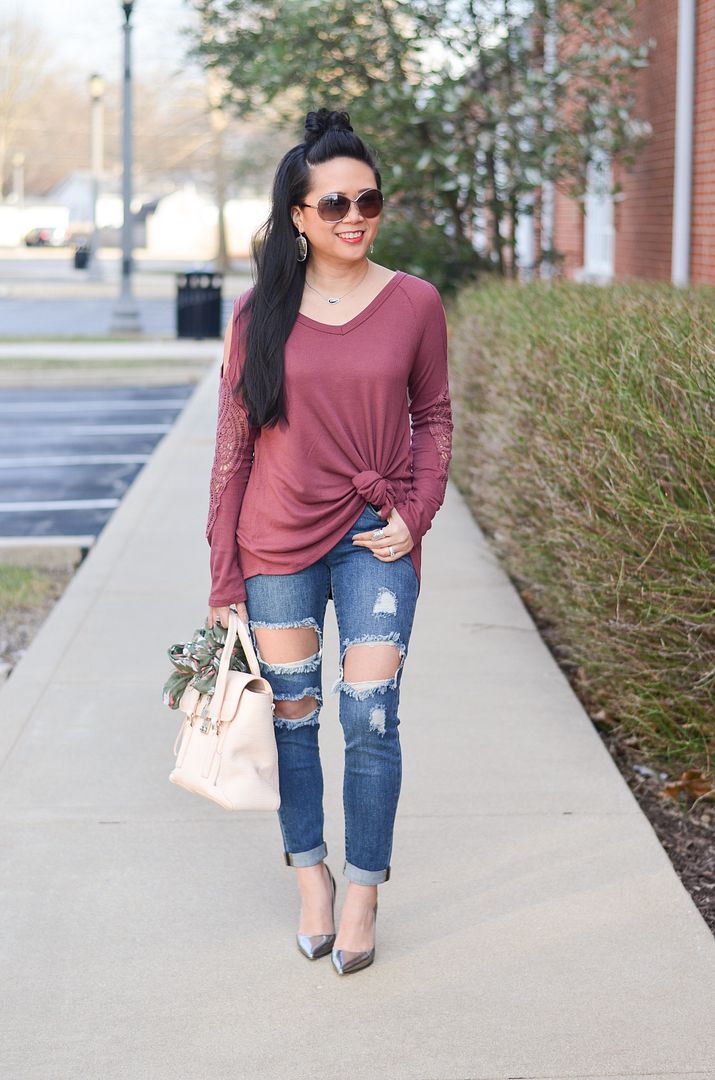 What's even better is that the top is long enough (for 5'-2" me) to wear with leggings. Sometimes I feel like the volume of tunics can be too overwhelming of a silhouette on me with jeans, which is why I knotted it for this outfit. (You can see my knot trying trick here.) I realize destroyed denim isn't for everyone, but this outfit would have worked just as well with regular, non-ripped denim. White, olive, and grey skinnies would also look great! Or just leave it long and unknotted with leggings and peep toe booties to transition into spring.
I shared this flat lay on the blog last Friday as well as on Instagram here. I love how the top looks with both leopard and olive - either all together like in this outfit or separately! This top is a great addition to my collection of cold shoulders I have in my closet! It comes in a small/medium and a large/extra large. I'm wearing the small/medium for reference!

SHOP THE LOOK: