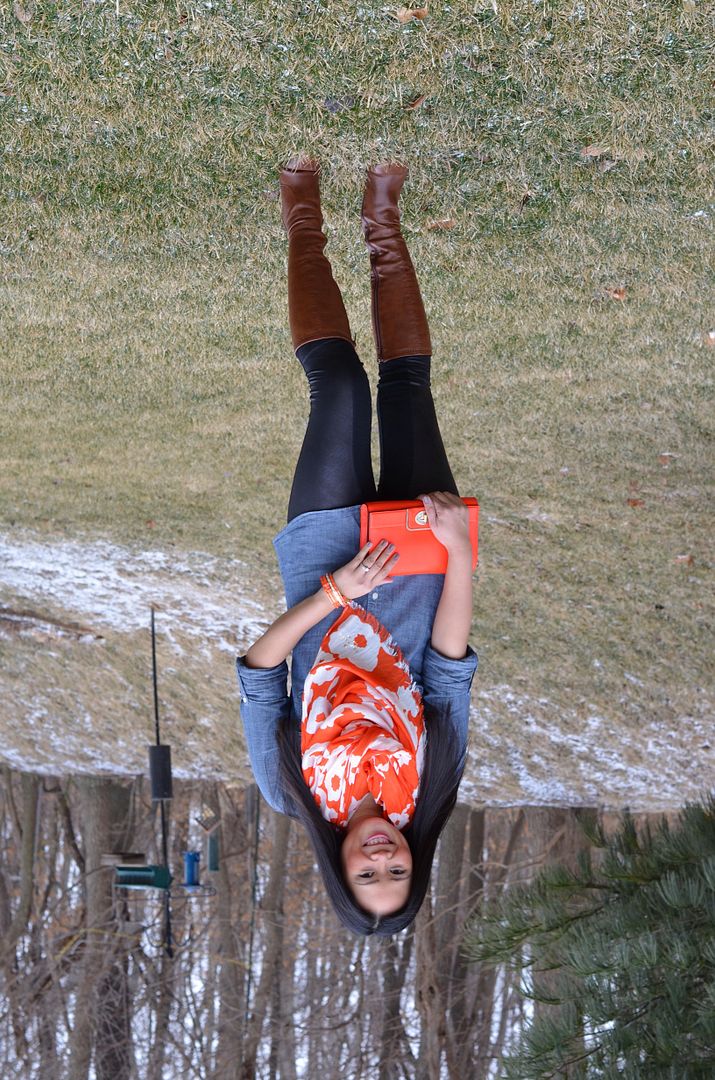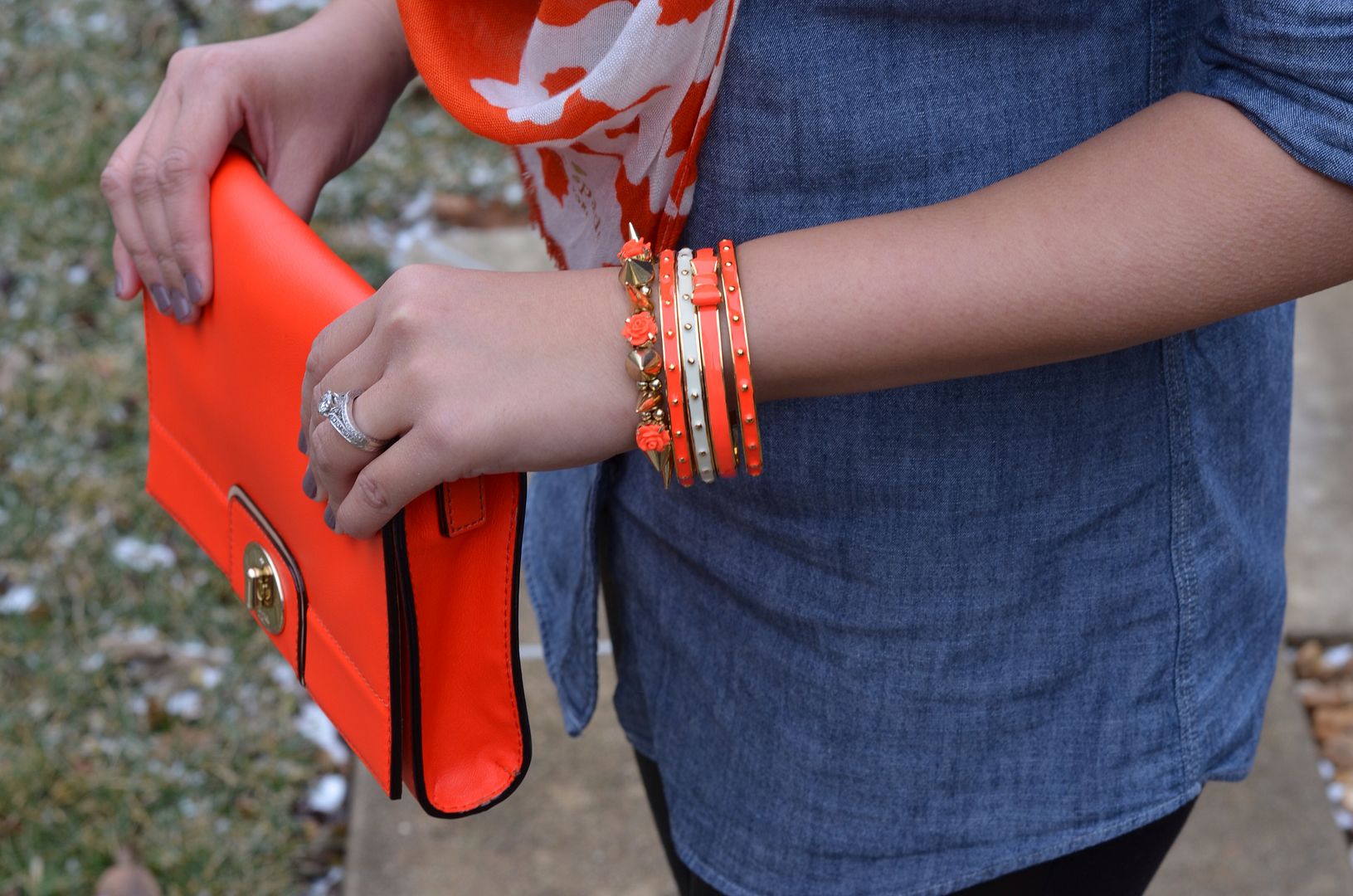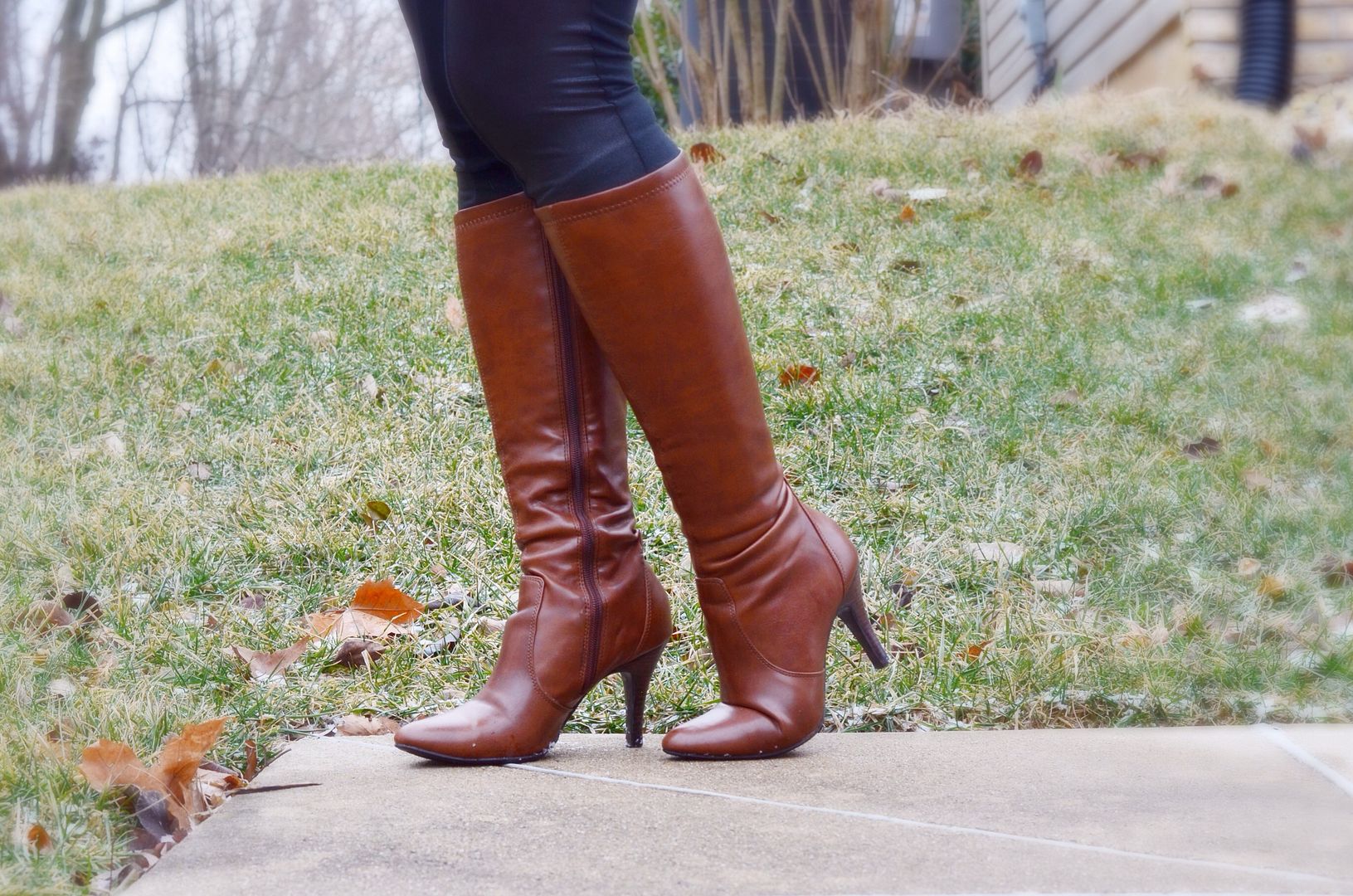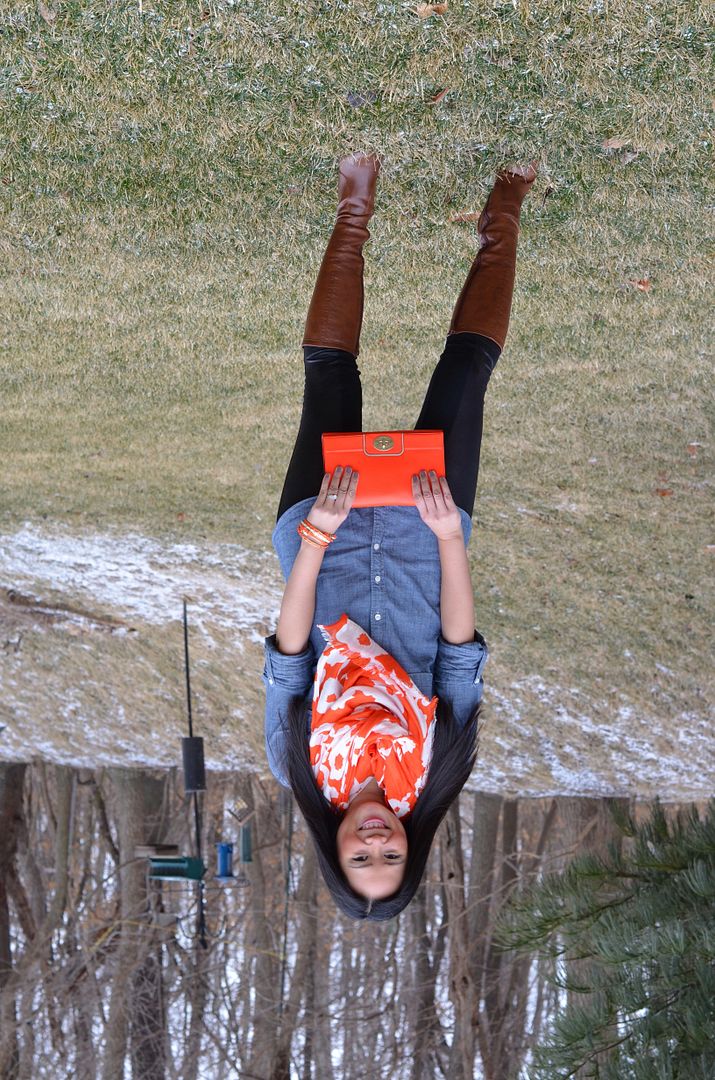 I could not decide on one topic/title for this post, so I decided to use all of them!
1. The proverbial Pinterest outfit: Did you guys ever see that article about the most pinned fashion outfits on Pinterest? This one here was one of the top condenders. Clearly I love this look myself or I wouldn't have worn something similar today. (And BTW I just spent half an hour browsing her blog as a result of her pin…) But anyway, my point is: scarf + chambray + leggings + cognac is such an easy, effortless look that I'm not surprised it's a popular pin!
2. Flowers for winter: Yeah, we're getting hit with more snow as we speak. Yes, these photos were taken before the (NEW) snow. Screw winter. Here are some flowers. On my scarf. And a bright orange bag for good measure.
3. Speaking of old boots: Yesterday I talked about how I'd had these booties for so long. These boots I'm wearing today come in at a close second. It was when cognac first started making a rise in the boot world. The husband actually bought these for me. After he gave them to me, he took out the ring and proposed! So, I call these the engagement boots.
4. The perfect chambray: Guys, seriously. I'm not demanding of you, am I? But I will actually tell you that I love this chambray and you really do need it. I love it so much so that I bought it in a second wash because I'm terrified that one day it's going to die on me. JCrew Factory has been selling it forever now - I got mine well over a year ago, and it's held up great-- it's perfect to wear on its own or as a bottom layer. And it's $29.50, which is crazy because I got mine for full price at $68. Normally it's listed in the $40-$50 range on their website. So please, if you're looking for the perfect chambray, this one is it. Don't believe me? I just pulled a handful of these out of the vaults.
Edited: A couple of people have asked and I should have said this in the first place - the chambray fits true to size, if not just a little bit big because I consider myself wide - I'm 34 chest, 36 hips, size 4, sometimes 6 if it's crazy form fitting. But I'm a Small generally at JCrew/JCrew Factory and my chambray is a size small. It doesn't fit tight, but it's not boyfriend fit either. It's just right!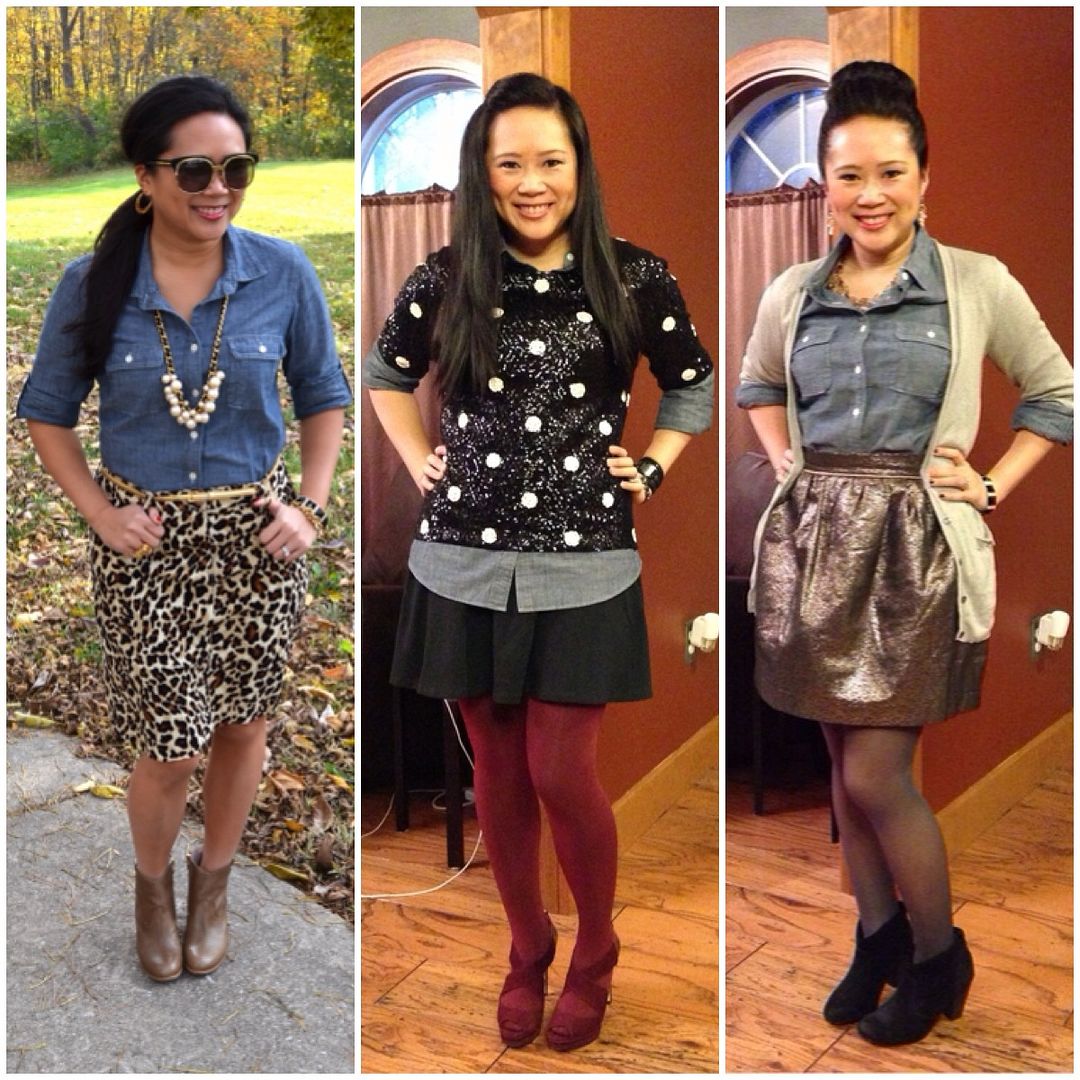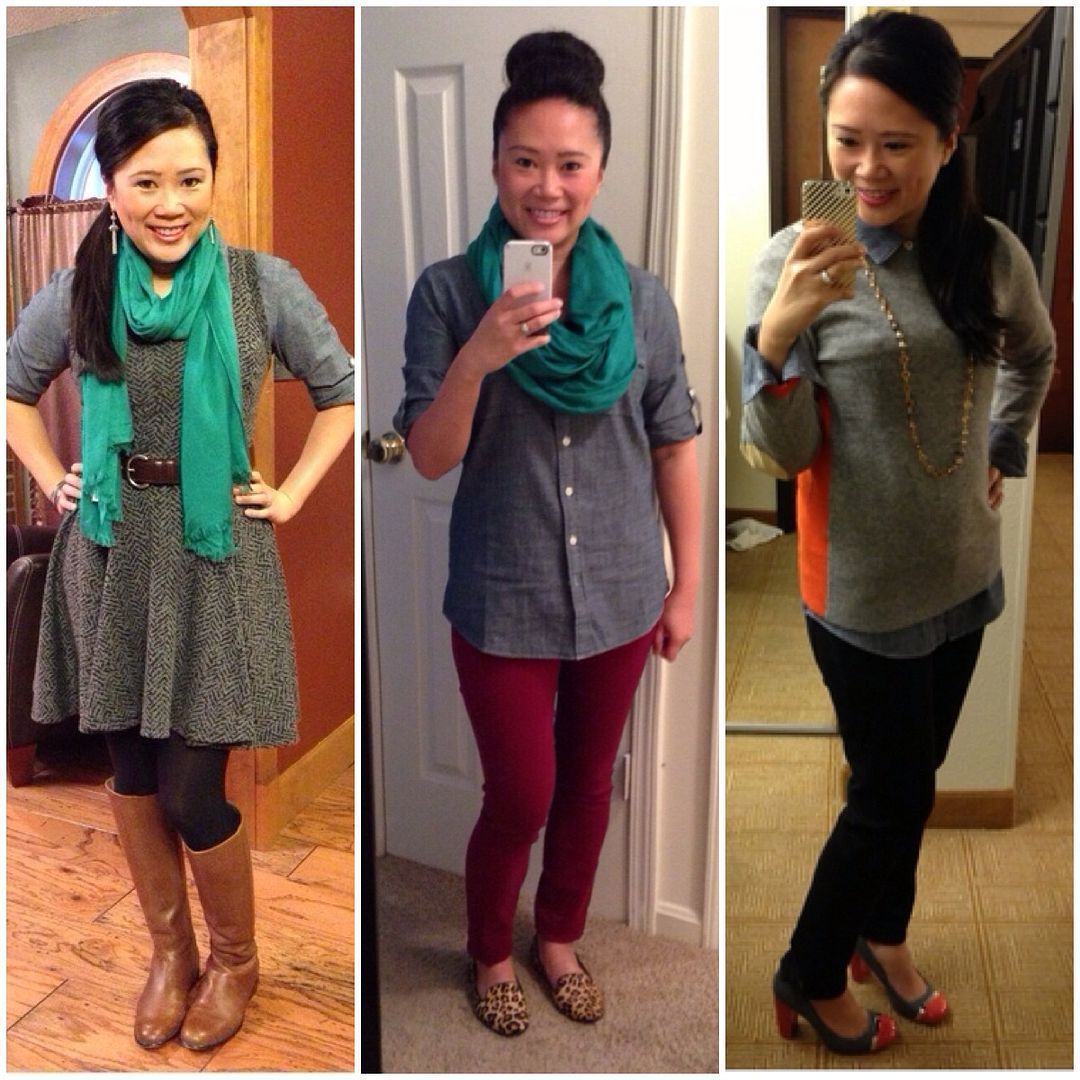 OK then. Told you it was a bunch of randoms. :) Hope you guys are staying warm wherever you are at. This winter and cold and traffic makes me so ragey!!

SHOP THE LOOK: