Sometimes I feel like I enjoy dresses even more in the winter because they work as the perfect canvas for layering. Right before the holidays, Boohoo was nice enough to send me a few dress options to choose from, and this one caught my eye because of its classic shape, the saturated color, and its ability to be dressed up or down.
If you've never purchased anything from
Boohoo
, they're an online retailer selling affordable, on trend clothing and accessories for both men and women. I've seen them popping up more and more in my Shopstyle searches, so it was nice to finally get a chance to try them out.
I was worried that the clothing may run more like juniors sizing, but the dress ended up fitting pretty true to regular sizing. Unfortunately, the wind got the best of my dress, so it looks a bit clingy to my tights, but in real life, the skirt has a great full shape and perfect movement.
You might remember this dress from my little flat lay roundup post. Since I styled it pretty dressy the first time around, I decided to do it more laid back and casual today.
Coat:
Wilson's Leather |
Necklace:
Kate Spade |
Dress:
c/o Boohoo (in grape)
|
Gloves:
Target/Neiman Marcus Collaboration
| Heels: Kate Spade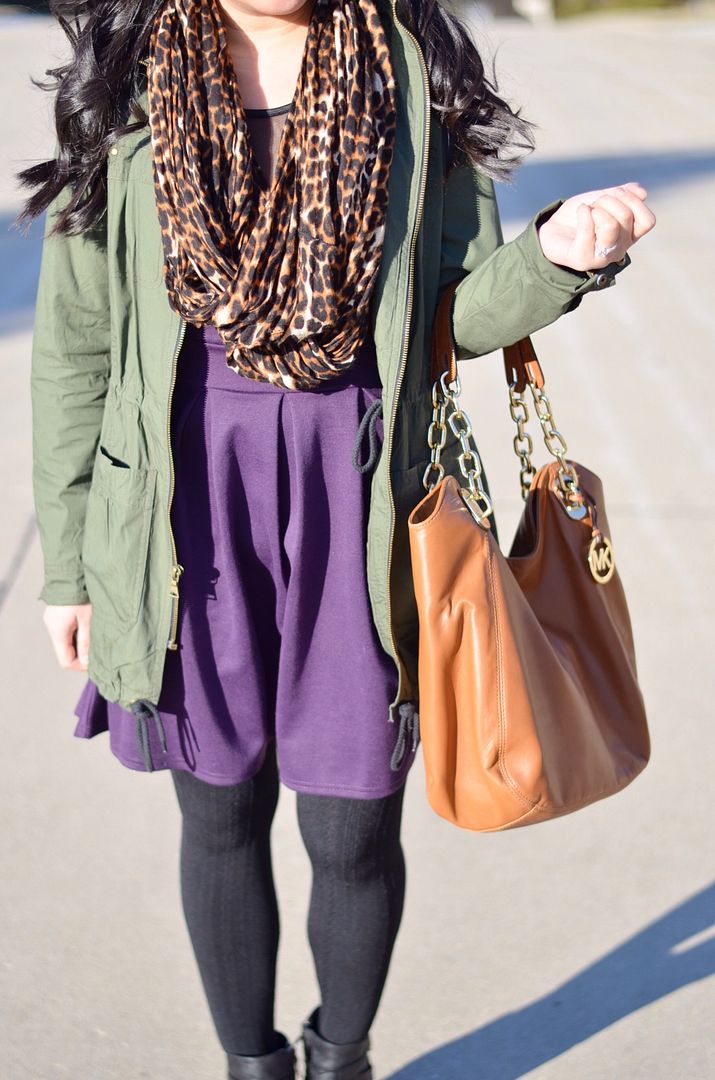 This outfit kind of reminds me of a variation of this one from last month. Clearly I am drawn to this combination of colors. I think I just naturally want to pair olives and leopard and cognacs with purples. This ended up being the perfect travel outfit today. The dress doesn't wrinkle, the layers kept me comfortable - not too hot, not too cold - and I'd say it's just a wee bit of a step up from the jammies and Ugg boots, eh?
Disclaimer: Although Boohoo graciously gifted me this dress, all opinions expressed are my own.

SHOP THE LOOK: