Before I jump into this, let me just recap some of the history for those of you who are just tuning in. I explained the whole concept behind #RemixFix2015 here. Jenna did an amazing job picking her items AHEAD OF TIME, as I should have done, but had way too much anxiety to do so. You can see her capsule here. I took a little bit of an easier way out and picked my pieces over the last three weeks. I gave myself until the end of January to lock in my capsule, so now that the vault is sealed, I can share everything with you!
Note that the majority of these stock photos are NOT my exact pieces because the actual stock photos were either unavailable or had models wearing them. I've indicated the brand/designer of my exact piece below each collage. I am also only linking to pieces that are still available.
Poncho: Express | Striped zip cardigan: Caslon (solid colors here) | Chunky cardigan: H&M (similar) | Marled Cardigan: Express | Striped sweater: Target | Cashmere sweater: Neiman Marcus | Black tunic tee: BP | Striped tunic tee: BP | Sweater with zip vent details: Caslon | Buffalo plaid top: Express | Camel sweater: Banana Republic | Colorblock sweater: JCrew Factory | Gingham top: JCrew Factory | Green plaid top: Gap | Graphic tee: Teespring | Blue plaid top: Express | Radiant orchid top: Express (similar colors here) | Chambray: JCrew Factory
Blazer: Express | Moto Jacket: Express (other colors here) | Anorak jacket: Express | Wine colored coat: Tahari | Denim jacket: JCrew Factory | Buffalo plaid vest: JCrew (Factory version here) | Cream vest: JCrew | Herringbone vest: JCrew Factory
Black skinnies: Express | White skinnies: Express | Sweater leggings: Express | Lightwash destroyed jeans: American Eagle | Dark wash destroyed jeans: Express | Olive cargo skinnies: Express | Scuba leggings: Express | Wine skinnies: Express
Striped dress: Old Navy | Tank dress: Bailey 44 | Boucle mini: Express | Ruched skirt: Express
Floral print scarf: Express | Leopard infinity scarf: Express | Plaid blanket scarf: H&M | Emerald knit scarf: Grace and Lace | Bracelets: Open cuff (Nadri), Cluster (Stella and Dot), Circle hinge (Nadri), Channel set pave (Nadri) | Necklaces: Long bauble (Kate Spade), Long pendant (Stella and Dot), Chevron (Express), Tassel (Stella and dot), Short bauble (Express) | Belt: Express | Sunnies: Vince Camuto, Tom Ford, Gucci
Blue crossbody: Marc by Marc Jacobs | White Peach satchel: 3.1 Phillip Lim | Cognac bag: Michael Kors | Wine colored hobo: Lauren Ralph Lauren (other colors here) | Animal print crossbody: Tory Burch | Wine colored crossbody: Rebecca Minkoff
Buckle booties: Vince Camuto | Black wood stacked heel booties: Cole Haan | Suede over the knee boots: Vince Camuto | Grey riding boots: Frye | Rockstuds: Valentino | Leopard pumps: BCBG | Buckle sneakers: Ash | Cognac booties: Hinge | Suede knee high boots: Naturalizer | Cognac riding boots: Naturalizer
It was extremely helpful to build each of these polyvores as I wore the pieces. As I was getting farther along, I could start to see where I had gaps and missing pieces. For the sake of quantifying everything, here is everything in list form:
8 sweaters: 1 poncho,
3 cardigans,
4 pullover sweaters
10 tops: 3 long sleeve tunics,
4 print button ups,
1 solid colored button up,
1 chambray,
1 graphic tee
5 jackets: 1 wool coat, 1 anorak jacket, 1 denim jacket, 1 moto jacket, 1 blazer
3 vests: 1 plaid, 1 herringbone, 1 solid
8 bottoms: 4 pairs of jeans (dark, light, black, white), 2 pairs leggings (scuba, sweater), 1 wine colored skinnies, 1 utility cargo
4 dresses/skirts: 1 tank dress, 1 sleeved dress, 1 boucle mini, 1 black mini
10 pairs of shoes: 1 over the knee boot, 2 riding boots, 1 knee high heeled boot, 2 pairs heeled booties, 1 flat pair booties, 2 pairs pumps, 1 pair sneakers
48 total clothing/shoes
6 bags:
2 solid crossbody, 1 animal print, 3 large tote/satchel
4 scarves: floral, leopard, knit, blanket scarf
9 pieces of jewelry: 4 bracelets, 5 necklaces
1 belt
3 pairs of sunnies
23 total accessories
This sounds like a lot of items, but when you compare it to the bedroom sized closet full of clothes, shoes, and accessories that I own, well, this is just a drop in the pan. I could definitely pare this down a bit, but I was interested to see how many pieces I would end up with for me to feel comfortable with my capsule.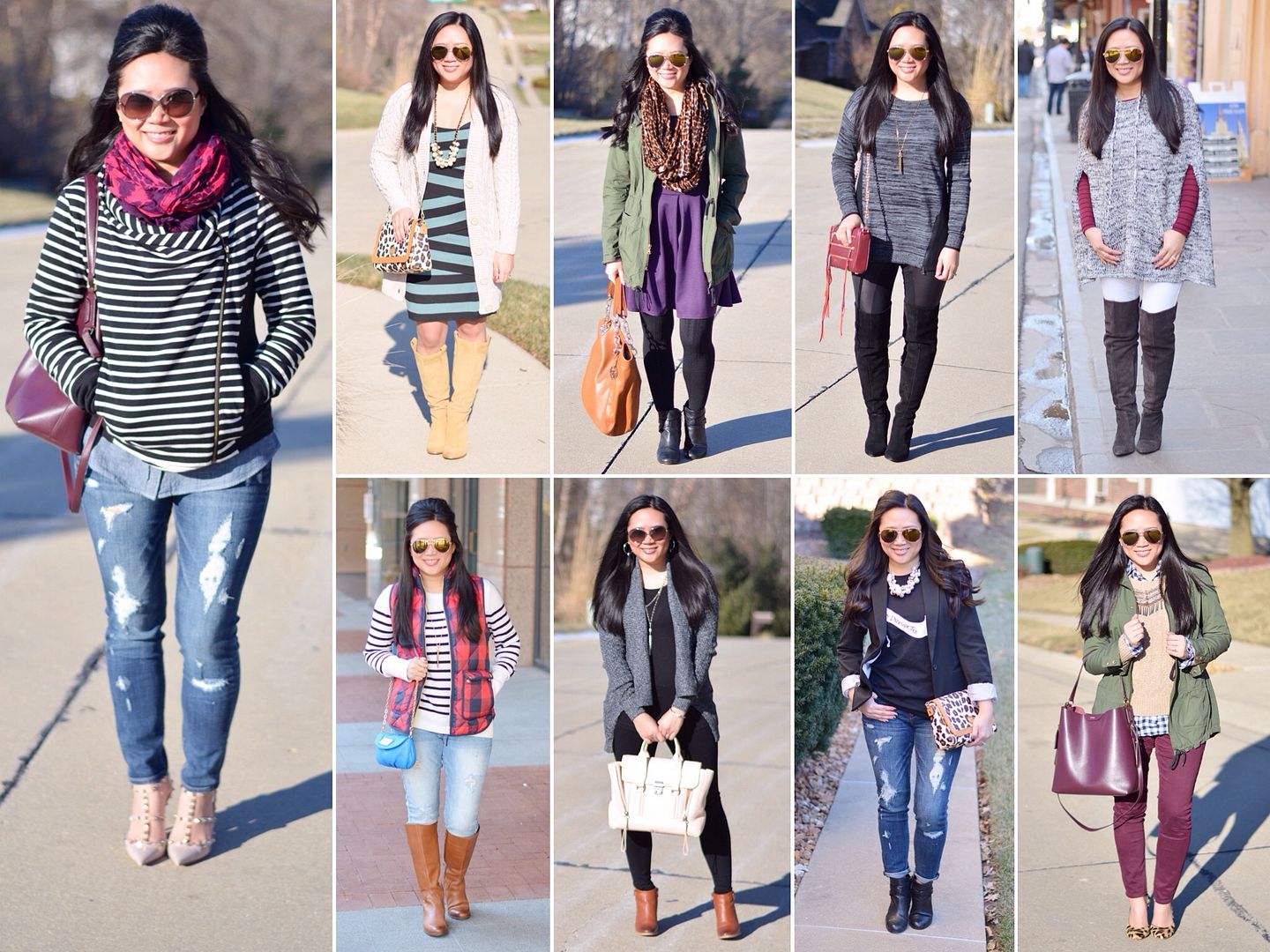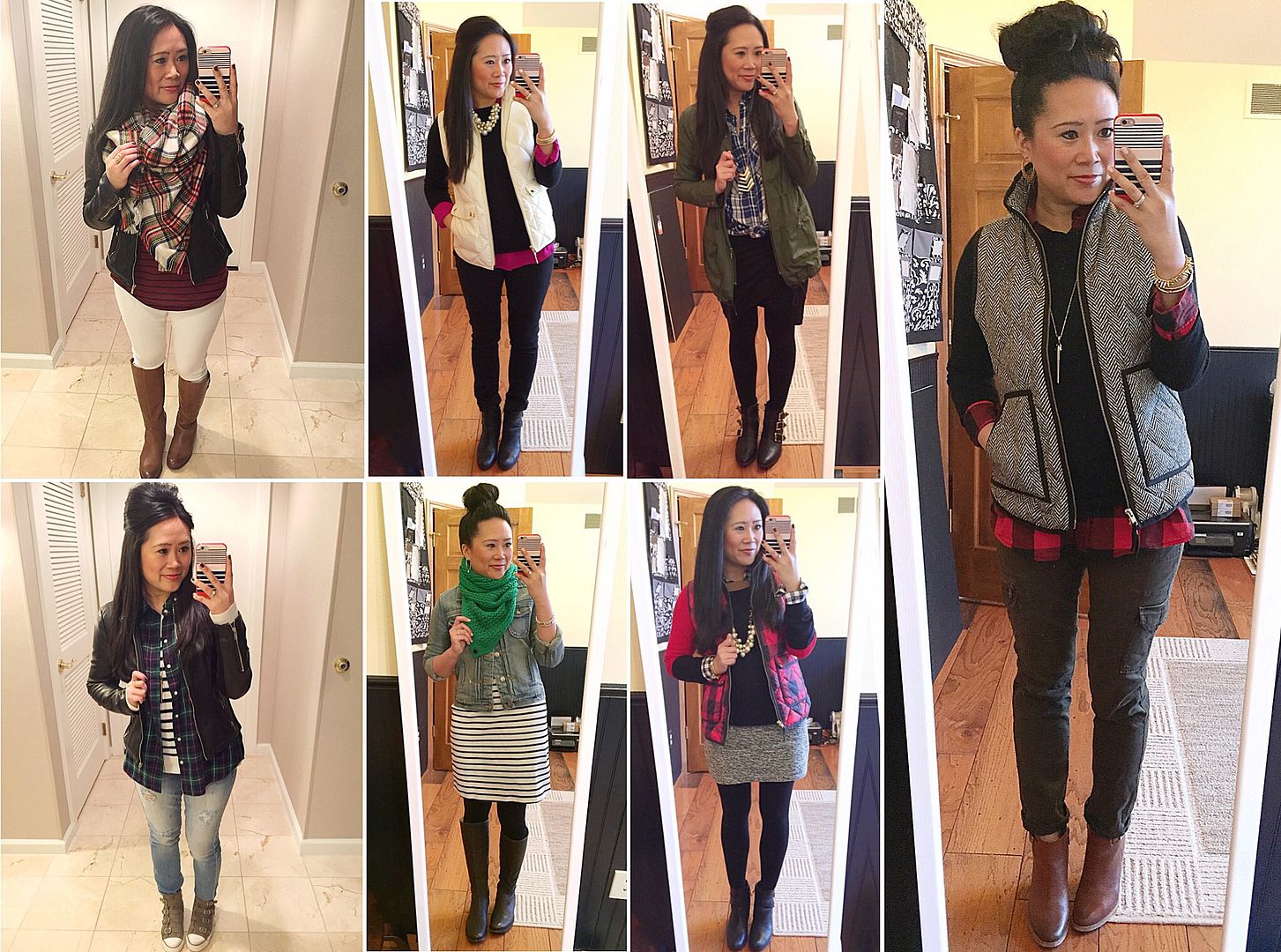 And these are the initial 16 outfits that locked in all the pieces of my capsule. I was originally shooting for 12 outfits to create 2 months of outfits, but as I was nearing those 12, I knew it wasn't going to be enough and I still had gaps to fill.
Whew. Thanks for those of you that stayed to the bitter end of this post. Though it won't take you near as long to read it as it took for me to put together. I showed you my capsule sorted individually by categories, in list form, and via the original outfits. Not sure how many other ways I can summarize this!
At any rate - here it is, locked and loaded! Let the remixing begin in full force! I am kind of excited to see how many different outfits I can create from all this! And hopefully, by the time this is over, spring will be here and we can talk about something new! :)

SHOP THE LOOK: