I love doing flat lays. Like LOOOVE it. It's so much fun and relaxing, and let me tell ya, it works my quads and hammies! No really, they do! Because I lay everything onto the floor, and then constantly stand and squat as I examine and adjust the layout, while strategically making sure I'm not stepping on my board! Although they are nice and artsy, I always hear that people prefer to see the outfit on a real person to understand the fit. I posted this flat lay on Instagram over the weekend, and figured I'd give you guys real life proof that it works.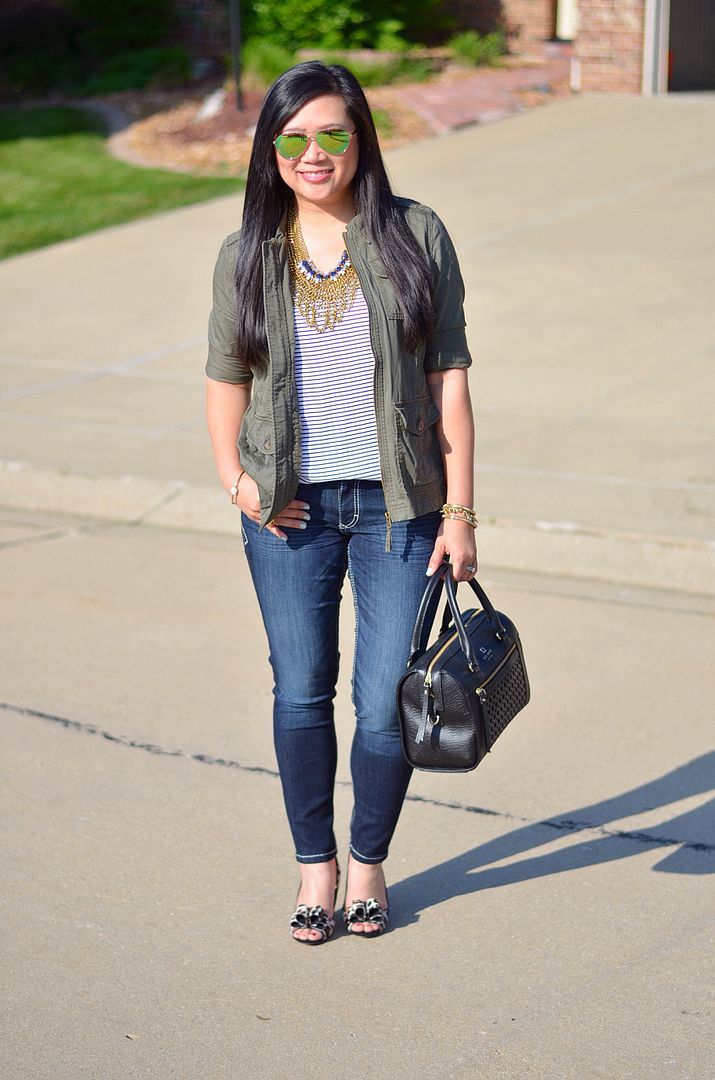 I have only had this metal bib necklace for a little over a week now and I am ridiculously obsessed. It really does go with everything, and you've already seen it on the blog here. As if I didn't already love it, I then realized, with Jenna's help here, that it works amazingly with other necklaces layered over it. My mind was blown. That just opens up a whole other realm of possibilities! I seriously love it. And I promise I'm not getting paid in any way to say that!
These are the heels I snagged from the Nordstrom Half Yearly sale. No regrets, absolutely no regrets. The heel height is perfect, and they're actually a bit more comfortable than the glitter version I already had. And, I mean. How pretty are they?!
I feel like I've been wearing a lot of olive lately, which is really funny because I associate the color more with fall than with spring or summer. I'm so so glad that I was able to find a more lightweight version of my anorak jacket. With the sleeves rolled up like this, it's really no different than wearing a shirt. The outer layer is perfect for adding interest as well as providing a little bit of modesty for my cami at the office.
I understand that ultimately fit is key to making an outfit successful, but I love brainstorming outfits by simply throwing pieces on top of each other like this to see if they visually work together.
I'm done making my case for this outfit and hope that I've proven that this particular flat lay is not just a myth!

SHOP THE LOOK: