These are actually the last of the random selfies I had left on my phone to formally finish out 2014. Crazy, huh? As with other Random Roundup posts, I will only link to the pieces that are still available and forego trying to link to similar pieces. Enjoy!
Necklace: Stella and Dot | Vest: JCrew (other colors here) | Sweater: Target | Top: American Eagle | Bottoms: American Eagle | Booties: Sam Edelman
I'm starting this roundup off strong! Ha! I picked this as one of my favorite outfits I wore in December because it has everything I love - pop of color, stripes, leopard, destroyed jeans. And a vest! I swear I never knew I could love vests as much as I do! It's a great layering piece that truly does keep you warm, but still allows you to visually appreciate the rest of your outfit.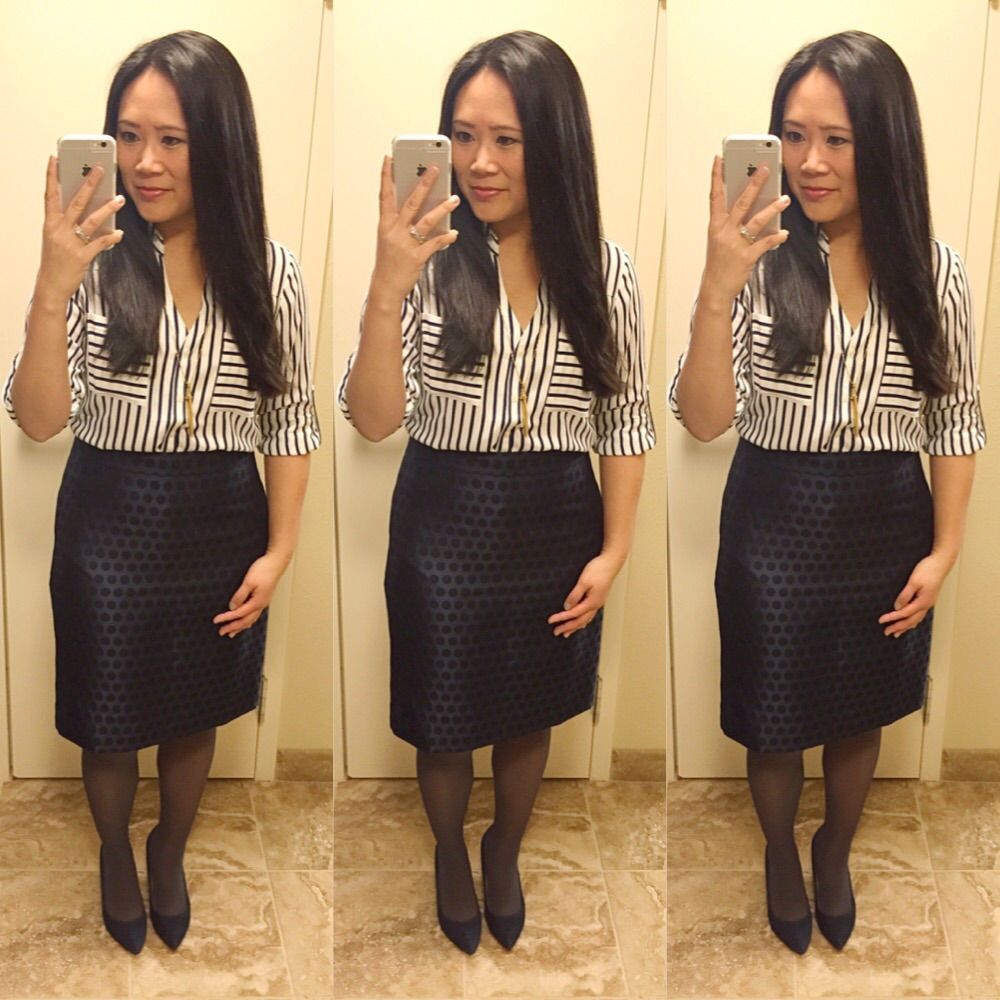 I can't believe it was 2013 when I put together this post here - but I love looking back at it and seeing how I was forced to remix the items in my suitcase! The skirt is always one of my go to pieces when I have to travel for work. It packs easily and always looks nice and crisp.
Necklace: Express | Top: Gap | Tank: Target (yes, maternity, no I'm not pregnant!) | Leggings: Pulse STL | Booots: Coach
I had to throw that disclaimer up there next to this tank! Ha! Can't get grandma excited! But yes, it's a maternity tank, and Gina turned me on to it. The sides aren't ruched like a lot of maternity tops are, but it's great because they're a great long and lean tank when you just need a little bit more modesty.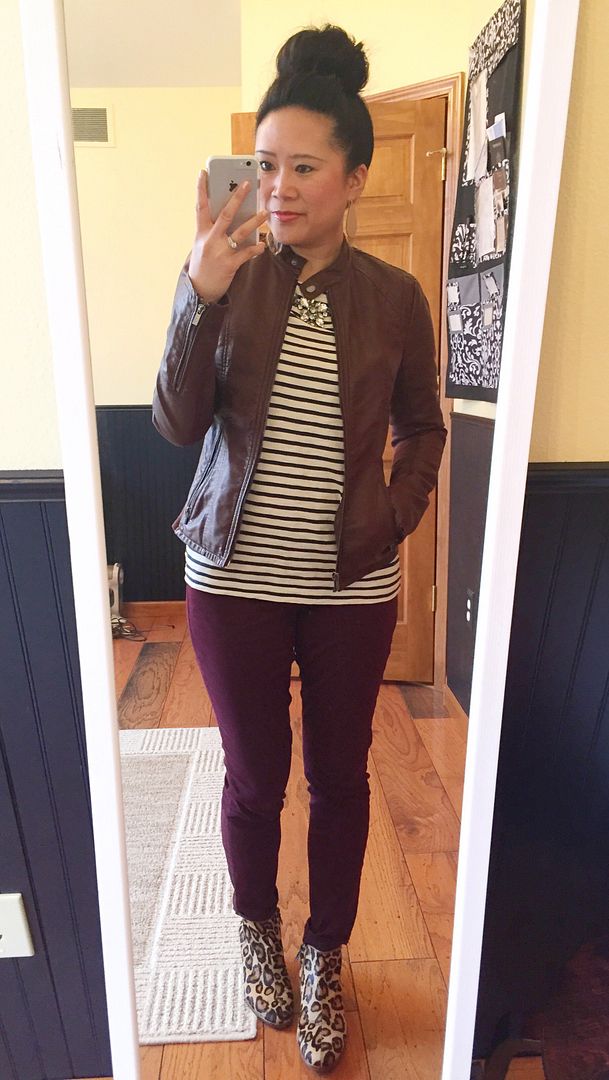 Jacket: Express (in black here) | Top: JCrew Factory (other color here) | Pants: Express |
Booties:
Sam Edelman
Again with the stripes and leopard and burgundy! Just such a good combo - it's foolproof really. And the more I see these booties, the more I am so happy I finally caved and snagged them!
This is a residual outfit from SoCal. As with most trips, I remixed a lot, so I had already worn these pants and this top, just not together. We were going to scour after Christmas sales this day, so I opted for comfy shoes. My black slip ons would have worked better, but I had to work with what I had, which still was good enough for me!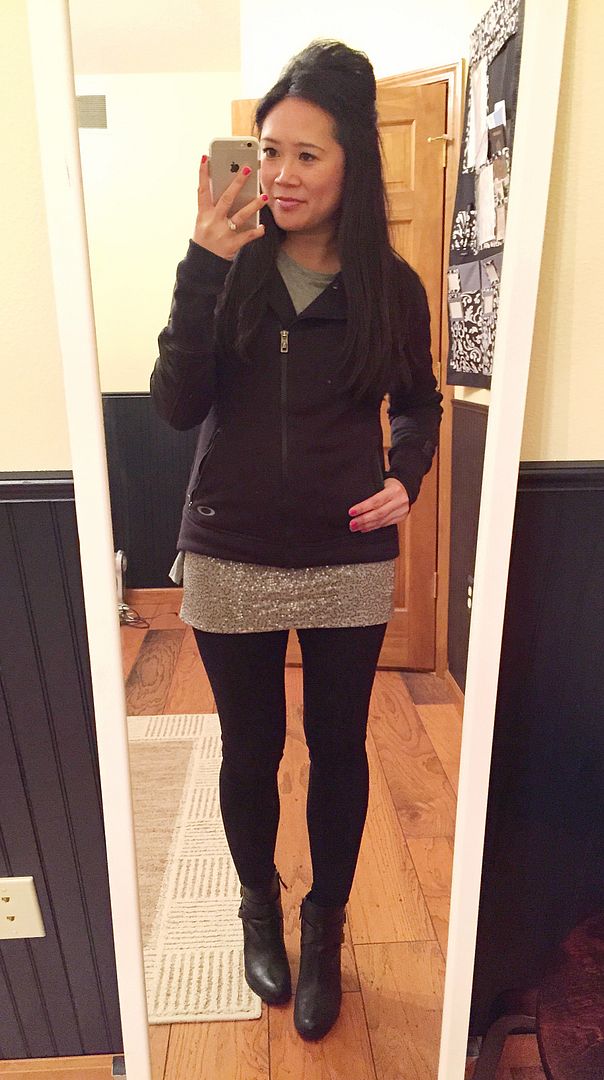 If I look tired, it's because I was! This was after about 12 hours of travel, we had just gotten home from the airport, but I went ahead and documented my airport OOTD just because it's hard for me NOT to photo everything I leave the house wearing. The Oakley hoodie was a random after Christmas
purchase. The husband had bought a roller bag on crazy sale at Oakley, and this hoodie was marked down to over half off, so I could not resist. I loved its asymmetric zipper!
I had exhausted all of my tunic options, so I rigged my sequin tank so that it was tunic length. I put the tank on, but pulled it down and let straps hang on my bra - I basically "hook" each tank strap around each bra strap, then I place the bra straps on my shoulders as usual. The tank doesn't fall because it's "hanging" on my bra. No one knows any better because I had a tee shirt on over the tank. A nice quick fix if you need a tunic for modesty and you've left your maternity tanks at home. :)
Sweater: Old Navy | Top: BP | Belt: Gap | Bag: Rebecca Minkoff | Bottoms: Express | Boots:
Coach
I'm sooo happy I got this sweater over Black Friday! It's the perfect layering piece, and I loved pairing the belt over it! This is the first turtleneck/cowl neck I have owned in probably a decade, but I just really love this look!
Layers, layers, and more layers. This was one of the days I had to go into work in between Christmas and New Year's. I had to wear sequins because of the holidays, and I didn't care about wearing my busted knee jeans on a Monday since it was a skeleton crew at the office anyway! Most years I'm usually wearing sweats anyway, so this was definitely an upgrade!
Beanie: Etsy | Necklace: The Foundrie | Jacket: Express | Top: MOD | Skirt: Express | Booties:
Sam Edelman
Speaking of sequins! Another in between holiday work outfit. This sequin skirt is my favorite - the fit is great, and the sparkles are so fun! I was pretty late, so I just threw my hair up in a low pony and decided to add the beanie for an extra laid back look. I am pretty sure I only wear this beanie once a year!
Jacket: Express | Necklace: The Foundrie | Sweater: Express | Bottoms: Wayf | Shoes:
Express | Phone Case: Kate Spade
And last but not least is my New Year's Day outfit. Every New Year's, we spend lunch with his family and we have ham and bean soup, which, by the way, is the yummiest soup ever. I don't know why I only have it once a year because it is seriously delicious. It's just a casual get together, but I wanted to have fun with my sweatshirt and joggers. I mean, if you can't wear sequin joggers on New Year's day, then when can you, right?! The last time you saw these pants was for St. Patrick's Day here.
Before I go - one last reminder about the $225 Nordstrom Giveaway! You can enter using the Rafflecopter below!
a Rafflecopter giveaway

SHOP THE POST: